Our 85.9 inches ranks fifth most snow for the area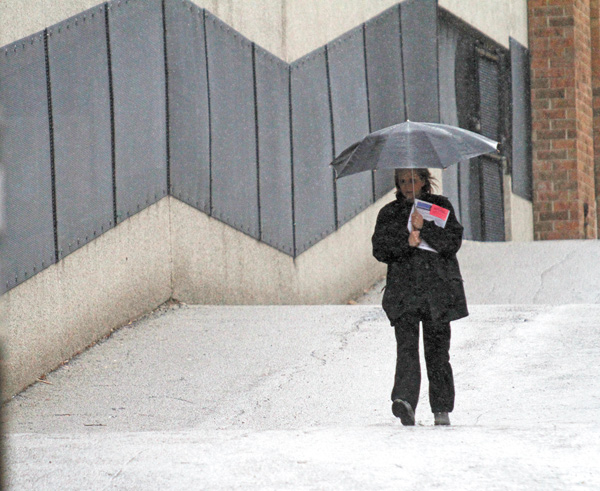 ---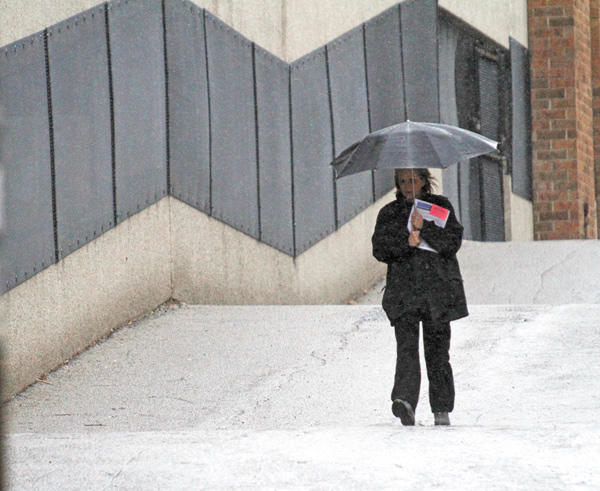 Photo
Today is the first day of spring, but temperatures aren't expected to improve until the beginning of next month. This is the third-coldest start to a year in the Mahoning Valley. Above, Gina McGranahan of New Castle, Pa., walks in the rain Wednesday on the campus of Youngstown State University, where she works.
By DAVID SKOLNICK
skolnick@vindy.com
YOUNGSTOWN
If this past winter felt unusually harsh, it was. And we have the cold, hard facts to prove it.
This winter has been snowy — it's No. 5 for the most snowfall in the Mahoning Valley — and it's the third-coldest start to a year. Also, meteorologists say it's been among the most miserable.
Though spring officially begins at 12:57 p.m. today, if you analyze temperatures for the past 90 days in the area, you will discover that 65 of them fell below normal.
In other words: It was as bad as it felt — even worse when you consider the wind chill.
"We usually have a few breaks in which the temperature is higher, but this winter, the breaks have been shorter," said Robert LaPlante, a meteorologist with the National Weather Service in Cleveland. "Rather than a few weeks, it's been just days, and in some cases, it's been just a few hours. People are impatient for it to end. They're more than finished with it. It's been persistently cold in Northeast Ohio. The striking feature of this winter is the persistence."
To date, 85.9 inches of snow has fallen on the Valley this winter, and the area averages 3 inches of snow in April. This year, so far, is the fifth-snowiest winter on record, according to the NWS, which monitors weather for this area from the Youngstown-Warren Regional Airport in Vienna. The NWS has records going back to 1897.
The most snowfall for the area was 2010-11 with 118.7 inches. The others in the top five are also recent — 102.8 in 2007-08, 90.2 in 2006-07, and 86.5 in 2008-09.
But unlike those other years, there hasn't been a single snowstorm in 2013-2014 with an accumulation of at least 6 inches.
The most was 5.5 inches Jan. 25.
"This winter has been different compared to real snowy winters," said Mike Joyce, meteorologist with 21 WFMJ-TV, The Vindicator's broadcast partner. "We had a lot of little snow events this winter. It's been unusual with a lot of snow, but not a lot of accumulation for each day."
Since October, there's been 89 days with a trace of snow and 29 days with at least one inch of accumulation, said Kristen Schappel, a meteorologist with the NWS in Cleveland.
Between December and February, 67 of the 90 days had a trace of snow with 24 days of at least one inch of accumulation, she said. The normal for the area is 14.5 days of at least an inch of accumulation during those three months, she said.
Also, the average temperature for December to February was 23.8 degrees, the 10th-lowest temperature for the three months in the Valley's recorded weather history, Schappel said. The record is 1976-77 with an average temperature of 18.9 degrees.
And the area isn't off to a good start this year.
Between Jan. 1 and Tuesday, the average temperature was 22 degrees, the third lowest for the area. The worst was 1978 with an average temperature of 19.6 degrees, Schappel said.
The Valley had 16 days with a low below zero this year, Joyce said. That's the second most for the area behind 1977 with 20 days, he said.
"I saw willow trees with some green on them, so there's hope the cold is going away," Joyce said.
Boardman Road Supervisor Larry Wilson said the largest issue with this season's brutal winter was the need for salt and the end result of potholes.
"For [the road department] and for a lot of road departments, it was the inability to get salt when we needed it," Wilson said.
Wilson estimated that about 7,000 tons of salt was used this year. Each truck can hold about 10 tons of salt.
"There have been years where we have had very little salt and had to go out and buy more," Wilson said.
Now the road department is focused on fixing potholes and cleaning up the roads.
As for the cold, it's stayed with us for longer than usual, and will remain through the rest of the month, meteorologists say.
Even though today is the first day of spring, as Mother Nature proved in recent months, she works on her own schedule.
The forecast for the rest of March for the Mahoning Valley isn't very springlike, LaPlante, said.
It's going to be unseasonably cold until the start of April, he said.
"We'll have some mild days, but it will be colder than average for the rest of the month," LaPlante said. "Spring appears to be arriving late."
Not everyone, however, has harsh words for a harsh winter.
Youngstown Police Officer Robert Giovanni said he likes winter, and this one was no exception.
The weather helped reduce the city's crime rate, and he's not a big fan of hot weather.
"It's easier to warm myself up than cool myself down," Giovanni said.
Contributors: Staff writers Kalea Hall and Joe Gorman