Public officials participate in Meals on Wheels campaign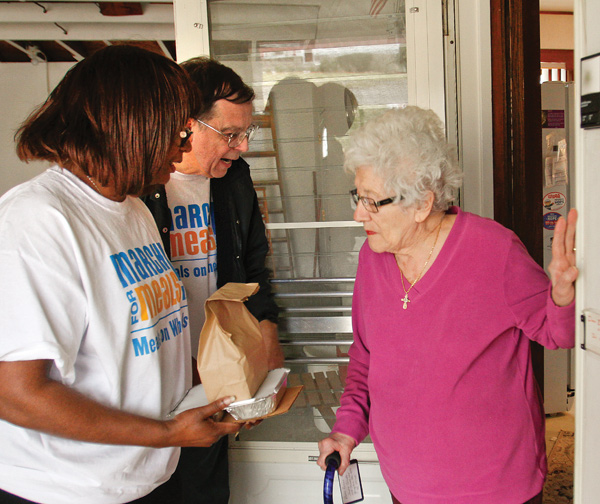 ---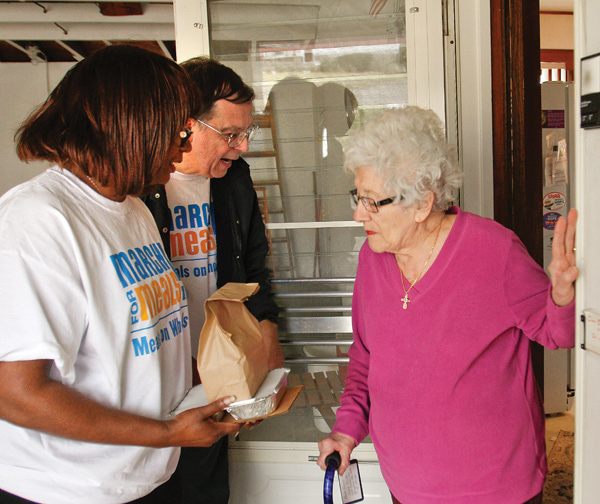 Photo
Jennie Columbo, a West Side resident who recently began receiving Meals on Wheels, greets Janet Tarpley, 6th Ward councilwoman in Youngstown, and Jim Carmany of New Middletown, a volunteer driver. On Wednesday, the Meals on Wheels March for Meals Campaign involved public officials who helped deliver to clients. Columbo said she likes the service.
Public officials participate in Meals on Wheels campaign to ...
By LINDA M. LINONIS
YOUNGSTOWN
Meals on Wheels of Mahoning County delivers more than food to 105 clients.
Volunteers also offer smiles, friendly conversation and concern.
Public officials participating Wednesday in Meals on Wheels' March for Meals Campaign saw firsthand the work the agency does in the Valley. Janet Tarpley, 6th Ward councilwoman in Youngstown; Michael Dockry, Austintown administrator; John Morvay, Canfield councilman; and Terry Stocker, mayor of Struthers, helped deliver meals. Tarpley filled in for Mayor John A. McNally, who was in Columbus.
Dockry said he was familiar with Meals on Wheels because he helped deliver meals when Kiwanis Club was involved. "It's nice to meet the people and see how they're doing," he said.
Stocker said the March on Meals Campaign "brings attention to the service. This is something to be proud of in the community," he said. "It helps seniors."
"The volunteers are other eyes and ears in the community," Tarpley said. She noted that as her mother aged, she realized the importance of such services. "It provides the nutrition that seniors need," she said.
Tarpley added, "Meals on Wheels is a positive service to have in our community."
Morvay also described it as a "great service" that addresses a "real need."
Linda Jenkins is director of Meals on Wheels of Mahoning County, and Kathy Esseniyi is president of the board of directors.
Jenkins said the program delivers meals from 10:30 a.m. to 12:30 p.m. Monday through Friday. The cost is $6.75 per meal. Wednesday's menu featured turkey, mashed potatoes, green beans, carrot cake, beverage and roll and butter. Clients also may arrange to get a "cold sack" with sandwich, fruit and salad for $2.
The program has 105 clients in Youngstown, Austintown, Boardman, Canfield, Struthers and Poland. Jenkins said most of the clients are senior citizens; those who aren't seniors are disabled. Along with meals, clients receive The Vindicator, which is donated by the newspaper.
Nine volunteer drivers deliver the routes, which average about 30 miles. Some make deliveries to up to 18 clients, depending on the route, Jenkins said.
Karen Barr, a board member for three years, said her 89-year-old aunt receives meals and "loves it." The senior citizen lives alone, Barr said, and it's nice to know she gets the service.
Esseniyi said the program is funded by private donations, grants and money from Valley foundations. It receives no federal money.
Jenkins said she "likes working with the public." "There's a lot of satisfaction knowing this helps people," she said.
Jim Carmany of New Middletown has logged 14 years as a volunteer driver. "I like helping people," he said. He said he learned about Meals on Wheels when his father, who lived in Canton, received them.
On Wednesday, Carmany delivered on the West Side of the city. "You make friends with people. We exchange Christmas cards," he said.
Esseniyi, a member of John Knox Presbyterian congregation, said she has been involved since 2009. Meals on Wheels was located at the now-closed church building; the service was considered a mission of the church.
"It was important for us to stay on the South Side. It's a convenient location," she said.
Esseniyi credited cooperation from Calvary Towers, next door to the church, with making that possible. The first floor was remodeled to accommodate Meals on Wheels. There is a kitchen, storage, office and seating area. Esseniyi also acknowledged help from Cicero Davis, director of environmental health in the city health department. Meals on Wheels is state licensed.
Esseniyi said though Meals on Wheels' main purpose is food delivery, it helps in other ways. "It extends the time seniors can stay in their homes and be independent," she said. "It provides human contact for those who are without family."
She added if a meal can't be delivered, the organization has emergency phone numbers to call so that family or a contact person can check on the welfare of a client.