Semi crashes tie up traffic on I-680, SR 82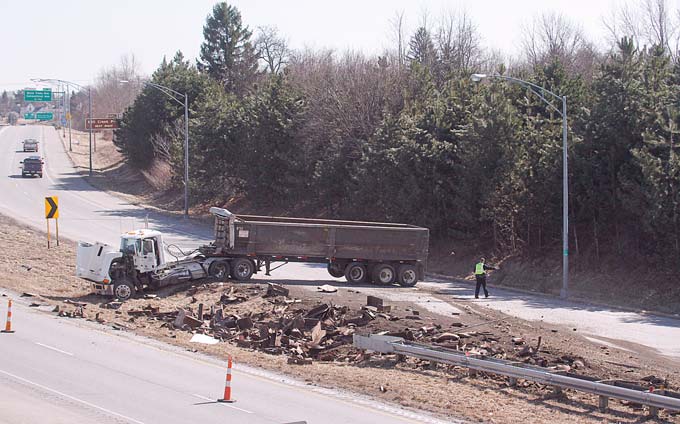 ---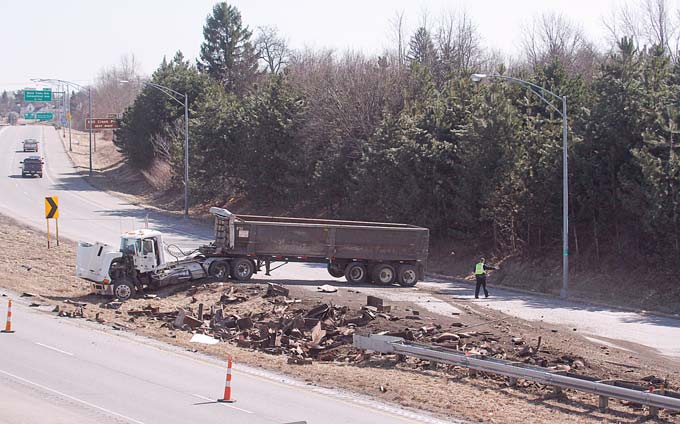 Photo
This tractor-trailer blocked traffic on Interstate 680 southbound after crashing about 3:15 p.m. Tuesday just before the state Route 711 entrance ramp. It also reduced traffic to one lane in the northbound lanes after part of its load spilled out. No one was injured.
Staff report
Two tractor-trailer crashes in Trumbull and Mahoning counties Tuesday tied up traffic for several hours on state Route 82 westbound in Brookfield Township and Interstate 680 southbound in Youngstown.
There were no visible injuries in either crash, although the person in the Brookfield accident was taken to a hospital for observation.
Traffic was snarled Tuesday afternoon on I-680 after a tractor-trailer carrying steel jackknifed and flipped over just before the state Route 711 ramp about 3:15 p.m.
Police blocked off the southern portion of the freeway just before the ramp and funneled all northbound traffic onto state Route 711.
Traffic also was reduced in the northbound lanes for a time because some of the truck's scrap-metal load spilled over into those lanes. The truck also damaged a rail in the freeway median.
Several lower West Side streets in the Division Street area also were crowded with vehicles that left the freeway trying to get around the congestion.
Crews from the Ohio Department of Transportation were on hand to assist. Both lanes of I-680 were reopened shortly past 7 p.m.
In the Brookfield crash, a trucker was hospitalized after he survived a crash on state Route 82 between Addison and Bedford roads.
Rescue personnel reported that the driver, Ronald Cramer, 61, of Cortland, was trapped in the badly damaged cabin of the westbound tractor-trailer after it went down an embankment and rolled over in a ditch. Though hospitalized, he had no visible injuries as a result of the crash that occurred about 8:45 a.m.
According to Trumbull 911 records, it took rescue personnel nearly an hour to pry Cramer out of the wreckage.
The westbound lane of Route 82 was closed for about five hours.
"I went up to the cab and I noticed the driver was pinned in there, but he was talking at the time, and within moments later, the fire personnel arrived on scene and began the extraction on him," Brookfield Patrolman Ron Mann told 21 WFMJ-TV, The Vindicator's broadcast partner.
Meanwhile, the Canfield Post of the Ohio State Highway Patrol, along with Youngstown police, announced they have placed and will continue to place an increased emphasis on traffic enforcement on the I-680 corridor during peak crash days and times throughout this year.
From 2009 to 2013, I-680 experienced eight fatal, 337 injury and 876 property-damage crashes with the majority due to unsafe speed.
The Canfield post's objective is to get motorists to obey the speed limit by placing officers on the I-680 corridor in the city and Boardman and Austintown townships.
Law enforcement will target all violations with an emphasis on speed, following too closely, improper lane changes, operating a vehicle impaired, seat-belt violations and failing to move over or slow down for a stopped emergency or public-safety vehicle, the patrol said in a news release.
Officers will use aircraft to assist with ground operations.
During three days last week, the patrol and YPD issued more than 100 speeding tickets for those traveling 1-680.
More like this from vindy.com