Published: Wed, March 19, 2014 @ 12:00 a.m.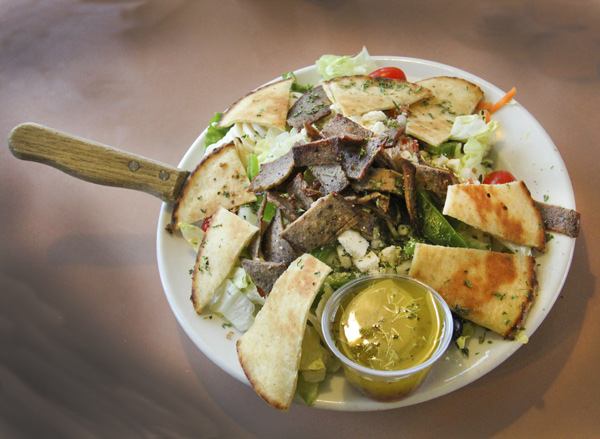 Photo
The gyro salad is just one of the menu items that reflect the Greek heritage of owner Gus Kouvas.
If You Go...
Where: Four Star Diner
Address: 168 North Mecca St., Cortland
Phone: 234-244-4560
Hours: 7 a.m. to 9 p.m. Monday through Saturday; 7 a.m. to 4 p.m. Sunday
by: Rebecca Sloan
CORTLAND - It's easy to overlook the Four Star Diner, tucked away on the outskirts of town. However, with generous portions of delicious, affordable fare and a no-fuss atmosphere, this is one establishment that deserves a place in the spotlight.
"We're a restaurant where people can enjoy a quality, home-cooked meal at a decent price," said Konstantinos Kouvas, owner.
Kouvas, known as "Gus," said his restaurant is best known for its breakfast food, especially the pancakes. After just one bite, you'll understand why.
Four Star Diner serves up some of the best pancakes I've ever tasted. Slightly crisp on the outside and light and fluffy on the inside, the pancakes are made with buttermilk and fresh eggs and served with warm maple syrup, butter and whipped cream.
After one bite, I was in complete agreement with the popular opinion that the diner's pancakes are "better than the pancakes at Perkins."
A short stack of two pancakes is $3.49, and a full stack of three pancakes is $4.49. Since these mammoth hotcakes are the size of a small dinner plate, a short stack is more than enough to fill most hungry tummies.
Four Star's breakfast menu also boasts favorites such as Belgian waffles, stuffed French toast, bagel sandwiches and steak and eggs.
Speaking of eggs, the diner's "mile high omelets" are a staple item among the breakfast crowd.
Pan-fried in cholesterol-free oil until they rise and served with home fries and toast or two pancakes, the mile high omelets are a satisfying way to start the day.
The house favorite, which is also my favorite, includes mushrooms, peppers, onions, ham and American cheese. The ranchero sizzles with sausage, green peppers, onions, Jack cheese and salsa, and the gyro omelet is stuffed with spinach, tomato, Feta cheese and beef gyro meat.
The gyro salad is just one selection on the menu that reflects Kouvas's Greek heritage.
Born in Athens, Kouvas first came to America at age 10. He returned to Greece at 19 and then came back to the USA again to reside permanently.
Kouvas said he has always enjoyed cooking and has owned other restaurants in the past.
"There is nothing I serve here that I wouldn't serve my own family," he said proudly. "I serve quality food and really enjoy what I do."
At Four Star Diner, Kouvas does a majority of the cooking and has created a few stellar recipes, such as the 4 Star Pecan Chicken Salad.
This gigantic salad is a meal in itself that features pecan encrusted chicken strips, glazed honey-roasted pecans, mozzarella cheese, mandarin oranges, dried cranberries, bell peppers, sliced hard-boiled eggs and diced onions — all served on a bed of a mixed greens. It is priced at $8.49.
The gyro salad is another one of Kouvas' specialties. Thin slices of crispy lamb, crumbles of feta cheese, slices of hard boiled eggs, tomatoes, peppers, cucumbers, olives and onion top a generous bed of lettuce. A homemade olive oil and vinaigrette dressing tops the masterpiece. It costs $7.99.
If you enjoy soup with your salad, Four Star Diner serves three hearty soups daily.
"We always have chicken noodle and chili," Kouvas said. "The third soup varies from day to day."
I enjoyed a savory bowl of bean and potato soup. Slightly spicy, with generous chunks of carrots, potatoes and ham, it was the perfect way to begin my dining experience.
The menu includes a variety of sandwiches and burgers to complement a bowl of soup.
The fish sandwich is a favorite and is served with Jack cheese and tartar sauce. Other traditional favorites include a Reuben, BLT, turkey club and of course, a gyro.
Four Star Diner is very much a family restaurant, and the atmosphere is low-key and comfortable, with a kids menu and 10 percent off for senior citizens each Wednesday.
Located in the building that formerly housed the Baconsburg Restaurant, Four Star Diner has been in business about four years. A small banquet room connected to the restaurant seats about 70 and is an ideal setting for parties or small groups who need a regular gathering place.
On North Mecca Street near the shores of Mosquito Lake, the diner is a little off the beaten path, but Kouvas said it's worth the trip.
"Come on out," he said. "You won't be disappointed."