Published: Wed, March 19, 2014 @ 11:46 a.m.
Video Set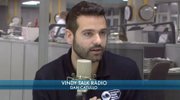 Dan Catullo of Catullo Prime Meats joins Louie b. Free and Todd Franko to talk about running a successful business in the valley.
Vindy Radio was live from 8 a.m. to noon March 20 with host Louie Free.
Valley folks love Danny Catullo behind the meat counter; FedEx loves him in a box. The small multi-generational Poland butcher shop, Catullo Prime Meats, is the darling of the shipping giant's national small business program.
Watch the videos from our chat with Catullo!
Follow @vindyradio on Twitter to interact with us.
Vindy Talk Radio Studio: 330-333-4454