As voting deadline nears, Youngstown council hasn't seen city's budget
Tweet
Published: Wed, March 19, 2014 @ 12:09 a.m.
Officials frustrated as deadline nears
YOUNGSTOWN
2014 Budget - Youngstown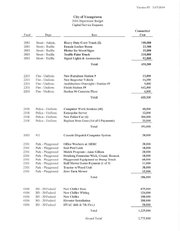 Document
The City of Youngstown's response to The Vindicator's request for the 2014 budget.
2014 Budget - Cleveland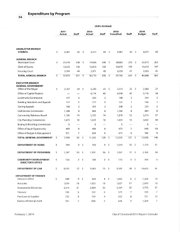 Document
A sampling of the 2014 budget from Cleveland's 506-page document, provided to The Vindicator after our request.
City council must approve Youngstown's 2014 budget by March 31 and will have a special meeting next week to do so even though none of its members has seen the document.
Some members are expressing frustration about the long-standing process in which council conducts public hearings on the budget without having the actual document. That is followed by the rush job to get it approved.
Some have argued they are not given enough time to review the plan, which totaled $167 million last year.
"I haven't seen the budget," said Councilwoman Annie Gillam, D-1st, a member of the legislative body's finance committee. "It would be kind of nice to have it before the hearings. We don't know how much we have to work with, and that can be" an issue.
There may be a change afoot for next year with council getting the budget earlier than it does now, Gillam said.
Each year city council conducts budget hearings with department heads without a city budget.
This year's hearings concluded March 4, and council members are still waiting for a budget.
"We assumed we'd have the budget now," said Councilman Paul Drennen, D-5th, vice chairman of the finance committee. "Instead, it's going to be last-minute. That doesn't give anybody the time to properly look at it."
Councilman Mike Ray, D-4th, said there's no reason for council not to have a proposed budget before the hearings with department heads.
"There's room for improvement in the process," he said. "We've done things the way we've done them for a long time, and that's not the way we should continue to do them. I don't agree with the process. We can do a better job."
Ray said there's "a heavy reliance on the finance director here than what you'd see in other communities. We have a history of getting [the budget] at the 11th hour."
Finance Director David Bozanich, who was out of the office for most of Tuesday, said the city's budget could be available as early as today.
Mayor John A. McNally didn't respond to a request from The Vindicator to comment on the budget process.
In response to a request by the newspaper for a copy of the city's budget, Kyle Miasek, deputy finance director, refused to do so. Instead, he provided a two-page list of capital-improvement work — much of which previously was reported including improvements to the city-owned 20 Federal Place and matching money for various road and infrastructure projects — and another page with the projected year-end balances for various funds.
How Youngstown handles its budgetary process is quite different from what Mahoning County and the city of Cleveland do.
A request for a copy of Cleveland's 506-page proposed 2014 budget from The Vindicator on Tuesday was provided by email minutes later.
Like Youngstown, Cleveland's city council has until March 31 to approve its annual budget.
The Cleveland mayor provides his estimated budget to council and gives its members details about his priorities, expenditures and projected revenues by Feb. 1, said Maureen Harper, the city's spokeswoman. Council members can ask the mayor, the finance director and department heads questions about the budget at that presentation.
Also, council members have two weeks' worth of budget hearings with department heads, similar to Youngstown. Cleveland council members, however, have the administration's complete budget proposal.
In Cleveland, council must give three readings of the budget at three separate meetings before it can be adopted, Harper said. The final reading and a council vote are expected Monday, she said.
Mahoning County adopts its budget by the end of December.
A proposed county budget is the subject of hearings by commissioners in mid-November with the budget last year approved by commissioners Dec. 12, said Audrey Tillis, the county's budget director. Commissioners have a complete budget during the hearings, she said.