The governor touted the state's job creation under his watch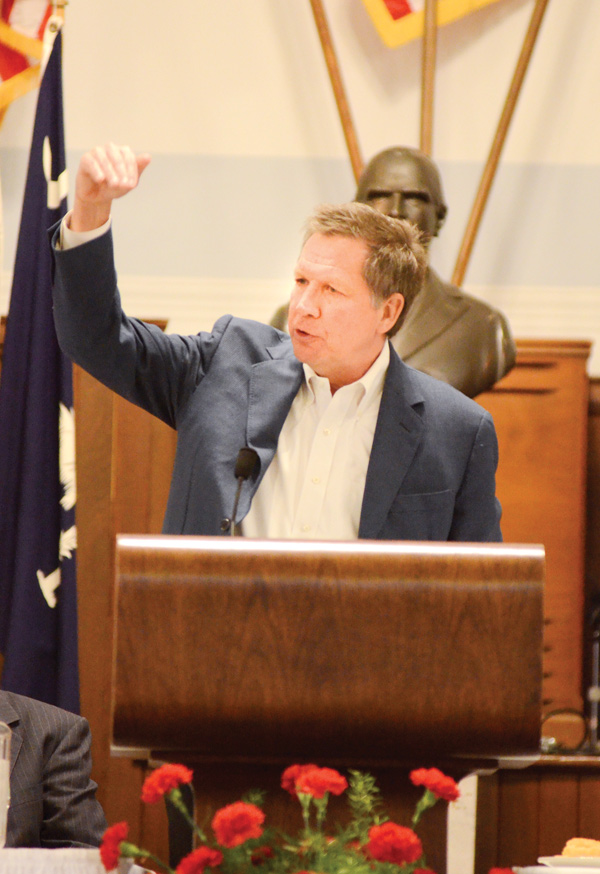 ---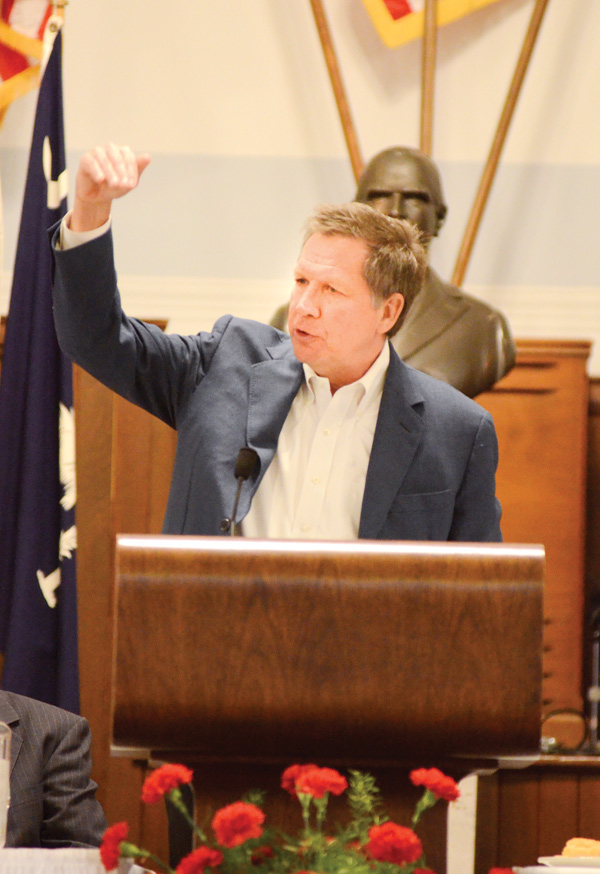 Photo
Gov. John Kasich, the keynote speaker Monday night at the Mahoning Valley McKinley Club's 99th annual banquet in Niles, spoke about how growing up with financial struggles made him the person he is today.
NILES
Gov. John Kasich, seeking re-election, touted job creation in the state under his leadership, saying when he took over in January 2011 that Ohio was 48th in the nation in job growth and new statistics show it is No. 5 over the past three years.
The Republican governor was the keynote speaker Monday at the Mahoning Valley McKinley Club's 99th annual banquet in the Niles McKinley Memorial Auditorium. It was Kasich's fourth time as the event's main speaker.
Before his 40-minute speech, including 15 minutes talking about his childhood growing up with financial struggles in McKees Rocks, Pa., Kasich spoke with reporters, focusing much of the conversation on job creation.
Updated employment data Monday from the U.S. Bureau of Labor Statistics show Ohio was No. 5 in job creation since January 2011, when Kasich became governor, and Ohio is No. 1 in the Midwest since January 2011.
"We're up 238,000 jobs, and we have to keep going," he said. "We know we're on the right track now."
Kasich added: "Overall, I'm really, really pleased with the progress we're seeing."
The state's unemployment rate of 6.9 percent is above the national average of 6.6 percent, however.
The campaign of Democrat Ed FitzGerald, the Cuyahoga County executive seeking the gubernatorial seat, sees it differently.
"For us, it's pretty simple: 400,000 Ohioans are still unemployed," said Lauren Hitt, his campaign spokeswoman. Kasich "shouldn't be doing victory laps. Middle-class Ohioans are working harder, working multiple jobs, working longer hours — and they're paying more in taxes thanks to Gov. Kasich."
Kasich said he inherited an $8 billion deficit when he took over as governor and the state now has a $1.5 billion surplus.
When asked if various cuts, including to local governments, and an increase in the state sales tax played roles in Ohio's financial turnaround, Kasich talked about continuing to cut the state's income tax, and increasing education funding.
He added: "I don't have much to say about the criticism because it's just, whatever, you know, figure out a way to criticize it. It doesn't bother me. I don't pay much attention to it."
Playing off Kasich's "Ohio miracle" comment from 2012, Daniel McElhatton, FitzGerald's communications director, said, "There's been nothing miraculous about John Kasich's economy for the middle-class families of the Mahoning Valley."
During his speech, Kasich said, "A big part of my responsibility on Earth is to help people who cannot help themselves."
That includes, he said, expanding vocational education, fighting the abuse of heroin, which he called "an epidemic," and helping the mentally ill.
The annual event, which brings together Republicans from Mahoning, Trumbull and Columbiana counties, honors William McKinley, the nation's 25th president who was born in Niles on Jan. 29, 1843.