Fitch's Driver earns second team All-Ohio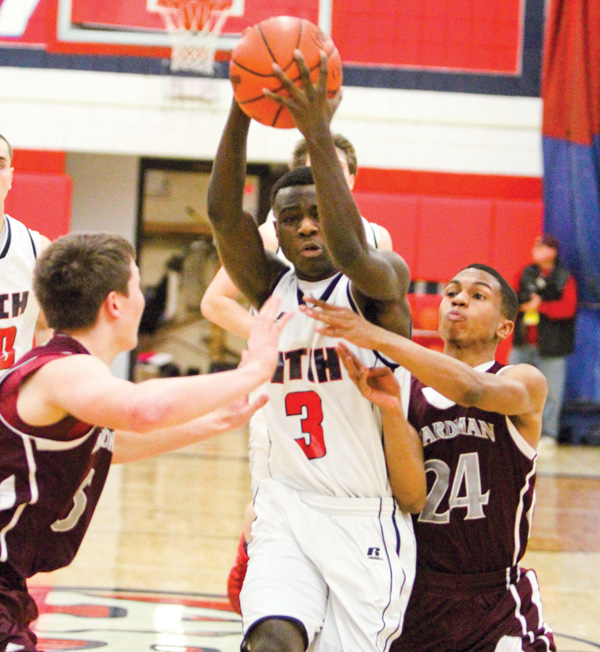 ---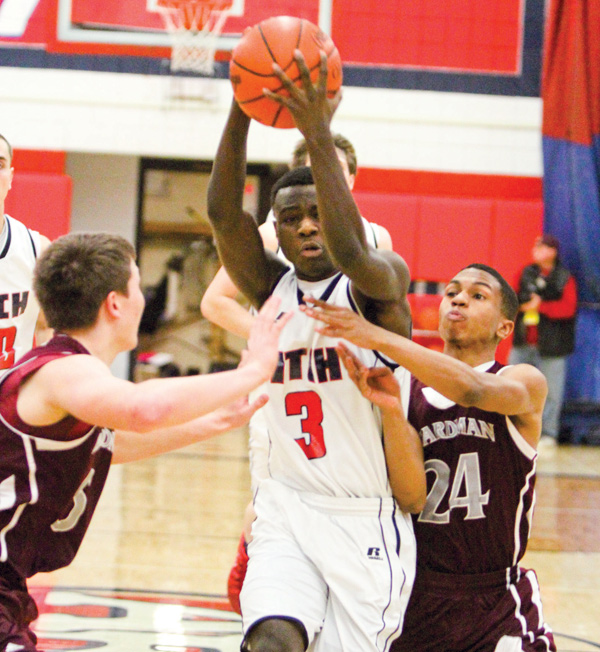 Photo
Fitch's Jesse Driver makes his way to the hoop past Boardman's Alex Duda (5) and Brandon Rozzi (24). Driver was honored Monday as one of the top players in the state by the Associated Press with a spot on the Division I All-Ohio second team.
Staff report
Columbus
Although the Austintown Fitch boys basketball season came to a disappointing end after an early exit in the Division I tournament, the Falcons' Jessie Driver was honored Monday as one of the top players in the state.
The 6-foot-1 senior guard, who averaged 18.3 points per game for the Falcons, was named to the Division I All-Ohio second team by the Associated Press.
He was the only area player to earn a second team All-Ohio spot in either Division I or II.
The Falcons lost in the second round to Uniontown Lake, 46-44, but Driver helped guide Fitch to an 18-4 regular season.
Given honorable mention in Division I was Warren Harding's Shondell Jackson.
In the Division II boys tournament, Poland navigated its way through to the regional final before falling to Akron St. Vincent-St. Mary.
Earning a spot on the division's special mention list was Bulldog senior Jacob Wolfe. He led Poland to a 24-3 record with a sectional tournament win over Struthers and district tournament victories over Ravenna and Cardinal Mooney.
Wolfe is joined by Canfield's Jarret Vrabel, East Liverpool's Parker Evans, and Beaver Local's Jared Lyder. The area players make up four of the 15 Division II special mention honorees.
Cardinal Mooney's Joe Cunningham earned honorable mention in Division II as well.
This year the AP gave out co-player of the year honors for each division.
Senior Javon Bess of Gahanna Lincoln averaged 22 points per game and Shaker Hts junior Esa Ahmad averaged 25.7 points. The two will share the Division I honor.
In Division II, Elida's Dakota Mathias, who averaged 27.7 points, and Franklin's Luke Kennard, who averaged 41 points, were named co-players of the year.
The All-Ohio teams for Division's III and IV will be announced today, followed by the annual honor of Ohio's Mr. Basketball on Wednesday.