Cops get 10 pounds of pot in bust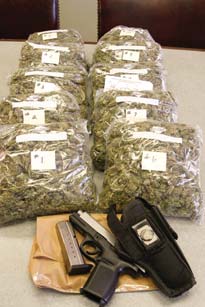 ---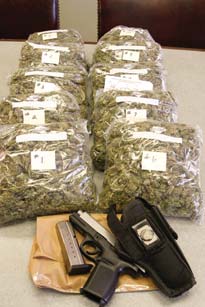 Photo
A traffic stop on the South Side resulted in more than a citation. Vice squad officers on patrol late Saturday seized about 10 pounds of suspected marijuana with a street value of $20,000 and a semiautomatic handgun in a vehicle driven by an East Side man on West Earle Avenue.
By Joe Gorman
YOUNGSTOWN
A failure to signal for a turn netted police $20,000 in marijuana.
Vice-squad officers on patrol late Saturday seized the drugs and a 9mm semiautomatic handgun after pulling over an SUV driven by Alex Stewart, 30, of Lansdowne Boulevard about 11:30 p.m. on West Earle Avenue on the South Side. Reports said Stewart failed to signal when he turned onto West Earle Avenue from Rosedale Avenue.
Lt. Gerard Slattery, head of the vice squad, said the seizure was unusual for a traffic stop.
"This is probably one of the largest seizures I've seen on a traffic stop in my 17 years," Slattery said.
The marijuana was in 10 1-pound freezer bags and weighs about 10 pounds, Slattery said, with a value of about $20,000, or $2,000 a bag.
Slattery said the bags seized Saturday could be sold as they are, or broken up to make even more marijuana for sale, which would bring in more money.
Reports said when officers approached Stewart's Hyundai Santa Fe, there was a strong smell of raw marijuana. Stewart told officers he had some marijuana in the car and also a concealed-weapon permit and a gun in the glove box.
A records check, however, showed the weapons permit expired in August and had not been renewed, and the marijuana was found on the floor by the passenger's seat. The freezer bags were in a larger garbage bag.
There was a passenger in the car, but because Stewart told police he had marijuana, the passenger was released. Stewart was arraigned in municipal court Monday on charges of possession of drugs and improper handling of a firearm in a motor vehicle. He has a bond of $5,000.
Vice officers also displayed 16 guns — five long guns and 11 handguns — seized this year while serving search warrants and investigating drug activity across the city.
Among the guns seized were two assault rifles and several semiautomatic handguns as well as a five-shot revolver known as "The Judge," which fires a shotgun round, Slattery said.
Slattery said most of the guns probably were purchased through the black market, and some also were stolen. He said the seizures are part of a revamp by vice officers in 2014 to concentrate on homes in the city where drugs are sold, and the homes are nuisances in their neighborhoods. "These are nuisance houses where we're getting these items from," Slattery said.
He termed the amount of firearms seized by vice officers this year above normal for the time period.
The guns come from addresses across the city, such as McClure and Pasadena avenues, Tod Lane, Hunter Street, Dorothy and Lenox avenues and Knox Street.