Indiana's McCune strikes in Hubbard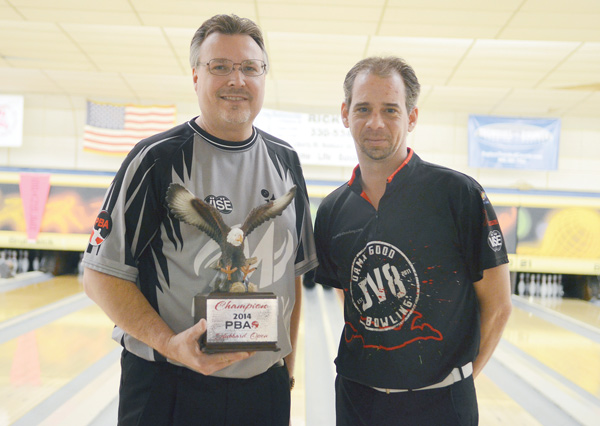 ---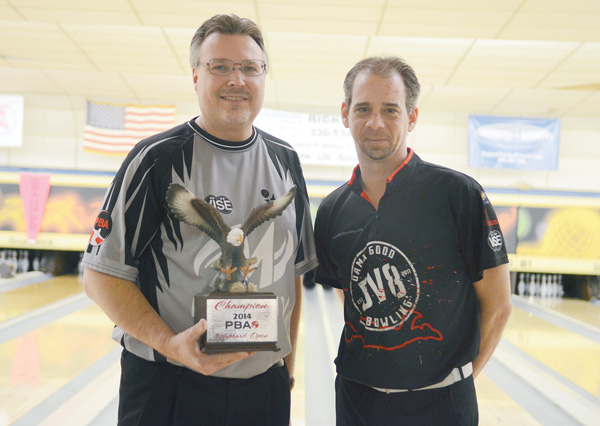 Photo
Eugene McCune, left, won first place at the PBA Hubbard Open on Sunday at Bell-Wick Bowl. Michael Machuga took second place.
HUBBARD
Irish or not, Eugene McCune's name is close enough to qualify as someone benefitting from the St. Patrick's Day weekend's good fortune as the 45-year-old Munster, Ind., resident won the fourth PBA Hubbard Open on Sunday.
At the conclusion of the Trumbull County Tourism Bureau Central/East region event presented by DV8, McCune beat Mike Machuga of Erie, Pa., 279-185, to become the Hubbard Open's fourth different champion at Bell-Wick Bowl.
It was McCune's 19th regional title. He also has three national tour crowns.
"It's the same level of competition, so it's still hard," McCune said the slight difference between the sport's two major tiers.
"This is my first Cheetah regional," meaning his first regional title while bowling on a Cheetah oil pattern.
"Usually, I lose in the title match," he said of regionals with the Cheetah situation.
Two of his three national titles came back-to-back in recent years and both were on the Cheetah pattern.
"Everybody expects you to bowl good, so, if you go out and start bad, then you're pressing. You have to get through the first [Sunday's 12] games before you get to the finals. Then you can just let go and keep on striking."
McCune's weekend wasn't entirely consistent, but he caught a break in the title match that helped him take home the Hubbard Open's $2,700 first-place check.
"Every other game I shot a big game. On certain pairs [of lanes] I couldn't strike. Mike just beat my teeth in on 19 & 20 because I couldn't throw a strike," McCune said of losing to Machuga, 277-205, in the 12th of 12 match play games. That was less than an hour before they battled for a second time.
"I hit the hole just as much as I did here [lanes 17 & 18 where the title match was contested], but got 2-0 [a 205 game]. I got fortunate to bowl on this pair because the pins were just right. Because I throw hard, I need the pins just right or I miss everything."
McCune, who was the fifth-best qualifier on Saturday and second-seeded entering the stepladder format, also rolled 279 against Jack Jurek, the third-place finisher.
Machuga, who won $1,500 as runner-up, was the 12th-best qualifier following Saturday's eight games.
He was the No. 1 seed for stepladders after a 12-game bloc.
"Twelve games straight is a pretty good haul, but I kept grabbing as many points as I could," Machuga said adding 30 bonus pins for each match play win.
"With a game to go [the 12th game/the position-round game], I had a chance to run him down and I did," Machuga said.
"I bowled really good this weekend and things are starting to come together for me. I thought that this would be my day. Unfortunately, the title comes down to one game. I guess I didn't put forth my best effort and the lanes played into Eugene's favor."
One costly error for the runner-up was an open frame in the fifth when Machuga left a 10-pin.
"I forgot about that," he said. "I got a little lackadaisical and didn't make it."
Machuga owns a pro shop and also moved part of his business into Ten Pin Alley in Hermitage, Pa.
"We're slow starting to build that business and hoping to make it a full-service pro shop next season."
Jurek, who won $1,200 after narrowly losing to McCune, 279-268, said he was fortunate to grab the No. 5 seed after the position-round 12th game. He then survived by catching a couple breaks in wins over Jim Pitts, 231-215, and E.J. Tackett, 200-179.