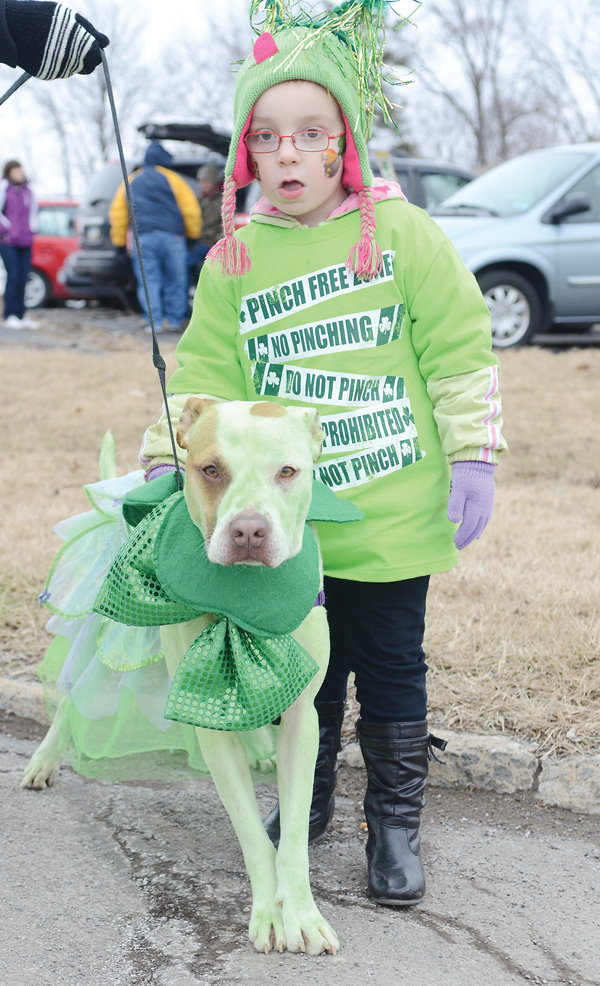 ---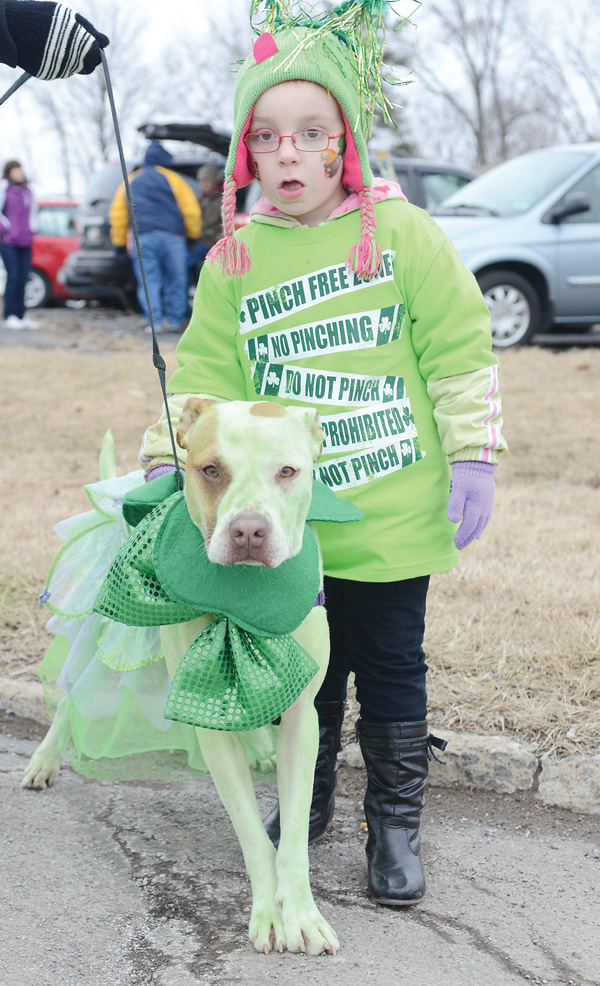 Photo
Alli Hromyak, 4, of Boardman and the family dog, Britta, await the start of the parade. Both got decked out in green, and Britta's owners even dyed her coat for the occasion.
By Sean Barron
BOARDMAN
If you attended Sunday's traditional parade, you would not have been treated to the popular punk-rock band Green Day, but you certainly would have been greeted by a bitterly cold wind — and perhaps by a green dog.
"We're usually in the parade, but this year we're watching from the sidelines," Lori Hromyak said, referring to her role in Sunday's 36th annual Mahoning Valley St. Patrick's Day parade.
The Boardman woman also brought her daughter, Alli, 4, who was keeping an eye on and entertaining Britta, the family's 4-year-old pit-bull terrier.
Britta's fur was dyed light green, and complementary features included a green shamrock around her neck and even a small partially green ruffled dress by her tail. The animal also wasn't shy about receiving lots of affection from passers-by, Hromyak said about Britta, whom she adopted from For the Dogs Animal Rescue Inc. of Hubbard.
Mother and daughter were among the thousands who lined both sides of Market Street and braved 25-degree temperatures and a stiff wind to view the one-mile parade, themed "Celtic Pride." It proceeded from McClurg Road to the Southwoods Medical Complex just south of Southern Park Mall.
Main sponsors were 21 WFMJ-TV and The Vindicator.
Despite the weather, an estimated 2,000 people marched, noted Joyce Kale-Pesta, parade-committee president.
Casey Malone, a longtime local radio and TV personality, was the parade's master of ceremonies.
The unfavorable conditions also failed to give Hromyak pause regarding watching the traditional, colorful parade.
"We're all about St. Patrick's Day," said Hromyak, a CT scan technician at St. Elizabeth Health Center's Boardman Campus.
The parade featured the usual fare such as vendors selling a wide assortment of green beads, horns, shamrocks and necklaces. Another common sight was people in green hats and shirts with Irish sayings; a few others kept warm by wrapping themselves in blankets — green, of course.
A new parade feature was the return of the Boardman High School marching band, which made its first appearance in 22 years, organizers said.
Ten-year-old Dalton Spehar of Austintown went a little further on the green theme: In addition to the light-green hat, he sported the same-colored beard.
The Austintown Intermediate School fourth-grader, who came with his mother, Linda, also brought Rusty, the family's Yorkshire terrier who wore a small green shamrock around his neck.
Youngstown Mayor John A. McNally served as grand marshal; Jack Grdic, WFMJ's general manager, was Lord Mayor of Kilkenny; Michael G. Timlin, owner of Youngstown-based Timlin Plumbing & Heating Inc., received the Ockerman Award.
The fun and festivities continued after the parade during a party at the International Union of Operating Engineers Local 66 building on McClurg Road. Revelers were treated to plenty of food and drink, Irish step dancers, bagpipe players and the Shaffer Bros., a five-piece Irish band. Also, trophies were awarded.