Levelses' 70th mark honored at Cracker Barrel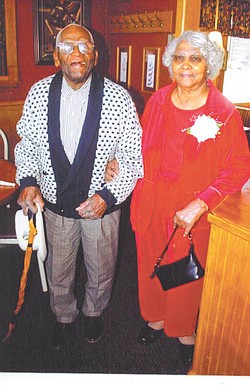 Photo
Mr. and Mrs. Joseph Levels
DIAMOND
Mr. and Mrs. Joseph Avery Levels of Diamond celebrated their 70th anniversary Tuesday with a dinner at Cracker Barrel in Austintown.
Their children are Joseph H. (Betty Jo) Levels of Flint, Mich.; Kenneth A. (Barbara) Levels in California; Larry (Vera) Levels of Cortland; James R. Levels of Warren; Benjamin (Mattie) Levels of Diamond; and Yalonda A. McClair of Denver, Colo. A daughter, Toni Lynn Levels, is deceased.
They also have 36 grandchildren and 39 great-grandchildren, and a great-great-grandchild is expected in May.
Mr. Levels and the former Beatrice Edmondson were married March 10, 1944, in Louisville, Ky.
The couple have been members of Mount Calvary Pentecostal Church in Youngstown for more than 50 years.
Mr. Levels is a World War II veteran and retired from U.S. Concrete, where he worked for 78 years.