Family will host open house for Wellmans' 60th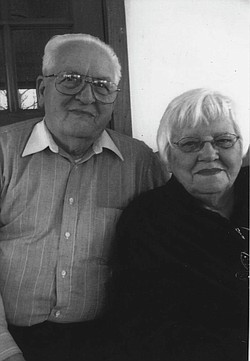 Photo
Mr. and Mrs. Pete Wellman
NORTH LIMA
Mr. and Mrs. Pete Wellman of North Lima will be honored for their 60th wedding anniversary at an open house from 1 to 4 p.m. March 23 at Wellman's Flower Shop in Columbiana, hosted by their family.
Their children are Patty (Tom) Roller and Beverly Wellman, all of North Lima; Marilyn (Chris) Hatch of Canfield; and Cheryl (Tom) Hudzik of Salem. They have five grandchildren and six great-grandchildren.
The former Shirley Arkwright married Mr. Wellman on March 17, 1954, at Paradise United Church of Christ in Canfield, where the couple are members.
Mrs. Wellman worked in the office of South Range Schools for 27 years before retiring.
Mr. Wellman owned Wellman's Flower Shop and still works there daily. He owned, along with his wife, Idle Hour Restaurant in North Lima for 27 years. He served as a Beaver Township Fire Chief and trustee.