Denmeades' 60th to be celebrated at a later date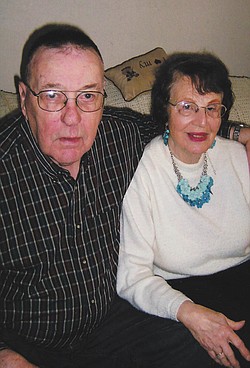 Photo
Mr. and Mrs. Donald Denmeade
NEW MIDDLETOWN
Mr. and Mrs. Donald Denmeade of New Middletown, who were married Feb. 27, 1954, will celebrate the occasion at a later date to be determined.
Hosts and hostesses of the celebration will be the couple's children, Mark Denmeade of Canton; Maribeth Mazur of Hampton, Va.; Michael Denmeade of Woodstock, Vt.; and Maria Crosby of North Lima.
The Denmeades also have seven grandchildren, three great-grandchildren and one great-great grandchild.
Mrs. Denmeade, the former Doris Darin, was employed as a receptionist for Century 21 Real Estate in Canfield until she retired in 2004.
Mr. Denmeade retired in 1985 from Youngstown Sheet & Tube, where he was employed as an invoice coordinator. He worked as a supply clerk for Mahoning Bank before retiring in 1995.
He is a member of VFW Post 3835, of Tin Can Sailors and of the USS Nicholas Reunion Group. He served in the U.S. Navy from 1950 to 1958. Part of his service took place during the Korean War.
The Denmeades are members of St. Paul the Apostle Church. They were married at St. Nicholas Church in Struthers. The couple renewed their wedding vows June 2, 2013, at St. Columba Cathedral with Bishop George Murry presiding.