If Mahoning County Probate Judge Mark Belinky resigns early, the governor would replace him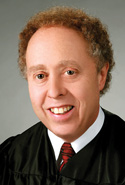 ---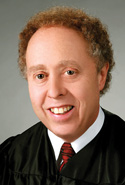 Photo
and Joe Gorman
YOUNGSTOWN
If Mahoning County Probate Court Judge Mark Belinky, under criminal investigation by the state, resigns, the governor would replace him on the bench.
It's been the policy of Gov. John Kasich, a Republican, to ask county Republican parties for a list of three finalists when filling judicial vacancies after vetting candidates, and then almost always selecting a replacement from the recommendations, said Rob Nichols, his spokesman.
The term expires in January 2015.
The issue arises with speculation about the future of Judge Belinky and the possibility that he may resign as soon as today as a result of an investigation by the Ohio Bureau of Criminal Investigation, which served warrants Feb. 7 at his court office in Youngstown and his Boardman home with the assistance of the FBI and the county sheriff's office.
For a judge to resign, he must send a letter to the governor and another to Maureen O'Connor, chief justice of the Ohio Supreme Court, Nichols said. The chief justice letter must let her know about the letter to the governor, he said.
No action was taken Thursday against Judge Belinky. The grand jury indicted 12 other people Thursday.
County Prosecutor Paul J. Gains said the grand jury has no intention to issue indictments against anyone today.
Gains declined to comment on the judge.
Gerald Ingram, Judge Belinky's attorney, also declined to comment Thursday.
Jill Del Greco, BCI spokeswoman, said about the judge: "Our investigation is still open, so we cannot comment."
Judge Belinky was out of his office Thursday afternoon at a doctor's appointment, according to his staff. He was, however, there in the morning.
He didn't return phone calls from The Vindicator seeking comment.
In several areas of the courthouse, however, workers and others said that they had heard indictments — or Belinky's resignation — were to come down, though nothing happened.
Charges could include engaging in a pattern of corrupt activity, tampering with records, bribery, money laundering, theft, and theft in office, according to two search warrants.
County Republican Party Chairman Mark Munroe said if Judge Belinky, a Democrat, resigns, the GOP would create a screening committee to vet candidates seeking to replace him and give Kasich a list of finalists. Under state law, the governor is responsible for filling judicial vacancies.
Judge Belinky is seeking re-election in the Democratic primary in May, facing attorneys Susan Maruca and Christopher Sammarone. If the judge declines to run for re-election, he must formally withdraw as a candidate with the county board of elections.
Judge Belinky failed to capture the county Democratic Party endorsement Feb. 22. That went to Maruca with 110 votes compared with 50 for Sammarone and 40 for the judge.
There is no Republican candidate for the seat, and it's past the deadline for the party to have someone seek that position.
"Judge Belinky's service on the bench has been well-regarded," Munroe said.
But, Munroe said, "there are some attorneys who'd consider a run as an independent."
The filing deadline for independent candidates is May 5, the day before the primary.
Munroe said "it's particularly ironic" that Judge Belinky finds himself investigated when he was "so critical of Mahoning County politics" as a founder of the Democrats of the 17th and 6th Districts political club.
According to paperwork filed with the court when the search warrants were returned, agents seized bank records, campaign finance reports, lists of campaign donors, computers and electronic media from Judge Belinky's office in the probate court.
During a search of his home, agents seized two computer towers, 39 CDs and DVDs, financial documents, campaign materials and an airline boarding pass, the documents said.
He has denied any wrongdoing, saying Feb. 22 that he "can win this race," but was "a little surprised at the [endorsement] results. It's going to be a tough election" because of the investigation.
"How it plays out, I don't know," Belinky said at the time. "There may be nothing there. It wouldn't be the first time someone was investigated and nothing came of it."
Judge Belinky was appointed in 2007 by then-Gov. Ted Strickland to finish out the term of his predecessor, Judge Timothy Maloney, who retired. He was elected to a full six-year term the following year.
Judge Belinky has battled tax problems in the past. In 2011, the IRS placed a lien on his home for owing $32,000 in income taxes from 2008 and 2009.
Judge Belinky and his wife were put on a payment plan to pay the taxes. The judge said then that the tax problems were caused because of income he earned when he closed out his private law practice, where he was self-employed at the same time he began his career on the bench.
Judge Belinky also had his paycheck garnished last year because of $20,000 he owed on a loan from 2008 plus more than $7,000 interest.
As probate judge, he makes about $105,000 annually.