Elementary students honored for artwork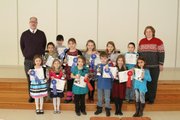 ---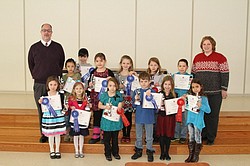 Photo
Neighbors | Submitted.Students at Austintown Elementary School were given awards for their projects in the National Reflections Art program. Pictured, from left, (front) are Addison Williams, Halle Toporcer, Narana Giles, Matthew Diachendt, Hallie Marstellar, Alexis Watson; (back) Principal Thomas Lenton, Jules Loyen, Jared Diachendt, Raina Giles, Mackenzie Kelly, Lily Nelson, Michael Pateras and Reflections chai Mandy Maloney Richmond.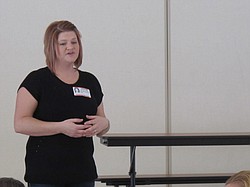 Photo
Neighbors | Tim Cleveland.Mandy Maloney Richmond, chair of the Reflections Art Program, spoke before the awards were given out to the winners of the PTA Reflections Art contest Feb. 7 at Austintown Elementary School.
By TIM CLEVELAND
Feb. 7 was an exciting day for a dozen students at Austintown Elementary School in kindergarten, first and second grade. In a ceremony in the school's cafeteria, 12 students were honored for their places in the PTA Reflections Art Program.
"The Reflections program is a cultural-arts program," said PTA President Lynn Mickey. "It's designed to get the students involved in the arts. They can enter in all the categories. They're judged at a local PTA level, then they go on to the Ohio PTA level. If they win at that, they can go on to a national PTA level."
Approximately 70 students participated in the program. They submitted entries in one of four categories – music, visual arts, photography and dance routine. The first- and second-place finishers advance to the state competition, with the winners being announced in late April.
The first place finishers were Jared Giovannone (second-grade, music), Halle Topercer (kindergarten, visual arts), Matthew Diachendt (first-grade, visual arts), Riana Giles (second-grade, visual arts), Addison Williams (first-grade, photography) and Mackenzie Kelly (second-grade, dance routine).
The second place finishers were Narana Giles (kindergarten, visual arts), Lily Nelson (second-grade, visual arts) and Hallie Marstellar (dance routine).
Finishing as runners-up were second-graders Michael Pateras, Alexis Watson and Jules Loyen.
"I think it's exciting," said Reflections chair Mandy Maloney Richmond. "It's the first time that all of the schools have come together. It used to be the small-town elementary schools would do that. This is the first time we've come together and we've had a lot of really interesting things. We had one young man, Jared Giovannone, he made his own music piece on the piano. It's very interesting. We have a couple dancers that made their own choreographed dance."