Corned Beef on St. Patrick's Day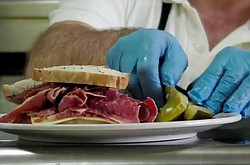 Video
A Mahoning Valley deli hopes to sell 7,500 pounds of corned beef over the St. Patrick's Day weekend.
By Jeanne Starmack | starmack@vindy.com
Liberty
With its Jewish roots, Kravitz Delicatessen on Belmont Avenue doesn't seem likely to be at the epicenter of Irish culture.
There's a culinary connection, however, between Jewish delis and Irish immigrants that puts Jack Kravitz's longtime business into the thick of it, like a heavy Irish brogue.
Jack's mother, Rose Kravitz, started the deli on the North Side of Youngstown in 1939 with the idea of helping her family survive the Great Depression. It opened at the corner of Elm Street and Thornton Avenue.
"They had so little money they had to borrow some to make change the first day," Jack said while sitting at a table in the midst of Tuesday's lunch crowd.
The deli catered largely to the 10,000 Jewish people in the Mahoning Valley at the time.
Like other delis in the country, however, it attracted Irish immigrants who were looking for a substitute for a type of bacon known as rashers that they missed from their old country.
The delicatessens didn't have rashers — but they did have corned beef, which the Irish adopted as a substitute.
Salt-cured, or "corned" beef, now considered an Irish food, will be the centerpiece of many a St. Patrick's Day celebration this weekend.
Kravitz deli will celebrate the Jewish-Irish connection at its Belmont Avenue and Poland Library locations with Corned Beef Fest beginning today and continuing through Monday." Owner Jack's mission: to sell 7,500 pounds of corned beef in four days, 100 pounds for every year the store's been in business.
The green beer will be flowing, not only for St. Pat's Day but for Kravitz's 75th anniversary.
Rose's spirit still infuses the deli and its celebration. She was a community icon, working until six weeks before she died two and a half years ago at age 95, Jack said.
When she got old, he said, she was unable to cut the corned beef because of vision problems.
"She could cut the corned beef on St. Patrick's Day," he said. "We always made an exception."
The deli has a sandwich named for her — the Rose K, which includes corned beef, pastrami and swiss cheese on rye.
Munching on one Tuesday afternoon was Jim Landis, who makes his way up from Canfield once or twice a week to eat.
"Everybody's friendly here," he said, adding that he doesn't mind traveling a little way if the food's good.
The deli is not a good place to be this weekend if you're a vegetarian, acknowledged Jack. As a nod to his Catholic customers, however, he'll host a fish fry today, all day.
Green PBRs, Guinness and other libations are what makes this celebration different from past years', because for the first time, the deli has a liquor license.
Jack is expecting quite a large crowd, he said, and his celebration will be authentic. There will be Irish bands and singers, and even a giant leprechaun at the Poland Library location. That location will feature family events.
How does Jack like his corned beef?
"Rye bread, a little mustard and coleslaw," he said.
More like this from vindy.com