Ursuline cuts down taller Creston Norwayne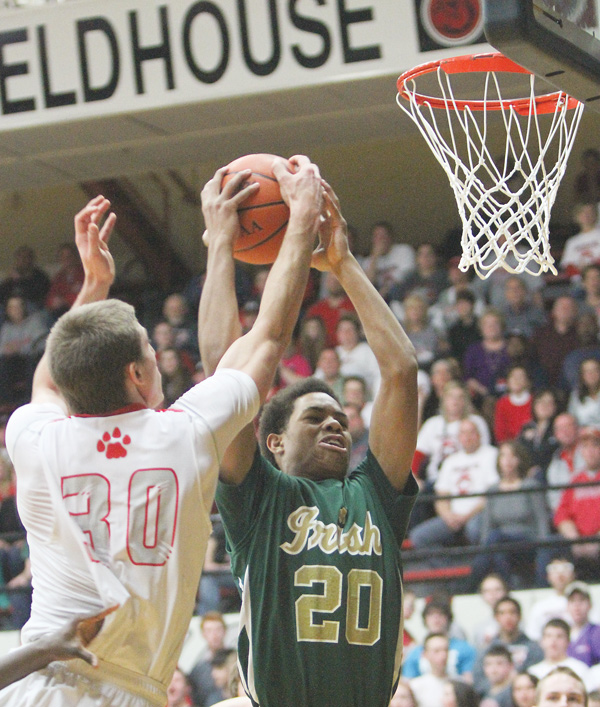 ---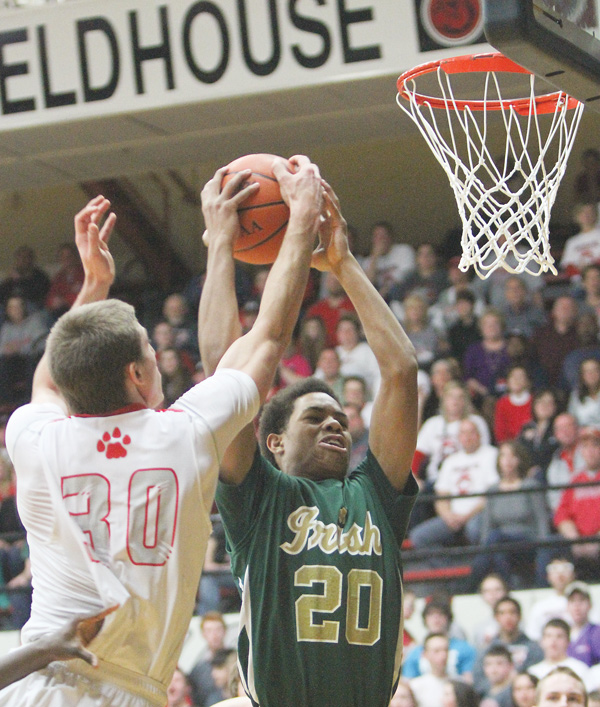 Photo
Ursuline's Dave Collins goes to the hoop past Trent Davis of Norwayne during the first half of their Division III regional semifinal Thursday at the Canton Fieldhouse. The Irish dominated the Bobcats, 74-56.
Ursuline cuts down
taller Creston Norwayne
By Tom Williams
CANTON
Matched against a taller opponent, the Ursuline High boys basketball team's challenge was to keep Norwayne's big guns from dominating underneath.
Mission accomplished.
Paced by Mark Hughes' 27 points and strong defensive play under the basket by Giovani Naples, Paul Jackson and Armon Nasseri, Ursuline defeated Norwayne, 74-56, in a Division III regional semifinal Thursday at the Canton Fieldhouse.
Ursuline will face Cleveland Villa Angela-St. Joseph (the defending Division IV state champion) at 6:15 Saturday night for a trip to Columbus.
The turning point came in the second quarter when the Irish outscored the Bobcats 23-15, mostly by stifling Norwayne's Trent Davis (6-foot-6), Justin Prentiss (6-3) and Tyson Stoudmire (6-2)
"We told our kids if the guards can't see the post, they can't get it to them," Ursuline head coach Keith Gunther said. "That was the reason we were trying to swarm the lanes because those guys are big. It would have been hard for us to front them and get around them.
"So what we did was try to take away the passing lane from the guards."
The Bobcats (23-4) expended a lot of energy trying to get open looks from close range.
"Nasseri, Jackson and Naples did the dirty work for us — our big guys who never get credit," Gunther said.
Hughes agreed.
"Our bigs, they defended real well," the junior guard said. "They forced them into tough shots and then made the rebounds."
Meanwhile, Hughes took charge on offense as the Irish opened up a 36-26 lead at halftime. The junior guard then began the third quarter with a 3-pointer.
"I was struggling a little bit at the beginning of the game, but they told me to keep shooting it," Hughes said. "We controlled the pace real well and it turned out to our favor. We got it going up-tempo."
Gunther said the Bobcats had difficulty keeping up with Irish guards Hughes, Greg Parella and Dave Collins.
"Our kids played great," Gunther said. "The three guards get it going for us.
"When we went up 15, it was basically because Mark was getting to the basket. He made a nice move at the end of the half to knock a shot down."
Jackson said Hughes' four-3-pointers gave the Irish a lift.
"I love playing with him," the senior post player said. "We've achieved our goal of getting to the regional final."
The lead remained 10 points after three quarters, then the Irish surged.
"Mark's penetration game just changed everything because when Mark is going to the basket, he's slashing on everybody," Gunther said. "He did a nice job of finishing, a nice job of making free throws. He had another one of his better games."
Collins scored 14 points, Parella 12 and Jackson 10.
Stoudmire led the Bobcats with 14 points, Prentiss scored 12 points and Davis 11.
"Their kids played hard," Gunther said. "I was hoping we could keep them in the 40s."
Hughes said he's never had a bigger victory.
"It feels great knowing we've made it to the regional final," Hughes said. "We've got to come back tomorrow and get prepared, hopefully get a win on Saturday."