Thompson's three-point play helps Penguins top Oakland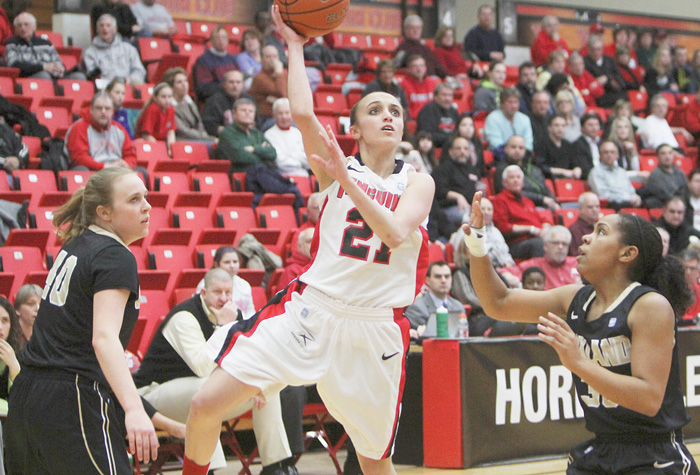 ---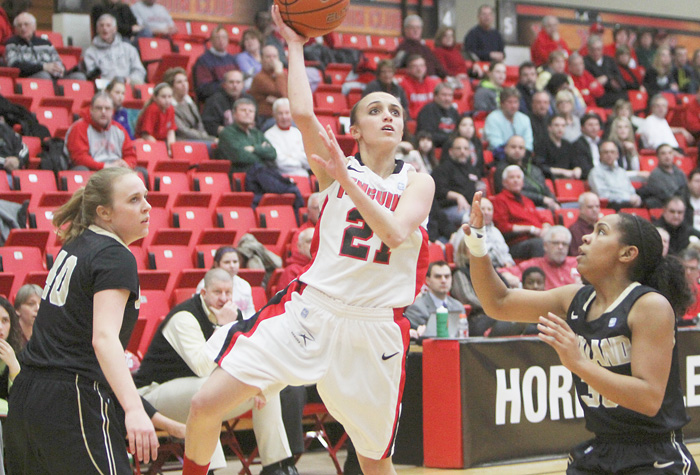 Photo
Youngstown State's Liz Hornberger puts up a shot against Oakland's Victoria Lipscomb during the first half of Wednesday's Horizon League quarterfinal at YSU's Beeghly Center. The Penguins downed the Golden Grizzlies, 68-64. Hornberger made three 3-pointers to tie Dianne Rappach (1988-92) for the school's career record of 198.
Thompson's three-point play helps Penguins top Oakland
By Joe Scalzo
YOUNGSTOWN
The strangest thing about Melissa Thompson's game-winning shot was she wasn't planning to take it.
Youngstown State and Oakland were tied with 40 seconds left in Wednesday's Horizon League quarterfinal when Thompson found herself with the ball on the right side of the lane near the free-throw line.
"I didn't realize how open the lane was," the Penguin senior guard said. "I was looking for a pass and I was like, 'Oh, I can just drive it.'"
Thompson darted in for a layup and drew a foul on Oakland's Kim Bee. She made the free throw and YSU's defense did the rest, holding the Golden Grizzlies scoreless for the final two minutes of a 68-64 victory at Beeghly Center.
Thompson finished with a career-high 15 points and grabbed nine rebounds for the third-seeded Penguins (15-15), who will meet second-seeded Wright State in Friday's semifinals at Green Bay.
"You've got to find a way," Penguins senior Liz Hornberger said. "I don't know how we did it. We continued to turn the ball over and continued to not box out. But you've got to find a way."
Trailing 67-64, Oakland had two chances to tie in the final 30 seconds. Victoria Lipscomb missed a 3-pointer and Thompson got the rebound, but Bethany Watterworth tied her up for a jump ball with 15.9 seconds left, with the possession arrow favoring the Grizzlies. Oakland then found Elena Popkey at the top of the arc for an off-balance 3-point try that banked off to the left. Popkey tried (and failed) to draw a foul on Hornberger, who stayed flat-footed with her arm raised in the air.
"I just tried to contest it and hope she didn't make it," Hornberger said.
Heidi Schlegel grabbed the rebound and split a pair of free throws to make it a four-point game with seven seconds left. Popkey again tried to jump into Hornberger on a 3-point attempt in the closing seconds, but, again, Hornberger stayed disciplined.
"I'm an idiot for guarding her on that last shot," Hornberger said. "So stupid.
"I should have known better the second time she did it because it probably would have been a foul on me if she would have made it. I could have kissed my senior season goodbye. Coach [John] Nicolais talked to me about it and the more I think about it, the more I'm shaking because I'm like, 'Oh my gosh, I should never do that ever again.'"
Schlegel, a first team all-conference selection, scored 21 points with 10 rebounds and five assists for the Penguins, who are back in the tournament semifinals despite losing their head coach (Bob Boldon, who is now at Ohio) and their best two players from last year: Brandi Brown (who graduated) and Shar'Rae Davis (who missed her sophomore year with colitis). Both players were in the stands for Wednesday's win.
"We kind of found a way to manufacture points with different ways here and there, but you just have to have your top players step up and make plays down the stretch," YSU coach John Barnes said. "That's how you win."
Bee scored 18 points and grabbed 14 rebounds for sixth-seeded Oakland (13-17), which shot just 33 percent from the field, including 23 percent in the first half.
Hornberger made three 3-pointers to tie Dianne Rappach (1988-92) for the school's career record of 198.
"It's nice, but I don't get that without the passes and the screens and all the help on the court," Hornberger said. "I am proud and I know my parents will be proud. But some people don't get recognition that should on this team some days."