Drink up: Rodeo goes for glory with world's largest beer bong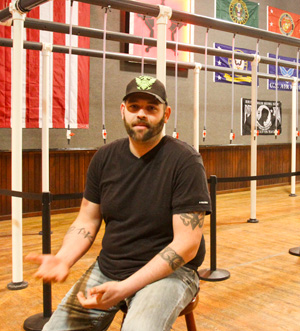 ---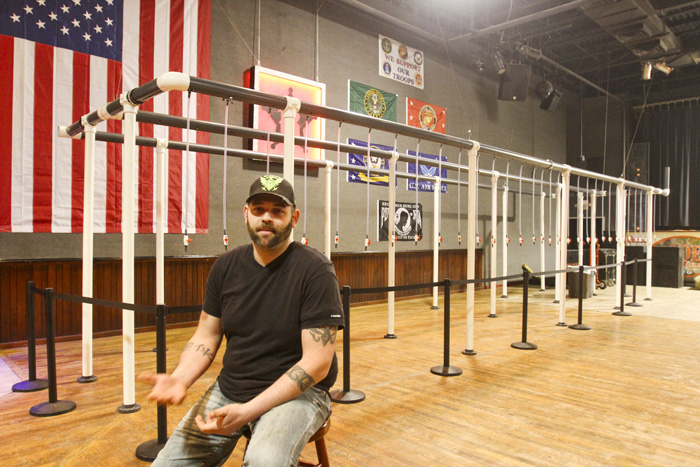 Photo
Derrick Dozier, co-owner of Rodeo Music Hall in Austintown, sits in front of what is being called the world's largest beer bong.
This is going to be epic.
Rodeo Music Hall has built what it's calling "the world's largest beer bong," and on March 21 at midnight, a record-setting 300 people will simultaneously guzzle a beer from it.
It's $20 to participate, with all proceeds benefiting the Wounded Warrior Project, which aids U.S. military veterans.
The beer bong is a massive structure of elevated heavy-duty PVC pipe with 300 rubber hoses — each with a shut-off valve — hanging from it. Four and a half kegs of beer will be fed into one end of it, and the liquid will snake through three parallel rows, each 40 feet long.
The goal is to steal the crown set in 2012 by Clyde's Corner Bar in Beldenville, Wis., where 220 people emptied just about four kegs in four minutes. I'm not certain, but it might have been immediately followed by the world's largest simultaneous beer belch.
Clyde's did it outdoors, and a video is on YouTube. The scene looks very agricultural, kind of like cows milling around the food-delivery pipe at a feed lot.
At Rodeo, the beer bong will be indoors and will probably be just as crowded. A total of 41/2 kegs of beer will be poured into the system, and each of the 300 participants must simultaneously down a standard pint of beer to shatter the record.
Derrick Dozier and Chris McFall are the owners of Rodeo, and they expect Clyde's to attempt to regain the record at some point. The trash-talking has already begun.
The Guinness Book of World Records has been notified of the attempt, but it hasn't yet said if it is going to send a representative or recognize the feat, said Dozier.
When McFall saw what Clyde's bar did, he knew he could do it one better. McFall owns a plastic piping business, so this project was right up his alley.
The structure is bolted into the floor but will be removed and stored after March 21. It was designed so that it can be expanded, so Rodeo can regain the title should it lose it in the future.
Rodeo is a large country- music nightclub in Wedge-wood Plaza, which is at the intersection of New and South Raccoon roads in Austintown. The venue is so big that the beer bong takes up only maybe a quarter of the room.
It has multiple bars and a large balcony, from which the beer will be poured into the bong. Gravity will do the rest to get it into the hoses.
As of this week, there were still dozens of slots left for those who want to participate. You can sign up at Rodeo or at Shotz bar, 3713 Oakwood Ave., Austintown.
Before the record-setting attempt March 21, Rodeo will feature country recording artist Cody Gibson, with Aimee Jane.
Local personalities Hairy George and the Usual Suspects, who have a twice-weekly Internet radio show on bestbikerradio.com, also will be on hand.
Doors will open at 8 p.m., and admission will be $5.
ELTON JOHN VEGAS CONCERT TO BE SCREENED AT THEATER
If you missed Elton John's Feb. 1 concert at Covelli Centre, the next best thing might be at Tinseltown in Boardman on Tuesday.
"Elton John: The Million Dollar Piano," a one-time special-event screening, captures the rock legend in a concert at the Colosseum at Caesar's Palace in Las Vegas. The two-hour show includes all of the Rocket Man's hits (just like the Covelli concert), plus a behind-the-scenes look at the making of his landmark album "Goodbye Yellow Brick Road."
The centerpiece of the concert is the show's namesake piano. Featuring more than 68 video screens, the unique instrument was created by Yamaha Entertainment Group of America especially for Elton John's Las Vegas residency and took more than four years to construct.
The screening will be repeated March 26 at the Boardman multiplex, as part of the Fathom Events series of one-shot cinema specials. Tickets are available at the box office and in advance at fathomevents.com.
FILMMAKERS WANT TO HEAR VETERANS' post-war experiences
Laythrom Media of Warren is making a documentary about the problems that returning military veterans face, including post-traumatic stress disorder and transitioning back into civilian life.
The media and film company is asking veterans who want to share their personal stories to contact Matt Adkins at laythrom@gmail.com.