Published: Thu, March 13, 2014 @ 12:05 a.m.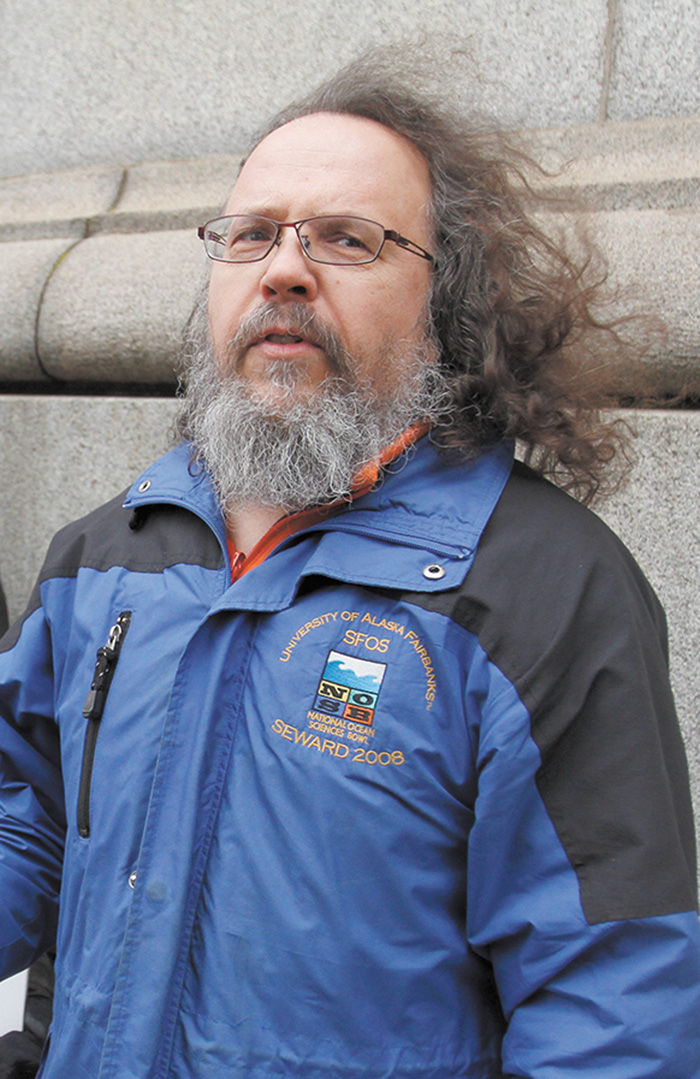 Photo
YSU professor Ray Beiersdorfer spoke Wednesday at a downtown news conference organized by Frackfree Mahoning Valley.
YOUNGSTOWN
Details surrounding a series of earthquakes in Poland Township continued to emerge slowly Wednesday, as a group of fracking opponents organized a rally at city hall.
Mark Bruce, a spokesman for the Ohio Department of Natural Resources, confirmed Wednesday that Hilcorp Energy Co.'s one producing well at the Republic Services Carbon Limestone Landfill remains in operation. But the Houston-based company's six other wells at various stages of production — and located on a separate well pad — have stayed shut down.
Bruce confirmed that hydraulic fracturing had been occurring at the shuttered pad, close to the epicenters of 11 low-magnitude earthquakes, though he could not say when or if fracking fluids had been used there. "The activities at the second well pad — that's what we're looking into regarding these circumstances," he said.
Meanwhile, members of Frackfree Mahoning Valley had a news conference urging ODNR to take a closer look at this week's events, which they think were caused by fracking.
Ray Beiersdorfer, a geology professor at Youngstown State University, said the tremors raised concern, after D&L Energy's Youngstown injection well caused as many as 109 earthquakes three years ago.
"There seems to be something about the geology that's really throwing up a red flag that we shouldn't be doing either of these activities in this vicinity," he said.
Beiersdorfer said previous earthquakes revealed a fault deep below Mahoning County that could have been in play this week.
"Now we know that there's a fault somewhere under there. We just don't know how deep it is, what the orientation is," he said, calling on ODNR to move portable seismic monitors to the Carbon Limestone Landfill site to get a better sense of the recent underground movements.
After the 2011-12 Youngs-town quakes, ODNR established a network of 13 seismic monitors in the area. Some of those devices can be moved, but ODNR has not yet brought any to the Poland site, Bruce said.
Nor has the agency determined if the Precambrian bedrock layer, a nearly impermeable rock formation more than 9,000 feet below ground, could have been affected by Hilcorp's wells, which the company said were drilled to a vertical depth of 7,900 feet.
"Depth of the well and site-specific geology," Bruce said, "that's part of the data we're gathering."
Earlier Monday, rumors circulated that early-morning dynamite detonations at the Carbon Limestone Landfill could be linked to the tremors.
But Mike Heher, manager of the Carbon Limestone Landfill in Poland, said employees have been using dynamite around 3 p.m. daily for the last few weeks to remove limestone.
"It's a construction project," he said.
He said the excavation goes 10 feet down and would register on a graph but wouldn't cause an earthquake.
"We've been doing it for years," Heher said.
Bruce said blasting is something that happens throughout the state and ODNR is aware of it, but he couldn't say whether it would contribute to the tremors felt in the Poland and Lowellville areas earlier this week.
"We're looking at everything," Bruce said.
He said the agency is reviewing the landfill's blasting logs to "see how it fits into the whole picture."
The U.S. Geological Survey recorded five earthquakes this week in Poland Township near the site, ranging in magnitude from 2.1 to 3.0. But Columbia University's Lamont-Doherty Earth Observatory also registered five additional lower-magnitude shocks in other places throughout the region, bringing the total tremors recorded between March 4 and March 10 to 11.
Citing an "abundance of caution," ODNR on Monday ordered Hilcorp's drilling halted in Poland, and has been reviewing the company's logs ever since.
"It was the right thing to do," said Mike Chadsey, spokesman for the Ohio Oil and Gas Association. "Let's get to the bottom of this. Let's figure it out and not jump to any conclusions."
Shawn Bennett, field manager for the Ohio branch of Energy In Depth, agreed, saying it was "premature to make any assumptions" as ODNR continues its investigation.
Hilcorp has complied with the ODNR order and is fully cooperating with the agency, Bruce said.
In a statement, the company said it agreed with ODNR's decision and acknowledged that there is no definitive link between the earthquakes and its operations.
"It is far too early in the process to know exactly what happened, and we are not aware of any evidence to connect our operations to these events. We would also like to remind the community that a number of Utica wells have been drilled in Ohio in recent years without incident."
Contributor: Staff writer Denise Dick