Published: Wed, March 12, 2014 @ 4:43 p.m.
Video Set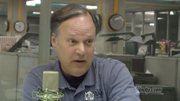 Poland Township Trustee Bob Lidle joins Louie b. Free and Todd Franko to discuss the recent quake that rumbled through the area.
At 10 a.m., Poland Twp. Trustee Bob Lidle joins to discuss this week's earthquakes in the township and the reaction there.
Go to vindy.com/radio to listen to the show live, or vindy.com/mobile/vindy-radio to listen from your smartphone.
Click here to listen to the show. Follow @vindyradio on twitter to interact with us.
Vindy Talk Radio Studio: 330-333-4454