Published: Wed, March 12, 2014 @ 4:43 p.m.
Lowellville Quake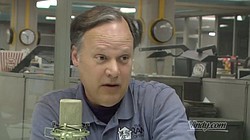 Video Set
At 10 a.m., Poland Twp. Trustee Bob Lidle joins to discuss this week's earthquakes in the township and the reaction there.
Go to vindy.com/radio to listen to the show live, or vindy.com/mobile/vindy-radio to listen from your smartphone.
Click here to listen to the show. Follow @vindyradio on twitter to interact with us.
Vindy Talk Radio Studio: 330-333-4454