The Fireplace offers four versions of signature fish.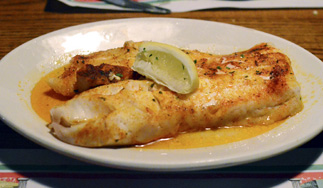 ---
When You Go...
Where: The Fireplace
2075 E. Western Reserve Road
Poland, Ohio
Phone: 330-757-4043
Kitchen Hours:
Tue - Sat: 4:30 - 10 p.m
Website: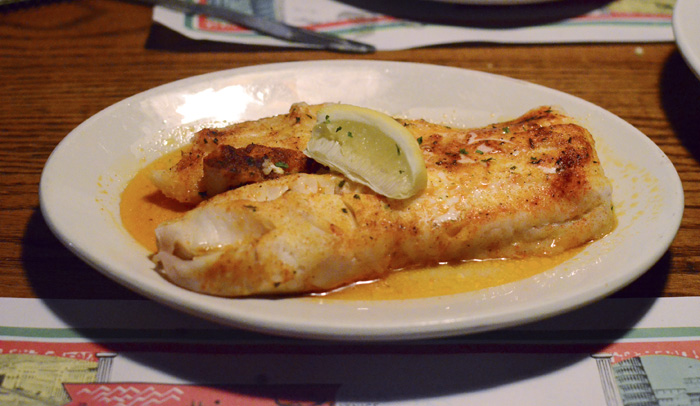 Photo
Broiled fish from the Fireplace.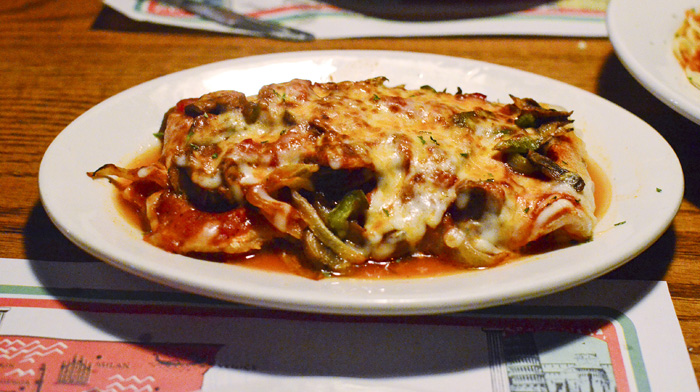 Photo
Italian style broiled fish from the Fireplace.
by: Mark Smesko, Michael Vallas
In our circle of friends and family, unsolicited advice is readily abundant. Someone is always telling us whom to see, what to eat and where to stick our opinions.
However, unlike most of the usual offerings, the timing of a recent suggestion was actually helpful as we were trying to figure out the next place for our Signature Dish feature. So "Why don't you go The Fireplace? They've got good fish," started us on our way.
The Fireplace, owned by Tommy and Karen Campana, has been at its current location near the Five Points in Poland for 18 years. Before this, it was run for about 24 years by Tommy's father on South Avenue in Youngstown.
Back then the Fireplace was known for its 10-cent wings on Monday night. Today the restaurant has a reputation for good food and good entertainment. Given the Lenten season, we agreed upon sampling a few meatless dishes.
With that said, Mark orders up a cup of homemade wedding soup. So much for meatless. The soup was a great start on a cold night and consisted of meatballs, carrots and spinach in a savory chicken broth, topped off with a few shakes of grated Romano. The cups were soon empty.
Getting back to the "meatless" selections, we ordered up another Youngstown favorite, fried greens with hot peppers.
On appearance the platter looked like a typical preparation, but we were surprised to find out that the greens were a mixture of spinach, romaine and iceberg lettuce. Mark, ever the Doubting Thomas, asked our server to check with the cook to verify the inclusion of romaine and iceberg lettuces.
He confirmed that they use this mixture to avoid any bitter taste, and saute the greens in olive oil with garlic and red pepper flakes. The completed greens are then topped with the house-made seasoned hot peppers. Like the wedding soup, the greens were a delicious version of a hometown staple.
The Fireplace offers four versions of its signature fish, North Atlantic cod. This fish has a firm but tender, flaky flesh. The mild taste is well suited to the various preparations offered. Tommy and Karen insisted we sample all four selections.
While we waited for the fish to arrive, we were presented with a generous tasting portion of eggplant parmigiana with a side of homemade cavatelli. The eggplant was lightly breaded, fried and layered with creamy ricotta cheese and topped with melted mozzarella and a rich tomato sauce.
The cavatelli, made by hand, were covered in the same tasty red sauce. The eggplant was tender and the cavatelli remarkably light. Neither of us typically order red sauce when out at restaurants, so we were surprised at the balance of acidity and sweetness in this preparation. This in itself would be satisfying, but we came for the fish.
First up was the fried version. The fish is lightly battered, tossed in breading and deep fried to form a light crispy exterior while maintaining a soft, flaky meat. A squeeze of fresh lemon was all that was needed to accent the taste of the cod.
Next on the line was the Italian-style preparation. In Italian cooking, it is a bit of heresy to pair cheese with fish. And we were honestly quite leery about trying a dish that featured broiled fish topped with peppers, onions, mushrooms, mozzarella and red sauce. However after the first trepidatious bite, we were pleasantly surprised that the subtle flavor of the cod actually worked quite well with the toppings. A winner for both of us.
Between these two portions we also sampled the Cajun seasoned and broiled cod with butter and lemon. The Cajun version was not too spicy, and the broiled fish would be a good selection for those partial to light flavoring and mild fish.
We bookended our fish tasting with samplings of linguine in clams in both a red and a white sauce. The chopped clams were tender and tasty in both sauce versions. And beginning this month, the Fireplace will be serving pasta with a spicy tuna sauce.
The Fireplace features a full menu of Italian staples including, pasta, chicken and seafood. For those of you giving up meat, the Fireplace can provide you with enough tasty options that it almost seems sinful.
And if you are wondering what we are giving up, well, one of us is foregoing cigars, while the other is abstaining from his favorite guilty pleasure, chili dogs.
Stay tuned. We have big plans once Lent is over.