---
Wednesday, March 12, 2014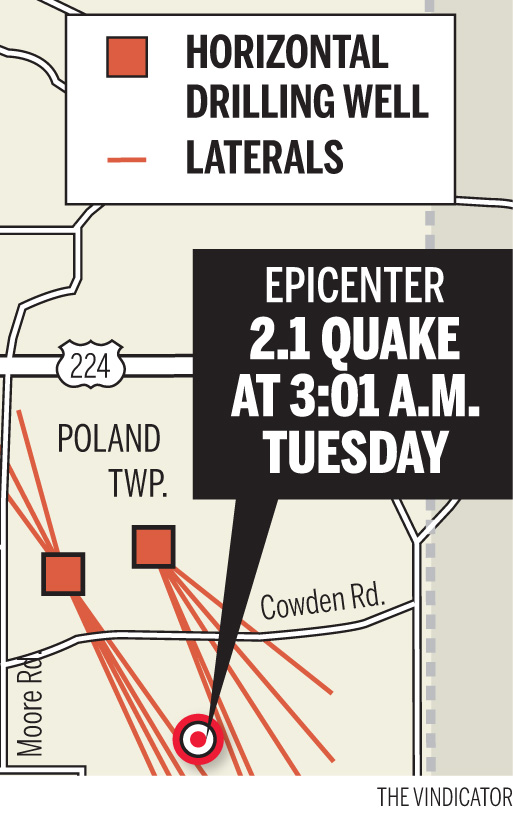 Photo
Epicenter of the earthquake that occurred early Tuesday morning.
POLAND
Shale activities in Poland Township remain at a standstill today, after the area experienced its fifth earthquake in about 24 hours early Tuesday.
According to the U.S. Geological Survey, the 2.1-magnitude tremor occurred just after 3 a.m. Tuesday at a depth of 5.2 kilometers. It was just to the south of Monday's quakes, the last of which registered at 11:44 a.m.
Eric Ungaro, a Poland Township trustee, said police received a call around the time of the Tuesday aftershock. More calls had come in the night before from concerned residents.
"It is just a safety concern for everyone in our area," he said. "We have been on the phone for hours and talking to different people."
The newest tremor was a typical aftereffect of an initial 3.0-magnitude quake that shook some homes early Monday, said Ray Beiersdorfer, a geology professor at Youngstown State University. But the elapsed time between tremors could indicate that they are tapering off, he said.
The U.S. Geological Survey located the epicenter of the first earthquake almost directly below one of two Hilcorp Energy Co. well pads at the Carbon Limestone Landfill. Three more tremors followed to the east and west, prompting the Ohio Department of Natural Resources to halt the Houston-based company's drilling activities "out of an abundance of caution."
Mark Bruce, ODNR spokesman, said field inspectors were at the site Tuesday to gather geological data to provide clues as to what exactly caused the tremors.
"There's nothing uniquely interesting about Mahoning County 'geo-wise,'" Bruce said, adding that there's "always information to learn a mile" under the earth.
Frackfree Mahoning Valley will have a news conference to address the latest information at 1:15 p.m. today, on the sidewalk outside Youngstown City Hall, 26 S. Phelps St. Beiersdorfer will answer questions and provide the latest scientific information that he has gathered about the five earthquakes.
Though Hilcorp is complying with ODNR orders to turn over logs of its operations, the Houston-based company on Tuesday shared few details publicly regarding Poland wells.
Hilcorp began drilling on its first well pad in November 2012. Drilling started the following October on the second pad, where completion operations began last month and remain unfinished.
Hilcorp said Monday that it had seven wells at the landfill site.
Of those, one was actively producing and the others are in various stages of development, but Hilcorp would not comment Tuesday about how far along those wells are in the development process.
According to ODNR records, most wells were drilled to a total vertical depth — the point at which a well's lateral extends horizontally — in the range of 7,900 and 8,000 feet.
The total vertical depth of Hilcorp's Poland wells are on the low end of the spectrum for Utica wells because drillers need to avoid the Precambrian bedrock formation at a depth of 9,600 feet, Beiersdorfer said.
A D&L Energy injection well in Youngstown, drilled into that near-impermeable rock formation about three years ago, has been associated with as many as 109 earthquakes.
But there were no such disposal wells in play near the site of this week's tremors, and ODNR was quick to rule out injection wells as a cause Monday.
Beiersdorfer said much is still unknown about the nature of this week's earthquakes, including the depth at which they actually occurred. Two possibilities, he said, are that they could have originated in the younger rock formations or that they were caused by water seeping into faults in the deep Precambrian layer.
"Right now, you can't really rule one or the other out," he said. "The uncertainties are just so large."
Meanwhile, Bruce said it is far too soon to conjecture about a cause or any possible link to fracking, as ODNR is "still early in the gathering process."
All drilling will remain suspended until further notice, he said.
In the meantime, Ungaro said he is trying to communicate the situation to Poland Township residents, while the state tries to get to the bottom of the situation.
"You just trust in your government that the decisions that are made are correct," he said.