Phil Robertson of 'Duck Dynasty' to speak at Men's Rally in the Valley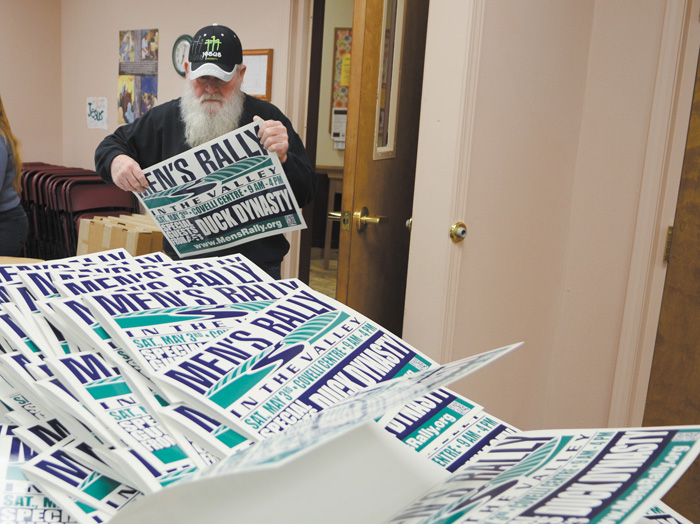 ---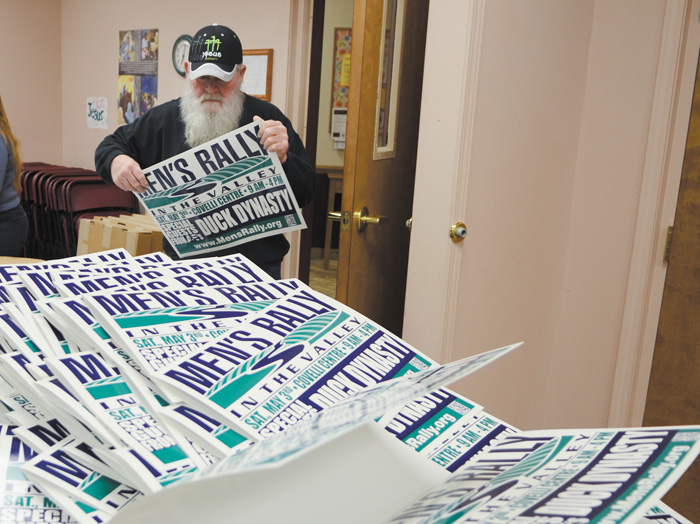 Photo
Bob Bartholow of Leetonia stacks signs to be assembled for Men's Rally in the Valley Thursday, March 6, 2014 at Faith Chapel in Salem.
By LINDA M. LINONIS
youngstown
At a service Sept. 15, 2013, at White Smith Ferry Church in West Monroe, La., Walter "Bing" Newton participated in worship and met the Robertson family of "Duck Dynasty" fame.
That encounter led Phil Robertson, head of the family and founder of Duck Commander Co., to agree to speak at the Men's Rally in the Valley on May 3 at the Covelli Centre. He'll be introduced by his oldest son, Alan, who was in the ministry for 25 years before returning to the family business.
Newton, lead organizer and founder of the Men's Rally in the Valley, said after last year's event that the group knew its next theme would be "No Compromise ... No Retreat ... Standing on the Truth" from the book of Daniel. "No Compromise, No Retreat" will be Robertson's topic when he speaks about 3 p.m. May 3.
"Robertson has stood up for what he believed," Newton said. "He doesn't bash people, he bashes the sin."
Newton said Robertson's celebrity will attract men who have never attended a rally. When they are at the Covelli Centre, they'll hear testimonies and Christian messages.
"Phil Robertson will share his testimony and Christian values," Newton said of the man who became a Christian in the 1970s. "He accepted God and it changed his life," Newton said, adding that is an example for rally participants.
Newton said he and his wife, Peggy, read Robertson's best-seller, "Happy, Happy, Happy." "I followed God's direction," Newton said of how the idea of asking Robertson to speak at the rally came about.
"My wife suggested we take a vacation to West Monroe," Newton said. They stayed at a motel within walking distance of the Duck Commander store and stopped in twice daily in hopes of bumping into a Robertson family member. Someone suggested the way to do that was to attend the Robertsons' church — and so the Newtons did.
The Newtons picked a pew in the 1,000-member church, and behind them were the Robertsons. Lisa Robertson, Alan's wife, sat in the same pew as the Newtons. The Newtons started a conversation with Lisa Robertson, a booking agent for the family.
In later conversation with Phil Robertson, the reality TV personality asked Newton about Ohio's ducks and deer. Newton mentioned the 2014 rally, and Phil Robertson responded that was "a good date" for him. Lisa Robertson told the Newtons that the family gets between 200 and 400 requests daily for public appearances.
Bob Weber, rally press secretary, said the organization had sent emails and a packet on the event but didn't know if the Robertsons ever saw them.
He agreed with Newton that Robertson will be a drawing card, but once at the event, men will hear uplifting and motivating messages from speakers. "Men will find friends within," Weber said, adding that their acceptance of Jesus is meaningful. "They become better men, husbands, fathers and community residents."
Weber added, "We've seen lives change."
Since the rally began in 2010, the events typically draw between 3,000 and 4,000 men. Weber said between 6,500 and 7,000 seats will be available this year.
"Our ultimate goal at the rallies is to bring men into a relationship or closer relationship with Jesus. It's powerful and meaningful," Newton said of men's transformations. The rallies aim to bring men "together in Christian unity for prayer, fellowship, worship and preaching."
Newton noted his own experience.
The retired Salem High School teacher and track coach admitted he wasn't a nice guy before he accepted Jesus.
"I wanted to be successful and important," he said, noting concern for his student athletes was secondary. For some reason, he sent some athletes to a Fellowship of Christian Athletes meeting.
"A shot putter picked me up, looked me in the eye and said he loved me," Newton recalled of an encounter that followed. "Everything changed for me." When students' welfare came first and winning second, he said, his life and career took a more fulfilling direction.
That's the experience he hopes men attending the rally achieve.