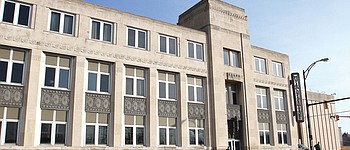 The Youngstown Business Incubator is seeking $5 million to renovate a downtown building
Organization would buy Vindicator office building then seek state funds to renovate for 3D expansion
Published: 3/11/14 @ 12:05
YOUNGSTOWN
The Youngstown Business Incubator, which owns four downtown buildings, is seeking $5 million from the state for a fifth to expand its focus on additive manufacturing and business-to-business software.
The organization submitted a proposal to receive money from the state capital budget to renovate The Vindicator's office building on the corner of Vindicator Square and West Boardman Street for an expansion.
Any money received from the state would go toward renovations with YBI using other funding sources to purchase the building, said Barb Ewing, the incubator's chief operating officer.
"We are well-positioned to cobble the money from different sources" to buy The Vindicator building, she said.
Mark Brown, the newspaper's general manager, said he's had discussions with YBI officials about selling the building.
"We don't have an agreement in writing," he said.
"The discussions are based on YBI obtaining funding" to purchase the structure.
The Vindicator also owns a larger and newer building on the corner of Vindicator Square and West Front Street, the location of its newsroom, printing press and loading docks. Brown said there is plenty of space at that location to accommodate the entire newspaper staff.
Ohio Senate Minority Leader Joe Schiavoni of Boardman, D-33rd, said Republicans tell him a decision on how much money would be in the state capital budget and what projects would receive funding is expected before the Legislature recesses for the summer.
Other local projects in addition to The Vindicator building renovation project submitted for state capital budget include: an amphitheater at Youngstown's Covelli Centre; a Southern Park Historic District in Boardman that would include a museum, picnic areas and communal space; improvements to the Tech Belt Energy Innovation Center in Warren; a riverfront cleanup project in Lowellville; and upgrades to the Tyler History Center in Youngstown, and the Youngstown Historical Center of Industry and Labor.
"When the [capital budget] comes out, hopefully the Mahoning Valley will be represented well," Schiavoni said.
"It needs to be balanced and fair throughout the state."
Jim Cossler, YBI's chief executive officer, said the incubator's building occupancy is 80 percent to 85 percent, with most of that unoccupied space in its original building at 241 W. Federal St.
YBI also owns the Taft Technology Center and the Semple Building, which are just west of 241 W. Federal St., as well as America Makes, the $70 million advanced manufacturing hub previously known as the National Additive Manufacturing Innovation Institute at 236 W. Boardman St.
"We're running out of space real fast," Cossler said.
YBI is "confident" it will receive some state capital budget money as long as the "bill isn't pulled off the table," he said.
"You can do it in phases," Cossler said.
"We don't have to do it in one bite. We did two rounds of funding for Taft. If we get money in the first round to get it going, we can work" on finding additional money.
Don't Miss a Story
Sign up for our newsletter to receive daily news directly in your inbox.