YSU's Schlegel named first-team All-Horizon League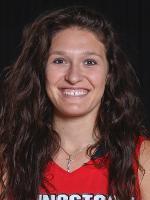 ---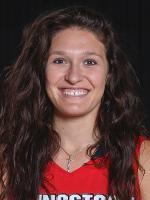 Photo
Heidi Schlegel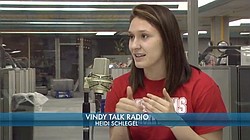 Video Set
Schlegel named first-team All-Horizon League
By Joe Scalzo
Before the Youngstown State women's basketball team could think about March Madness, it had to get through March Sadness.
Losses to UIC (on Feb. 27) and Detroit (March 1) cost the Penguins a chance at the Horizon League's regular season title and YSU coach John Barnes admitted it took his team a few days to rebound.
"Going into Saturday's game [against Cleveland State] it was a little uneasy because I think we were so disappointed in not having a chance at that championship, it was a little bit tough getting up to play in the games after that," said Barnes, whose team rebounded from a 15-point loss to Wright State on March 5 by beating CSU 94-81. "I think having senior day and realizing, hey, this could be the last game in Beeghly fired them up and got them refocused."
The third-seeded Penguins (14-15) get another chance at the Horizon League title when they play host to sixth-seeded Oakland (13-16) in the tournament quarterfinals Wednesday. Unless No. 1 Green Bay and No. 2 Wright State lose, it will be the final home game for this year's seniors.
"I'm excited," Barnes said. "I think our team is very energetic and up and will be ready to go."
YSU got an off-court boost on Monday when junior forward Heidi Schlegel became the third Penguin to earn first team all-Horizon League honors, joining Brandi Brown (2012-13) and Jen Perugini (2004-05).
Schlegel got the third-most votes behind conference player of the year Kim Demmings of Wright State and UIC's Ruvanna Campbell, who was named defensive player of the year. Schlegel was second in the conference with 20.0 points per game and also ranked in the top five in rebounding (8.0 per game) and free-throw percentage (81.0).
"Heidi works extremely hard," Barnes said. "She's always putting in extra time and working on her game and doing everything she can to help the team win so I was glad to see her get recognized."
Senior guard Monica Touvelle, a Boardman High graduate, was voted sixth player of the year, while freshman point guard Jenna Hirsch was named to the league's all-freshmen team.
Touvelle ranks fifth in the league in 3-point percentage (.389) and is averaging 6.0 points per game while battling a stress fracture in her foot that forced her to miss six weeks. She's third all-time at YSU with 117 3-pointers.
"She's been battling a fracture in her foot all year and been finding a way to get out there and hit 3s and help us win games," Barnes said. "For her as a senior to be recognized was very nice."
Hirsch has averaged 8.4 points, 3.6 assists and 3.7 assists since breaking into the starting lineup. She's second among conference freshmen in assists and minutes per game and is fourth in points and rebounds.
"Jenna Hirsch as a true freshman kind of got thrust into the starting lineup and she's handled it well to lead us to a third-place finish and hosting a game," Barnes said. "Obviously I'm proud of her and excited for her."
YSU split the season series with Oakland, beating the Golden Grizzlies 79-64 at home on Jan. 25, then losing 87-67 on the road on Feb. 8.
"We have to be very focused on the job that we need to get done," Schlegel said. "I think winning on Saturday was good for us. We got back to doing the little things.
"It is win or go home, so we have to come out and play as a team and do the little things like we have all season."