---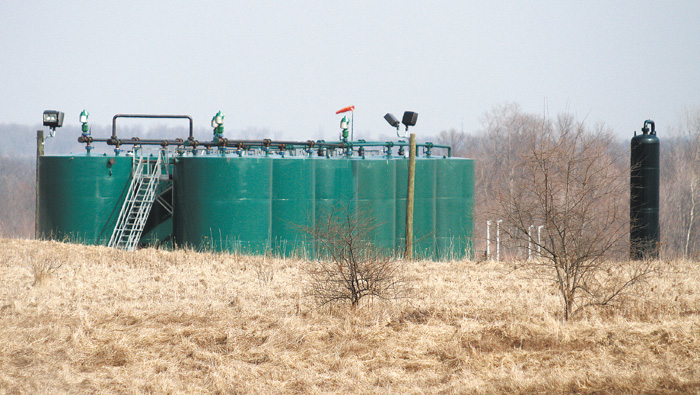 Photo
Hilcorp Energy Co.'s fracking well on Moore Road in Poland Township.
POLAND
A state agency and local leaders again find themselves looking for answers as to why seismic tremors shook up part of the Valley for the first time in two years.
Police in Boardman and Poland said they fielded calls Monday from people who felt the early-morning tremors, but no injuries or property damage were reported.
The Ohio Department of Natural Resources and Hilcorp Energy Co. say it's too soon to determine the cause of four earthquakes in Poland Township.
Citing an abundance of caution, however, ODNR ordered Hilcorp to halt all activity at two well pads at the Carbon Limestone Landfill "until further assessment can take place."
Hilcorp said it complied, shutting down seven wells at the site including one that was actively producing oil and gas.
"It is far too early in the process to know exactly what happened, and we are not aware of any evidence to connect our operations to these events," the company said in a statement. "We would also like to remind the community that a number of Utica wells have been drilled in Ohio in recent years without incident."
The U.S. Geological Survey placed the epicenter of the first earthquake at 2:26 a.m. almost directly below Hilcorp's well pads. Though the quake initially registered a magnitude of 2.8, USGS later upgraded it to a magnitude 3.0.
A second, magnitude 2.4 earthquake registered to the west 16 minutes later, in between Struthers and Monroe Roads, according to USGS data. Two more earthquakes — magnitudes of 2.2 and 2.6 ã— followed to the east of the original epicenter during the 11 a.m. hour.
ODNR said it was "in the process of analyzing the data," and a spokesman added it would be "premature" to speculate as to whether the tremors were in any way connected to drilling operations in Poland, where Hilcorp Energy Co. has permits to drill 12 wells.
ODNR ruled out the possibility that Monday's earthquakes were connected to Class II injection wells, and Hilcorp stressed that it had no disposal wells operating in the area, used to discard the salty chemical byproduct brine.
A March 2012 ODNR report confirmed long-held suspicions that D&L Energy's Northstar 1 deep injection well, operating in Youngstown, was linked to 13 earthquakes in a year. A study published in August 2013 by Columbia University researchers, however, linked that well to as many as 109 tremors between January 2011 and February 2012.
But no such injection wells were in play on Monday in that area, spurring some to wonder whether the fracking process itself could be enough to trigger seismic reactions.
Fracking extracts natural gas from shale under pressure.
Ray Beiersdorfer, a professor of geology at Youngstown State University, said the proximity of the earthquake epicenters raises some concerns.
"There are no injection wells in that area, but the ODNR well locator shows that there are numerous horizontal shale-gas fracking wells nearby. A working hypothesis that the earthquake is related to the fracking, if proven correct, would not be the first documented case of fracking causing earthquakes," he said.
Beiersdorfer cited a study by the BC Oil and Gas Commission, an agency responsible for regulating oil and gas activities in British Columbia, that linked fracking to abnormal seismic activity in parts of the Horn River Basin. The report found that the low-level tremors recorded between 2009 and 2011 were the result of fluid injection during fracking near faults.
Similar concerns have popped up recently in England and the United States.
Oil and gas representatives have said that fracking has its risks, like any industry, but that the industry is committed to managing those risks in an environmentally responsible way.
The Ohio Oil and Gas Association, which represents drillers across the state, said it "fully supports" ODNR's decision to suspend oil and gas activity in the Carbon Limestone area.
"It was the right thing to do to ensure the safety and peace of mind for area residents. ODNR has the scientific resources and expertise to properly investigate this situation," Thomas E. Stewart, OOGA executive vice president, said in a statement.
Poland Village Mayor Tim Sicafuse said the incidents are "definitely concerning," and that a priority is "to find out, if we can, why they're happening."
He said he agrees with ODNR's precautionary order to halt operations in the township, and that it's "better to be safe than sorry."
"Something's going on," Sicafuse said. "I don't know if it's geological or if it's fracking, but it's strange."
Meanwhile, state Rep. Robert F. Hagan of Youngstown, D-58th, stopped short of drawing a connection between the earthquakes and local drilling.
Hagan did take aim at ODNR's public response to the tremors.
"It's obvious they continually hide from what causes these earthquakes," he said. "I'm not saying they're connected. But [ODNR] continuously [hides] from us, and that makes people suspicious."
Hagan said he supports fracking, but wants it done in a safe manner.
"I want answers," he said.