Mahoning County Democratic Chairman wants to toughen law on cash contributions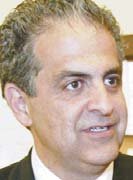 ---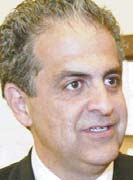 Photo
Issue stems from $4K contribution to candidate
YOUNGSTOWN
With a $4,000 cash contribution to a Youngstown mayoral candidate revealed, Mahoning County Democratic Chairman David Betras wants the county's state legislators to toughen the law making it illegal to give or accept cash contributions of more than $100.
State law doesn't permit cash contributions of more than $100, but there is nothing in place punishing a candidate who doesn't refund money to a donor who exceeds that limit.
Former Youngstown Mayor Charles Sammarone, a Democrat who is now city council president, gave $4,000 in cash to DeMaine Kitchen, an independent candidate for mayor and his former chief of staff/secretary on Oct. 27, 2013.
The information came to light last week when Kitchen filed a campaign finance report nearly three months past the deadline.
Betras said this "is merely the latest in a series of campaign-finance violations involving cash that undermine the public's trust in both our electoral system and local government. It is quite simply undeniable that the transfer of cash from donors to candidates carries with it the stench of corruption, influence-peddling and backroom dealing that has plagued our community for far too long."
Betras wants state legislators from Mahoning County to introduce a bill to make cash contributions over $100 a first-degree misdemeanor.
Those found guilty of it would be fined up to $10,000 and be required to forfeit the nomination or the office to which the offender was elected, or both under Betras' proposal.
State Rep. Robert F. Hagan of Youngstown, D-58th, supports it.
"It is wrong to take cash," he said. "It sends the message you can be bought for $100, $200, $300."
Sammarone said he should have known better than to give $4,000 in cash to Kitchen, and "whatever I need to do to rectify it, I will do."
Kitchen hasn't returned requests from The Vindicator for comment.
Senate Minority Leader Joe Schiavoni of Boardman, D-33rd, said it would be "sensible to put some teeth behind the law to have a criminal penalty or action. People want to know where money is coming. If you're trying to get around the law, you should be penalized."
But Schiavoni said he's not going to rush introducing a bill until he discusses it with others in Columbus.
State Rep. Ronald V. Gerberry of Austintown, D-59th, said exceeding the $100 cash limit is not uncommon, and Betras' proposal "is probably not going to happen."
Gerberry said he'd consider supporting a bill to increase the penalty on those who knowingly violate the cash law, but for a higher amount, such as $1,000.
"I want to take a reasonable approach," he said. "I'm not pooh-poohing a $4,000 cash contribution. It's disturbing. It's flabbergasting to me."
The Ohio Elections Commission can fine a candidate up to three times the amount that exceed the maximum cash contribution limit, but that isn't likely for first-time offenders. It can not compel a candidate to refund cash given that exceeds the $100 limit.
"The law needs to be changed," Betras said. "Right now it's not a crime. How many more people need to go to jail over cash?"
Betras also questions Sammarone's loyalty to the Democratic Party as the former mayor gave $4,000 in cash to Kitchen, an independent candidate who lost to Democrat John A. McNally in the November 2013 mayoral race.
When the party reorganizes after the May primary, Betras said he will remove Sammarone from the executive committee over the contribution to Kitchen.