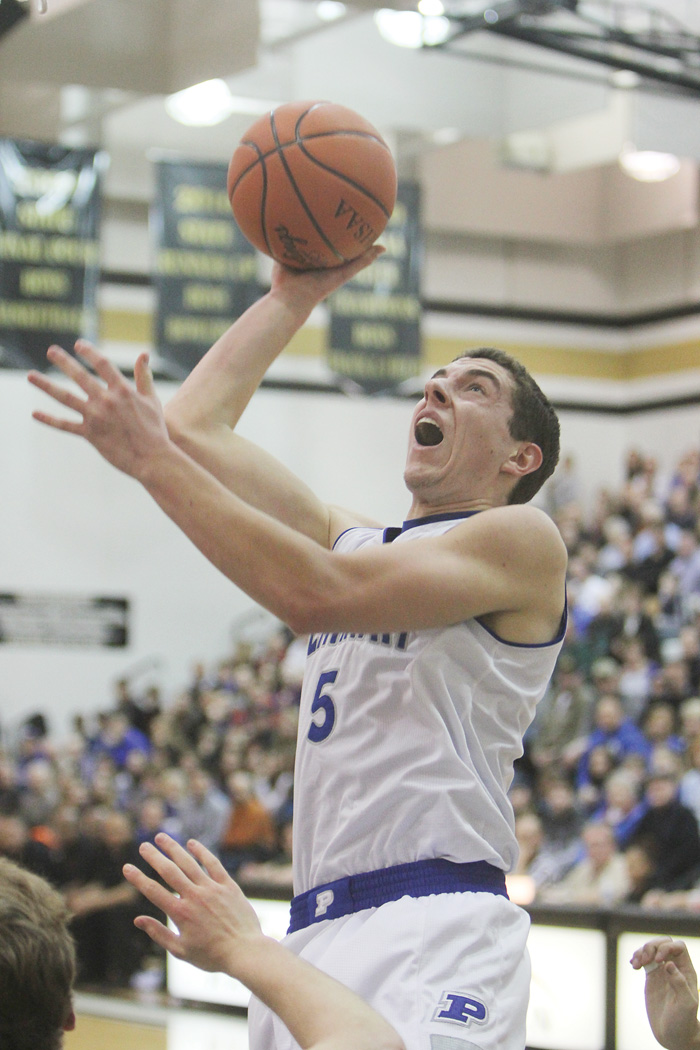 ---

Photo
Poland's Jacob Wolfe (5) goes up for a jump shot after getting through the Cardinal Mooney defenders during the second half of Saturday's tournament game at Warren Harding High School.
By Steve Ruman
And then there were two!
Just two short weeks after the boys basketball postseason began for 50 area teams, only two survivors will move on to regional play in the Ohio High School Athletic Association tournament.
Ursuline and Poland claimed district championships over the weekend, advancing to the Sweet 16 in their respective divisions.
The Irish claimed the Howland Division III district title with a 73-63 win over Girard.
The Bulldogs won the Warren Division II district championship with a 63-46 win over Cardinal Mooney.
Ursuline (17-8) will be making its fourth regional appearance in nine years, and its first since 2011. The Irish will play Norwayne (23-3) on Wednesday at 8 p.m. at the Canton Fieldhouse.
On Thursday, Poland (23-2) will face Cleveland Central Catholic (19-6) at 6:15 p.m. at the Canton Memorial Civic Center. The Bulldogs have won seven district titles since 2002 and eight under coach Ken Grisdale.
Despite being just four games above .500 in the regular season, Ursuline tore through the Howland district, winning four games by an average margin of 34 points. The Irish dominated Newton Falls, Grand Valley and Rootstown prior to their 10-point win over Girard.
Ursuline's regular-season schedule included 10 Division I opponents.
"Without a doubt, our schedule prepares us for the districts and beyond," Ursuline coach Keith Gunther said. "Our schedule will never allow us to go 22-0, but there is a purpose behind it. Our kids don't fear any opponent, and they headed into the tournament with a lot of confidence."
After losing to LaBrae in the district championship game a year ago, Ursuline graduated seven seniors. The lack of experience was a concern to Gunther and his staff as the season tipped off four months ago.
"Back in the summer, I really believed this team was maybe a .500 team that was a few years away from being really good," Gunther said. "However, we progressed quickly as the year went on.
"We learned the importance of playing defense, and that really triggered a surge in our performance," Gunther said. "By the midway point of the season, I remember the coaching staff looking at each other and saying, 'this team is better than the one we had a year ago.'"
Poland began its season with a 4-2 mark, but has since reeled off 19 consecutive wins. The Bulldogs have logged double-digit tournament victories against Struthers, Ravenna and Mooney.
"We stumbled out of the gate a bit, but part of that was because a handful of our players were making a run in the football playoffs," Grisdale said. "We felt that once we got healthy and at full strength we had a chance to develop into a strong team."
The combination of a Christmas break and inclement weather disrupted the Bulldogs' flow midway through the season. However, Grisdale said that he can look back now and be thankful for the extended break.
"We spent that time piecing things together, but more importantly the team really came together as a unit during that period," Grisdale said. "I sensed that there was a bond, a chemistry built among the players during that stretch, and they have thrived off of it ever since."
Poland last won a district title in 2010. It lost to Struthers in district title games in 2011 and 2012, and fell to Mooney last year in the semifinals.
"Last year, Mooney took us out of everything we wanted to do," Grisdale said. "I don't want to use the word revenge, but our kids definitely were anxious to get another shot at proving themselves."
This marks the first time since the OHSAA expanded the tournament to four divisions in 1988 that the Mahoning Valley will be represented by just a pair of teams at the regional level. Last year, Mooney, LaBrae and Youngstown Christian won district titles.
The area has crowned as many as five district winners in one year, including in 2009 when Warren Harding, LaBrae, Campbell, Warren JFK and Youngstown Christian advanced to the regionals.