Well-loved teacher fights ALS
By JOE SCALZO
scalzo@vindy.com
BOARDMAN
Christie Terlesky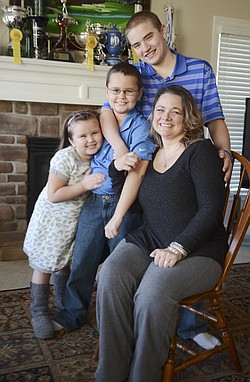 Gallery
Christie Terlesky Amyotrophic Lateral Sclerosis (ALS) and retires from teaching.
Let's start with a story. It's spring 1991 and Christine (Moschella) Terlesky and her younger sister, Nadine, are battling sinus infections just before a sold-out game against Canfield. Their father, legendary Boardman coach Ron Moschella, won't let them play if they're sick, so he comes up with a solution.
"He tells me, 'Maybe if you eat a raw onion, it'll help,'" Terlesky said. "It's one of those old-world Italian things his grandma told him, that it'll kill the sickness. At that point, I was willing to do anything."
Nadine wasn't. She didn't eat a bite. Christine ate the whole thing.
The only thing it warded off was boys.
"It made her breath smell terrible," Nadine said, laughing. "We both played, but it didn't help her cold."
Terlesky was on the front of the next day's Vindicator sports section, trying to steal a ball. The story noted that she scored 12 points with a 103-degree temperature. Boardman lost anyway, 57-52.
Fast forward almost 22 years. It's December 2012, and Terlesky — the oldest of three daughters, the one they jokingly called "The Saint" because she always did the right thing, the one who would eat the onion, no questions asked — starts noticing that her right hand is freezing up.
She ignores it at first. She's an athlete, so she's used to dismissing minor aches and pains. She finally goes to a doctor, believing she has carpal tunnel syndrome.
She doesn't. She keeps ignoring it. It keeps getting worse.
A few months later, she starts falling. She laughs it off, telling her social studies students at Boardman High School, "Oh, Mrs. Terlesky is such a klutz! I can't even stand up!"
She keeps falling. Her husband, Brian, thinks it's due to her wearing high heels. She switches to tennis shoes.
Then her left hand starts freezing up. She starts getting worried.
GETTING WORRIED
"We went on vacation in July and, out of nowhere, I kept falling over and over again," she said. "My husband finally says, 'You need to go see a doctor. This isn't normal.'"
The initial tests reveal nothing. The MRI is blank, which seems good, but isn't, since the worst-case scenario doesn't show up on a brain scan.
In September, Terlesky goes to a neurologist at the Cleveland Clinic and, almost immediately, she knows it's bad.
"They give you 'The Look,' but they don't want to tell you straight out," she said. "They said, 'Maybe you have cancer or something like that.'
"I'm like, 'You want me to have cancer?' And they're like, 'Yeah.'"
She doesn't have cancer. She has amyotrophic lateral sclerosis, Lou Gehrig's disease, a rare neurodegenerative disease that will, over the course of two to five years, rob her of the ability to walk, then to talk, then to eat, then to breathe.
It has no cause. It has no cure. It has no conscience.
"She never drank in high school, she never smoked, she's never done a single bad thing," Nadine said. "She's done everything the right way her entire life.
"Nobody deserves this, but especially not her."
Terlesky got a second opinion at Johns Hopkins. Same diagnosis. She moved from denial to acceptance, with every stop in between. She kept asking, "How did this happen?" She never got a good answer.
"I felt like I was too young," the 41-year-old Terlesky said. "But they all told me, 'You have it.'"
And that is where this story really begins.
But if her hometown has anything to say about it, that's not where it ends.
A NEW OPPONENT
Ron Moschella is 64 — going on 6. He's a short, Italian man with a short, Italian temper who once got called for a technical foul during the second half of his 500th victory. His team was up by 37 at the time. He spent 31 years coaching at Boardman, where he's as popular as Bernie Kosar.

When Terlesky got her diagnosis, he took it harder than anyone.
She's his first-born, the one who never talked back, the one who never got in trouble (unless you count reading by flashlight until 2 a.m.), the one he'd call "goody two-shoes," which was ironic because she was always losing them.
"She's a little absent-minded," he said, laughing.
By the time Terlesky was a freshman, she was all of 5-foot-1, the perfect height for cheering for basketball players, not for becoming one. Didn't matter. She started as a freshman point guard and finished as a second team All-Ohioan, winning two district titles along the way. She set school records for assists and 3-pointers. She finished first team all-conference four times. She was class secretary and made the National Honor Society. She earned a scholarship to Akron, then played two years at YSU.
"When she was a little kid, I'd hit her 100 ground balls in the backyard, and I told her if she missed one, we'd go back to zero," Moschella said. "And she did it. Nadine would come out, miss one and go back in the house. [Youngest daughter] Jolene would get hit in the nose. But Christine was that kind of kid. She had a really good work ethic. She made herself into a pretty doggone good basketball player."
That quality came from her father, a forgettable guard at Ursuline High School who attacked coaching like a chihuahua attacks an ankle.
He did the same thing with her disease.
ALS is undefeated, you say? Good to know. Must be a tough opponent.
Hasn't played us, though.
Moschella approached the news like a coach, searching for a way to win, scouring the Internet for clinical trials, for possible cures, for hope. The Moschella family has dealt with its share of heartbreak — from Nadine's son Jimmy getting diagnosed with autism to Jolene's daughter Tessa needing open-heart surgery to Ron beating bladder cancer two years ago — but this was different.
Nadine joked that her father's attitude was, "It's Christine's time now. If you're not dying, then shut up."
"The family I come from is about fighting everything," Christine said. "It's more like they're attacking the situation. My dad doesn't want to hear that I'm sick. He doesn't want to hear that there's not an answer to it."
OUTPOURING OF SUPPORT
Terlesky went public with her battle in a Facebook post on Sept. 18, which was like adding Mentos to Diet Coke. Support poured out.
Boardman may be the Valley's biggest suburban community, but it still feels like a small town, particularly for someone with her last name.
Her family started a Facebook page called "Chip In For Chris" — there's also a website, chipinforchris.com — to help raise money for Terlesky's medical treatments. A golf outing is being planned. Sponsorships and donations are pouring in. Boardman teacher Mark D'Eramo, who spent several years as an assistant coach with Terlesky, started selling 2,000 "Chip In For Chris" bracelets for $2 apiece.
They sold out.
"One of the great things about being a teacher and one of the hardest things about being a teacher is that the people you work with become your family," said longtime track and cross country coach Dave Pavlansky.
"It's not like working at [a factory], where you're on your line and I'm on my line and we never talk to each other. The people in this building and in this district are very close and when something like this happens, it hits everybody very, very hard."
On April 6, the school district will have a spaghetti dinner at Boardman High School. The cafeteria and custodial staff are donating their time. Friends are donating gift baskets for an auction. Others are donating food. Boardman's drama department is selling $20 tickets that include admission to the dinner and the musical "Tarzan." Lamar Advertising is donating space on three electronic billboards.
Moschella already has sold 3,500 tickets.
"It's to the point where so many people want to help and we don't have enough places to help," said Saunni Russo, who is helping with the dinner and whose daughter, Ashlee, played for Moschella. "There's been an overwhelming response."
And it has overwhelmed the Moschella family. On Thursday, Nadine got a note on Facebook from someone whose daughter got $2 from the Tooth Fairy. She put it in an envelope and wrote "Chip in for Chris" on the front. It made Nadine cry.
"Stuff like that is really amazing," she said.
IN RETIREMENT
After 19 years, Terlesky retired from teaching Feb. 28.
She'd already quit her 17-year basketball coaching career — "That was the hardest part because I felt like I had let all those kids down" — and she wanted to spend more time [and energy] with her three kids: Brian, 14; Tyler, 9; and Emma, 5.
The staff threw her a party. Her students decorated her classroom. Emma came to school with her and had a blast, eating cake, holding balloons, letting high schoolers braid her hair.
"She's loving it," Terlesky said. "She's in high school right now."
She wanted to keep teaching until June but her body (and her doctors) wouldn't let her. Terlesky still speaks well, but she walks with a cane. She can ride a bike but she can't run. ("I want to do it. I tell my legs to do it. But they won't do it.") Her condition is getting worse, she's on "9 million" vitamins and she's still trying to get into a clinical stem-cell trial, which is tough because there aren't many.
Because ALS is so rare, and because there's no cure, everyone is battling for the same few spots.
On the first weekend in March, Terlesky and her husband drove to Michigan in hopes of talking their way into a closed trial. It didn't happen. Their next hope is one at the University of Massachusetts. Most trials accept patients based on geography but she'll travel to the Ukraine, if necessary.
"It's like trying to win the lottery," Terlesky said. "There's only a small window of opportunity. They won't take you if you've been diagnosed for over two years. It can be really discouraging."
Terlesky is Catholic, so she believes in miracles. She's also a Browns fan, so she knows what it means to keep hope in a hopeless situation.
"I could see some of the struggles she's had, even simple things like walking or holding a fork, but she never says a word," said Boardman social studies teacher Nick Hewko. "She's extraordinary. If it was me, I'd probably be scared ..."
Terlesky's response?
"People keep asking me, 'Why are you so positive?'" she said. "You have to be. It's not like there's a choice. You can't just stop. I have to be there for my kids, for my family. I have to keep going. If you think too far into the future, you get seriously depressed."
Over and over again, Terlesky's friends and family call her a fighter, the type of person who won't back down from this disease. If she was willing to eat an onion to cure a cold, what is she willing to do now?
"That's what keeps me hopeful," Jolene said. "Because of the way she is, because of her personality, she would be the one to beat it.
"We just try to keep things as normal as possible, and it's surprising how easy it is for her. She's cried once to me. I cry every day."
LIVING WITH ALS
In 1963, a 21-year-old scientist named Stephen Hawking was diagnosed with ALS. On Jan. 8, he celebrated his 72nd birthday. In between, he became one of the most famous physicists of the 20th century. He's living proof that you can live with ALS, not just die from it.
Hawking doesn't need to be in a lab to be a scientist. And Terlesky doesn't need to be in a classroom to be a teacher.
A few hours after she walked out of Boardman High for the last time as a teacher, she posted a 371-word message thanking her colleagues, the administration and her students.
She finished with this:
"I told my classes today that this disease has taken the job I love, it has taken my body, but it cannot take my heart, it cannot touch my soul. As much as ALS has taken from me, it has given me the ability to appreciate life ... it has given me the ability to love better ... it has shown me the true goodness of humanity that exists all around us."
"So on my last heartbreaking day of teaching, I hope I taught my best lesson.
"Thank you Boardman ... from the bottom of my heart."