Recipes for success aren't run of the mill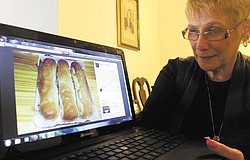 Photo
Bobbi Allen checks out her Facebook page titled "Recipes of Youngstown." Photo by William D. Lewis/The Vindicator
By Sean Barron
YOUNGSTOWN
Bobbi Allen is trying to do her part to improve and preserve a beloved longtime Mahoning Valley landmark, one bite of crab bisque Chincoteague soup at a time.
"I loved Lanterman's Mill as a child. [Mill Creek MetroParks] is Youngstown," said Allen, whose major effort toward raising money for the mill is gathering recipes for and assembling a book titled "Recipes of Youngstown."
The interactive project contains more than 400 recipes from all over the U.S. and abroad — some several generations old — for soup, bread and a host of other foods. The project continues to grow, Allen noted, adding that she hopes it will be published by mid-May.
Allen spoke recently from her McCollum Road home on the West Side about the undertaking, in which she hopes to raise more than $10,000. Book proceeds will go toward restoring the mill, which includes replacing its coaster wheel, she explained.
In addition, the effort will allow people to add to or alter one another's recipes. The cookbook also will feature contributors' memories of Youngstown, said Allen, a retired nurse who returned last August to Youngstown from Palmdale, Calif.
Marie McNulty, Peggy Morgan and Mary Beth McKnight-Potts also brought to Allen's residence food items that are among their recipes in the cookbook.
McKnight-Potts, a registered nurse at ValleyCare Northside Medical Center, explained that her crab-bisque soup came about from having tasted a similar soup at a Baltimore restaurant, even though the chef was reluctant to share with her the recipe. Her husband, who lived part of the year in that city, sent home containers of the soup and McKnight-Potts tweaked the recipe in formulating her own, she said.
Her soup, which she has shared with co-workers, is made from broth, cream sherry, Maryland blue crab, milk and two secret ingredients, McKnight-Potts said, adding that she had eight or nine recipes submitted for Allen's cookbook.
For her part, McNulty has around 20 recipes in the book, all of which were handed down from her mother, Viola McNulty, she recalled.
The McDonald woman brought to Allen's home a tray of butter balls and a baking dish that contained noodle bake made from noodles, sour cream, sugar and pineapple, among other things.
"It makes a nice side dish, especially with ham, and since there's a sweetness to it, it's kind of like a nice dessert," said McNulty, a medical encoder at Northside Medical Center.
The women also enjoyed braid pastries, courtesy of Morgan, who used mainly cream cheese, sugar, flour and vanilla.
That recipe came from a relative, said Morgan, who started baking in the 1960s.
Allen said she and her husband, Don, are very happy to be back in Youngstown after having lived in California about 32 years. She's also grateful to be able to help improve a well-known and revered landmark that brings to her many pleasant recollections, she continued.
"When I was in third grade, I went to Lanterman's Mill," Allen said. "You lose so many memories, but Lanterman's Mill is special."
To contribute to the project, go to www.facebook.com/groups/recipesof-youngstown.com.