Miss Matiscik, Mr. Jackson will wed May 16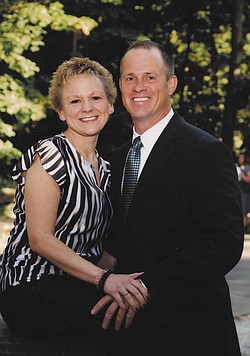 Photo
MaryLynn Matiscik and Terry Jackson
SALEM
Francis and Ellen Matiscik of Salem are announcing the engagement of their daughter, MaryLynn Matiscik, and Terry Jackson, both of Salem.
His parents are George E. and Donna Jackson of Salem and Jane Flanigan of Salem. The late Carol Matiscik is the mother of the bride-elect.
Invitations will be extended for a 4:30 p.m. wedding May 16 at First Presbyterian Church and for a reception at Salem Golf Club.
The bride-to-be is a graduate of Mercy College of Northwest Ohio, where she earned an associate degree in nursing. She is studying for her bachelor's degree in nursing at Ohio University. She works as a registered nurse at St. Elizabeth Boardman Medical Center.
Her fiancé earned a bachelor's degree from Kent State University. He works for Diverse Industrial in Salem.