Union students place high in Math 24 competition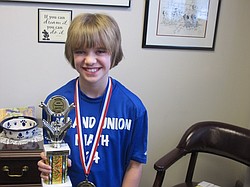 Photo
Neighbors | Tim Cleveland.Connie Cougras showed off her medal and trophy from the Math 24 competition.

Photo
Neighbors | Tim Cleveland.Carmen D'Alesio displayed his trophy and medal from the Math 24 competition.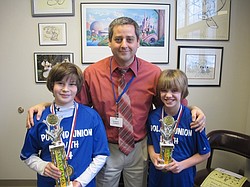 Photo
Pictured, from left, are Carmen D'Alesio, Union Elementary Principal Michael Masucci and Connie Cougras display the trophies and medals the fourth-graders won in the Math 24 competition.
By TIM CLEVELAND
While math is usually not a favorite subject for students, especially ones in fourth-grade, Union Elementary has made the subject more fun than it would normally be while at the same time allowing its students to compete against students from other schools.
Last October, Union began an after school program in which students would play the 24 Game. In the game, a student is given a card with four numbers on it. Using addition, subtraction, multiplication and division, students attempt to use all four numbers to come up with 24.
From October until February, students met almost every Thursday after school from 2:30 to 3:15 p.m. and worked on the game with PTO member Teri Thomas. On Feb. 4, 200 students in grades 4-6 participated in a Mahoning County-wide competition at Youngstown State University's Chestnut Room, with Union being represented by five of them.
Fourth-graders Connie Cougras (winner) and Carmen D'Alesio (qualifier) did well enough to advance to the regional competition, which was held Feb. 25 at Warren G. Harding High School. With a total of 250 students competing, Cougras and D'Alesio ranked among the best, with Carmen placing first and Connie third.
"I think they had a very strong showing," Thomas said. "They worked very hard with me and their parents and each other. They practiced a lot. They were the ones committed to doing the practice. I'm proud of both of them."
Union Elementary Principal Michael Masucci said the program has had a very positive effect on the students at the school.
"What we have been doing here for a couple years, is we offer this after-school program to play this game to all of our fourth-graders," he said. "They met every Thursday, run by our PTO. The kids that participated pushed each other, they challenged one another. PTO member Jen Gallo really brought this after-school program and our involvement with Math 24 back to the surface. She deserves a lot of credit for getting our program back up and running again."
Both Connie and Carmen said they had an older brother who participated in the program and influenced them to try it as well.
"My brother (Michael) did it when he was in third- and fourth-grade, so I wanted to do it," she said.
"My older brother (Dino Mario) does it," he said. "I just thought it was going to be fun so I tried it."
Both students said they enjoyed competing and plan to stick with it in the future.
"I just like it," Connie said. "It was always my favorite subject."
"It's just fun," Carmen said when asked what he enjoys about Math 24.
Thomas said doing Math 24 will have ramifications on the students' futures beyond school.
"One of the best things students can have at any level is a strong math foundation," she said. "The stronger kids are at this, the more likely they are to succeed at any field they choose. It's a lifelong successful skill to have."
With the undeniable success of Math 24 at Union, Masucci said plans are in place to expand it in the very near future.
"We have already made plans to go with third graders next week to get them interested and give them a taste of what this is like so that next year, they may be participating in these tournaments," he said.