Suspect arrested after 2-hour standoff on South Side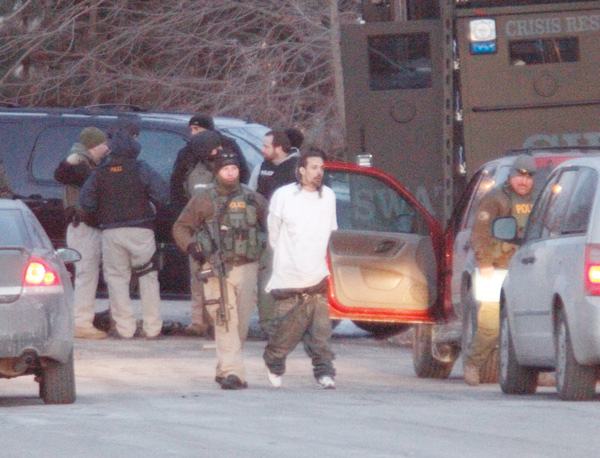 ---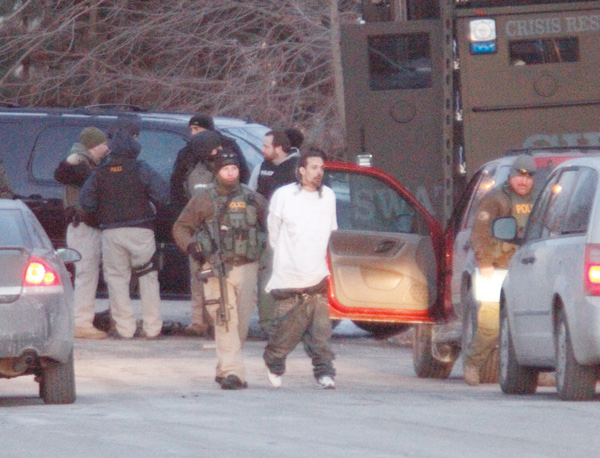 Photo
A member of the Mahoning Valley Crisis Response Team leads Phillip Johnson of Youngstown out of a house in the 100 block of East Marion Avenue on Thursday after a standoff.
By Joe Gorman
YOUNGSTOWN
Police yanked a man wanted on drug warrants out of a furnace duct Thursday after a standoff of more than two hours at a South Side home.
Phillip Johnson, no age given, of Youngstown, was taken into custody by U.S. marshals after the standoff at the 147 E. Marion Ave. home.
Members of the Mahoning Valley Crisis Response Team, along with marshals and Youngstown police, were serving a search warrant at the home as part of a drug investigation and were at the home about 4 p.m., said Youngstown police Detective Sgt. John Elberty, who heads up the CRT unit.
When officers arrived, five other people inside the home came outside, but Johnson would not come out, Elberty said. CRT members took positions outside and also parked their armored vehicle on the front lawn in front of the porch.
A negotiator on a loudspeaker implored Johnson for most of the standoff to come out, but he did not. About 90 minutes after they arrived, police shot several tear-gas canisters into the home and waited several minutes before heading inside.
Elberty said Johnson was found hiding in a furnace duct in the basement. He said it appeared the tear gas had no effect on Johnson.
"I don't know how he got in there," Elberty said. "We saw a sag in there [duct], and we said, 'There shouldn't be a sag in there.' We tapped it and it was him."
Elberty said marshals had been looking for Johnson for at least a month. He was facing warrants on drug-trafficking charges, Elberty said.
No drugs or weapons were found inside the home, Elberty said. He said the other five people who were at the home when police first arrived were not charged.
One reason extra caution was used is because officers were told that Johnson had weapons and that he would shoot it out with police, Elberty said.
He said they tried to talk him out of the home with the negotiator before the decision was made to use the tear gas in an attempt to coax him out. When that didn't work, they went inside to get him.