St. Joseph Immaculate Heart of Mary holds career day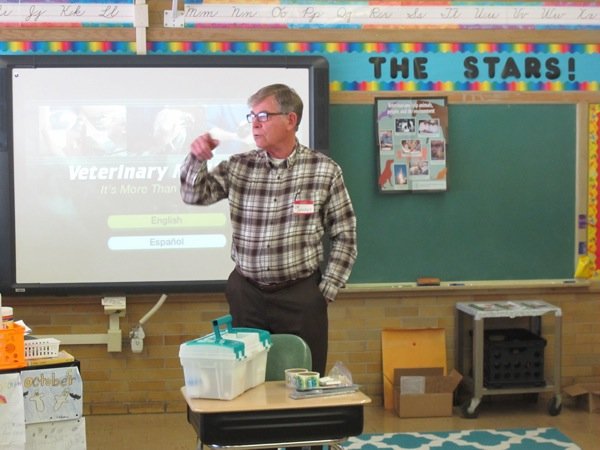 ---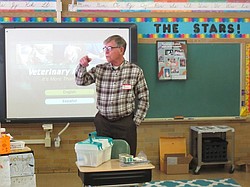 Photo
Neighbors | Tim Cleveland.Dr. Rufus Sparks spoke to St. Joseph Immaculate Heart of Mary students about careers as veterinarians at the school's Career Day.

Photo
Neighbors | Tim Cleveland.Laura Wolfe explained to St. Joseph Immaculate Heart of Mary students about accounting Feb. 28.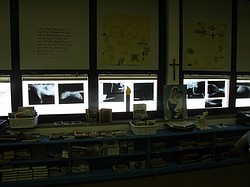 Photo
Neighbors | Tim Cleveland.X-rays of various animals lined the wall during Dr. Rufus Sparks' presentation.
By TIM CLEVELAND
Students at St. Joseph Immaculate Heart of Mary School got to experience their possible futures Feb. 28 at the school's Career Day.
The school, with students in grades kindergarten through eight, had 11 speakers give presentations in a variety of careers from meteorology, accounting, veterinarian, fire-fighting, police, superintendent, realty and more.
Seven of the speakers spoke to children in grades four through eight in the school's upper level, while the other four spoke to grades kindergarten through three in the lower level. Speakers in the upper grades had 30 minutes to speak, with the others getting 20. Each speaker set up in a different classroom with the students rotating in and out of the rooms.
"We were talking with the principal at the beginning of the school year, and in the past they've had career days," said Melissa Chalker, a fourth-grade teacher at St. Joseph and one of the organizers of the event. "We'd like to continue that tradition and we got together on different careers that would appeal to a broad variety of students. The older students were able to choose who they wanted, so we tried to base the speakers based on their preferences a bit, and then we have other careers for the younger students downstairs."
One of the speakers was Laura Wolfe, who is the fiscal officer for Austintown Township and spoke about accounting. Her three sons, Alan, Joseph and Peter recruited her to speak.
"My kids go to school here and they got ahold of me and asked me if I wanted to do it. I think it's a great opportunity," she said. "This is the first time, so I'm hoping that they'll (the students) learn a little bit more of the careers that are out there and are available, and they can make better decisions when they get to high school and college."
While Wolfe mainly spoke during her presentation, another, veterinarian Dr. Rufus Sparks, played a video and also displayed X-rays of various animals.
Sparks has been practicing for 46 years and focuses on pets. He works with the Trumbull County Animal Welfare League.
Both Chalker and Wolfe said that they hoped the students would get a sense of direction out of the presentations.
"I'm hoping at this point in their life they can either have more interest or find out where they best fit based on the different skills they may need for that job," Chalker said.
"I think they'll get to see that numbers aren't just math and that you need to be logical about things," Wolfe said in regards to accounting. "You want things to balance, you want things to be even, and just to keep things in order, keep things above board."