Rosecrans' defensive pressure ends Western Reserve's dream season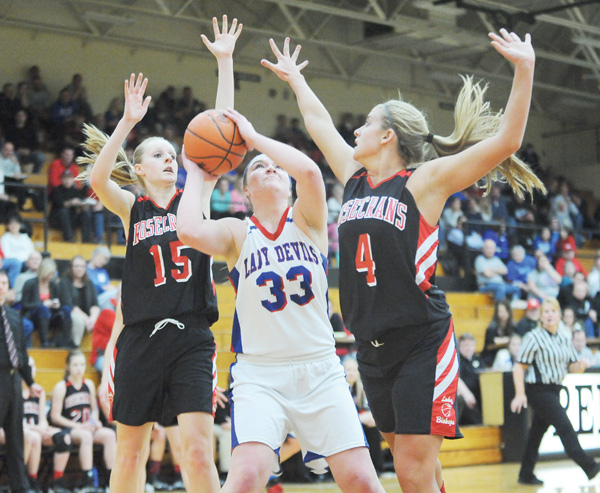 ---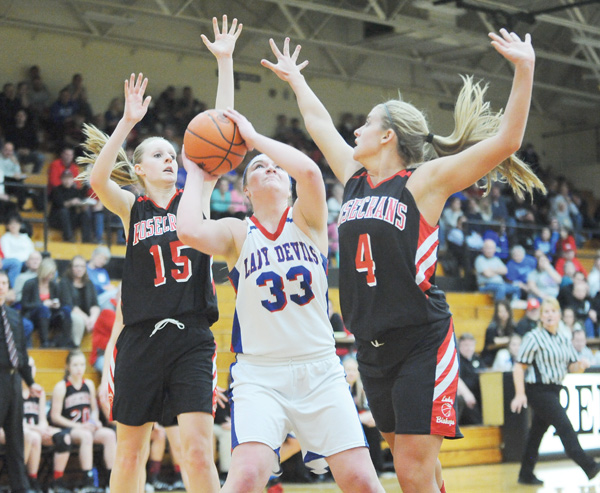 Photo
Western Reserve's Aleah Hughes is hemmed in by Bishop Rosecrans defenders Kloie Johnson (4) and Molly Nash (15) during the first half of their Division IV regional semifinal Thursday at Massillon Perry High School. The Blue Devils' season came to an end in a 67-31 loss to the Bishops.
Rosecrans' defensive pressure ends
Western Reserve's dream season
MASSILLON
No matter the level of basketball, 25 turnovers in a game is a recipe for disaster.
That's exactly what Zanesville Bishop Rosecrans served up to Western Reserve on Thursday night, bringing the Blue Devils' dream season to a less than satisfying end, 67-31, in a Division IV regional semifinal at Massillon Perry High School.
The Bishops (25-1) used a steady mix of full-court pressure and half-court trap defenses to pressure the Blue Devils (20-7) into 16 first-half turnovers and hold them to just 9 points.
First-year Western Reserve coach Steve Miller said he knew what his girls were up against, but that didn't mean they weren't going to shy away from what got them this deep into the tournament.
"Twenty-plus turnovers isn't going to win you many games, but 20 turnovers has won us a hell of a lot," Miller said. "We're not a good ball-handling team. We've basically handled the point by committee this season and sometimes you guys might wonder who is the point guard out there and I might, too."
Rosecrans jumped out to an 8-0 lead in the first two minutes prompting Miller to call a quick timeout. The Blue Devils eventually got their first points off an offensive rebound put-back from Rachel Maslach with 3:02 left in the opening quarter. But that would be all the scoring for the first eight minutes for Western Reserve, which trailed 19-2.
Miller said he felt his team was a little shell-shocked when the Bishops created seven turnovers on five steals to jump out to the big lead.
"We knew that they were good defensively, we knew that they had three big players offensively," Miller said. "It wasn't like we underestimated them. I told the girls they're not going to come out and jab us, they're going to come out and throw haymakers and they came out and they threw 'em heavy and hard."
Things didn't get much easier for the Blue Devils in the second quarter. Lauren Falasca and Aleah Hughes were assigned the difficult task of bringing the ball up the court and many times that led to errant passes, which the Bishops converted into six more steals.
Alexis Kirkbride was the beneficiary in the first quarter, scoring 11 of her game-high 15 points. Then it was Molly Nash's turn in the second, when she scored six points on three easy buckets, and by the end of the half Rosecrans had stretched its lead out to 31-9.
"I told our girls coming in that I didn't think [Western Reserve] had seen that type of pressure," Rosecrans coach Gale Kirkbride said. "If you get up, move your feet — obviously you can't start reaching and getting in foul trouble — but if you put the pressure on them, I felt pretty confident."
The Blue Devils' offense was hurting without Hughes being able to use her size advantage down low, since she was charged with bringing the ball up the floor on most possessions. She was held off the score sheet until 2:02 of the second quarter when she was able to knock down a pair of free throws. She was still effective on the boards with 12 rebounds, but she was held in check scoring with just nine points.
"It definitely hurt us and myself, because I know I had a lot of turnovers bringing it up," Hughes said. "I mean we don't have [a true point guard] so we did what we had to do."
After getting their first taste of regional tournament action — albeit not a pleasant one — the Blue Devils are hungry for more. Miller alluded to a few lessons learned Thursday night and he expects to be back soon.
"I think our girls know that we have to get better at handling the ball," he said. "Maybe they work a little harder this offseason and maybe we're fortunate enough to have another good run and get back here."