Tough guy with heart retires after 33 years with Trumbull sheriff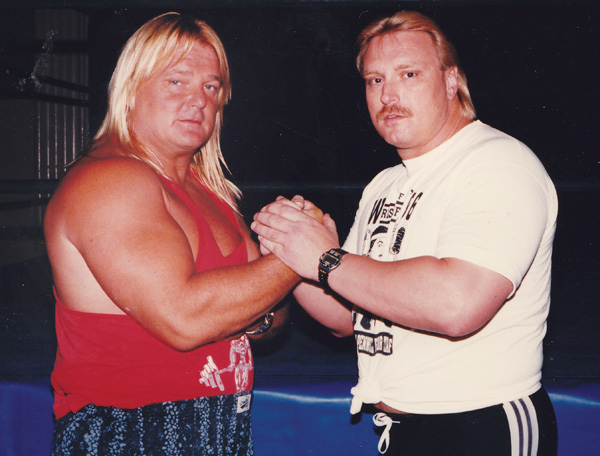 ---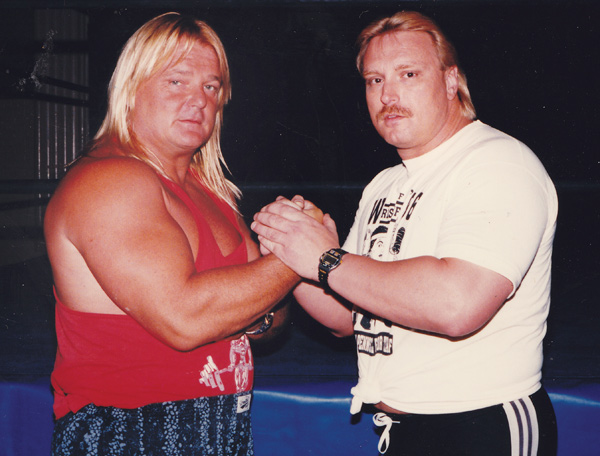 Photo
Wrestler Greg "The Hammer" Valentine, left, poses with Pete Lucic — also known as Preston Steele — in this undated promotional photo. Lucic, 53, retired last week from the Trumbull County Sheriff 's Office after 33 years with the department but doesn't plan to stop his wrestling career, which has taken him to Australia, Italy, Germany, Denmark, Sweden, England and Japan.
By Ed Runyan
WARREN
Lt. Pete Lucic is known as tough guy Preston Steele when he works as a professional wrestler all over the world.
He's just seen as one tough hombre in the uniform of the Trumbull County Sheriff's Office, when he's working security at the courthouse.
When someone needed to send a powerful message to the community after a 2012 deadly gunfight involving men from Warren and Detroit, he and another officer shouldered high-powered rifles while guarding the entrance of the courthouse while the defendants were brought inside.
But Lucic, 53, who retired last week from the sheriff's office after 33 years with the department, showed his emotional side while being honored by the county commissioners.
He briefly had trouble getting out the words, but said, "I'd like to think I did a good job. I served the community with pride."
Commissioner Paul Heltzel said Lucic was "at the top at every job he did. That's why he was successful."
Lucic worked nine years as a detective, was on the sheriff's SWAT team and dive team, was a turn commander for road patrol and more recently commander of the civil division, which includes courthouse security.
Lucic said it's not unusual for him to show his emotions, perhaps because of the tough times he had as a kid — losing his parents at a young age, being beaten by the older and larger brother-in-law who served as one of his guardians after his parents' death.
"I hid in the back of closets. There were times when I hadn't eaten for days. There were times when I felt hopeless," he said.
But on one occasion, a sheriff's deputy came to the house to investigate a problem, and the help Lucic got from the deputy made a lasting impression.
"I knew as long as he was around, I was safe," Lucic said. "I think that's what led me into law enforcement."
He didn't wait long.
A Girard native and 1978 graduate of Girard High School, Lucic went to work first for the Girard Police Department when he was 18. Six months later, he was hired at the Brookfield Police Department, where he became the youngest detective sergeant in the state at age 19. He started with the sheriff's office in 1981.
Lucic said the challenges of his teen years and the support of good people along the way, such as coaches and other community members, have shown him the importance of helping the young and disadvantaged.
Through the Fraternal Order of Police, he has been able to do a lot of charity work over the years, most of it having to do with kids — something he hopes to continue to do through an organization he runs called All-Star Fundraising.
He also doesn't plan to stop his wrestling career, which has taken him to Australia, Italy, Germany, Denmark, Sweden, England and Japan.
In fact, he now has a tag-team partnership with his 21-year-old son, John, who wrestles as Johnny Mercury. Together, they will go on tour over the next couple of months as "American Fury."
He also runs Monsters of the Ring School of Professional Wrestling in Youngstown and has a new job as general manager for the Northeast Ohio district of the multinational security company Secure Solutions.
Lucic said the brother-in-law who abused him left the United States when Pete was a young adult and has died. Lucic saw him one time after he left the United States — at a family wedding when Pete was about 30 years old and strong enough to stand up for himself.
"I spoke to him in Serbian, and I said, 'You don't remember me?' And he said, 'I don't think I've seen you before.'" When Lucic identified himself, the man broke down in tears.
"He said, 'I'm sorry. I'm sorry. I don't drink anymore.'"
Lucic said his anger made him want to take revenge, but all he did was say, "I've made something of myself, despite you," and walked away. "It felt like the weight of the world had lifted off of me."