Husband-wife team run state-of-the-art Struthers lab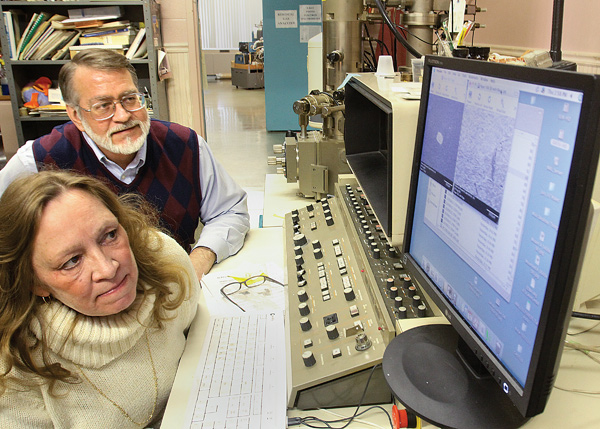 ---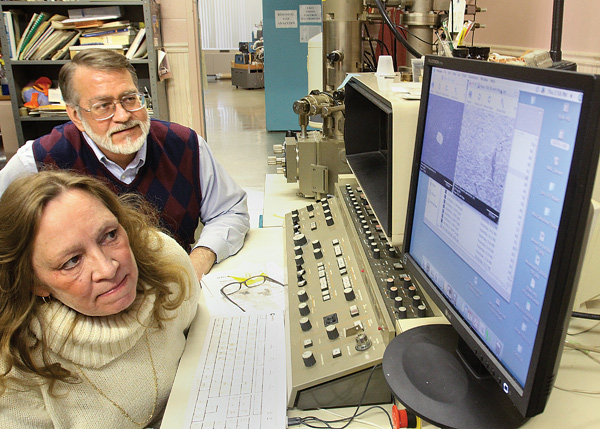 Photo
Carol and Andrew Hirt examine results at Materials Research Laboratories Inc., a state-of-the-art facility in Struthers that provides materials-analysis services to industries both domestic and abroad. The two own MRL, which has been located in the former Holy Trinity School since 1993.
By EMMALEE C. TORISK
etorisk@vindy.com
STRUTHERS
Andrew M. Hirt's playground is an atypical one, filled with toys that go by names such as "infrared spectrometer" and "microhardness tester" and "electron microscope."
"It's stuff to play with," he said, nonchalantly.
As president and senior scientist of Materials Research Laboratories Inc., Hirt is head of a state-of-the-art facility that provides and has provided a staggering range of materials-analysis services to industries both domestic and abroad — or "pretty much any company you can think of" — for more than 20 years.
In plainer terms, MRL is often the place to go for companies that want help developing new products or attempting to improve upon existing projects, then also in figuring out what exactly went wrong. Even more specifically, past work at MRL has ranged from determining how many layers in a given paint chip contain lead-based paint, to finding out whether something is made of diamond or of cubic zirconia, to studying the ways in which pharmaceutical drugs deliver their contents throughout the body.
"On any given day, I have no idea what I'll be doing," Hirt said.
He added that he prefers it that way, noting that he decided to become a scientist at age 5 after watching an old Bela Lugosi movie. His "industrial" childhood might've influenced him, too; at age 8, his father taught him how to weld and preached "that if you want something, go build it."
So, he did.
After attending local parochial schools, the Boardman native graduated from Case Western Reserve University in 1977 with a degree in physics.
Hirt, however, is far from the stereotypical scientist in a stereotypical laboratory, pointed out his wife, Carol Jean Hirt, who is MRL's vice president and its head of microscopy services. The two met while working in a New Jersey laboratory and got married in 1983, eventually starting MRL — thanks in part to a $2.5 million loan — in 1988. They now live in Campbell.
Carol said the building that houses MRL doesn't feel cold or clinical, and that it isn't devoid of color. Instead, the facility is in the former Holy Trinity School on North Bridge Street, which closed at the end of the 1991 academic year.
The Hirts purchased the circa-1962 building just two years later, for what they'd been paying each year to rent space in New Jersey. Their renovations include the halving of the building's eight original classrooms to create 16 rooms for research — and other purposes.
The building has a "diner" complete with retro-looking booths, for example, along with a wood-paneled game room stocked with a pool table and pinball machine, and a conference room-cum-library where about 8,000 books of all kinds fill the shelves.
In addition, dozens of letters and cards are affixed to the building's walls, many of them from area schoolchildren who've toured the facility over the years, while objects representing the couple's many varied interests — such as guitars and winemaking — are scattered about. Carol also has a baby grand piano in her office, and when seasonably appropriate, a "complete garden, with tomatoes, peppers and zucchini" occupies a portion of MRL's 4 acres.
They do it because they can, Carol said, adding that she feels fortunate to share the work she does with others, such as the college interns MRL frequently brings on board.
One of those interns, Rachel L. Kusnic of Boardman, now works for MRL as a research associate, and was hired in 2007 after interning there for a year. Kusnic noted that even big companies rely on MRL when problems arise, as it might have just one or two pieces of testing equipment unique to their industry on site.
"They can't believe all of the equipment we have here," she said.
And to Carol, what goes on at MRL is "detective work," with the abundance of equipment available providing a significant advantage. She added that this type of work has "everything to do with timing," meaning, if a client has a problem now, he needs a response now as well.
This philosophy has long guided MRL, Carol said, and has produced a solid client base. Even customers from 20-some years ago still flock to the laboratory for its appealing "bedside manner" — something that likely stems from the enthusiasm both Hirts have for their work.
"You have to pay your bills, but if you don't love what you're doing, get out of it," Carol said. "If you love it, your product will be so great."
More like this from vindy.com