Early surge leads Mooney over Canfield
---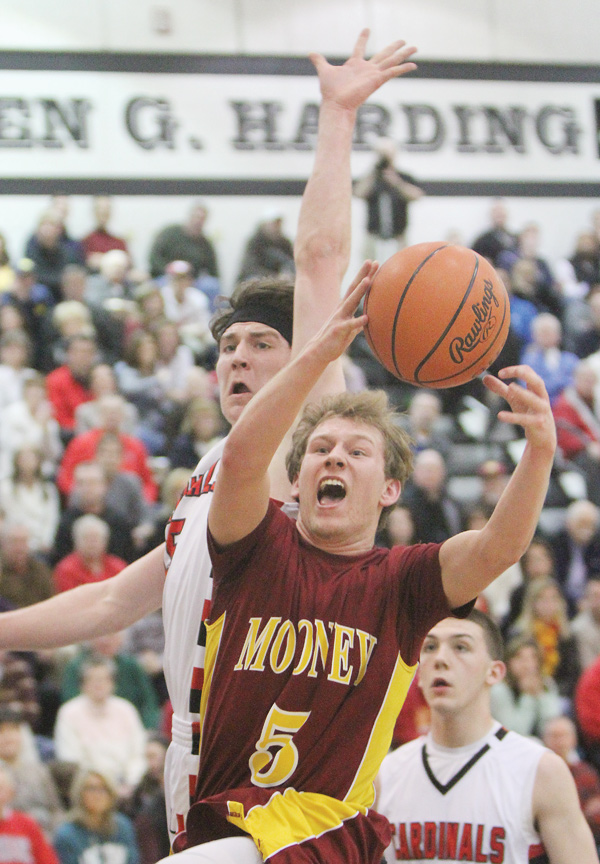 Photo
Cardinal Mooney's Joey Kleeh shoots past Canfield's Jarret Vrabel during their Division II district semifinal Thursday at Warren G. Harding High School. Mooney held off Canfield, 60-50, to advance to Saturday's final.
Cunningham,
Armstrong
combine for 29
By Greg Gulas
WARREN
Due to the playoff success of its football team this past fall, Cardinal Mooney High School needed nearly a month before its players got their legs into basketball shape.
The Cardinals seem to be in fine shape now.
Third-seeded Cardinal Mooney seemingly ran roughshod over second-seeded Canfield, 60-50, in a Division II district semifinal Thursday night at Warren G. Harding High School.
Cardinal Mooney advanced to the title game for the second straight year.
Joe Cunningham scored 15 points while Andrew Armstrong added 14 points and nine rebounds as Cardinal Mooney vaulted into Saturday night's final against top-seeded Poland.
It was a game in which Cardinal Mooney (15-8) led for all but two minutes and 27 seconds of the contest.
"We knew that the next two games would be really tough, so our mindset was to come out strong, run the floor and be very physical," Cunningham said. "We needed to control the tempo of the game, while defensively our mindset was to always be around the ball. Converting second-chance opportunities was also necessary if we expected to win."
A Mark Handel bucket gave Cardinal Mooney an early 2-0 advantage just eight seconds into the game. Cole Pryjma then made the first of three 3-pointers at 7:05 to give Canfield its only lead of the game, 3-2.
Marcus Penza's basket then ignited a 14-0 run by Cardinal Mooney that spilled over to the second quarter for a 16-3 lead Canfield (19-5) could not overcome.
The defense held Canfield without a point for the next 8:35, increasing Cardinal Mooney's lead to 25-10 at halftime when Armstrong converted both of his charity tosses right before intermission.
Armstrong's five first-half rebounds also helped Cardinal Mooney to a 20-12 advantage on the boards.
"While we are playing good team basketball right now, I still don't think that we've played our best game yet this season," Armstrong said. "Our game plan was to shut both [Jarret] Vrabel and [Andrew] Midgley down and get after all loose balls. For the most part, we were able to do that tonight."
Midgley's bucket at 7:02 of the second half, his first points of the game, keyed a 6-1 run by Canfield, which cut Cardinal Mooney's lead to 27-15. The teams exchanged buckets the rest of the period as Cardinal Mooney built a 43-27 heading to the final quarter.
"[Canfield coach] Todd Muckleroy always has his kids ready to play, but we were fortunate in that we got up early and that forced them to play catch-up," Cardinal Mooney coach Brian Danilov said. "Still, we had to execute and play defense and our kids worked hard the entire game at both ends of the court.
"It took a while for us to get our legs and as a result stumbled early in some of our games. We've since settled in but the key is that we learned and improved each time out."
Brady Clark scored seven of his team-high 11 points in the final period as Canfield outscored Cardinal Mooney in the final period, 23-17, but got no closer than 10.
"We dug a hole for ourselves early and Cardinal Mooney asserted their physicality with second and third chance opportunities at the bucket," Muckleroy said. "We knew that they'd bring a 1-3-1 zone against us, but we couldn't get the ball to our spots and didn't handle their trap. They were one step quicker than us."
Cardinal Mooney was 20 of 49 from the field, holding Canfield to 17 of 43 overall and just 7 of 27 from beyond the arc.