Wright State powers past Penguin women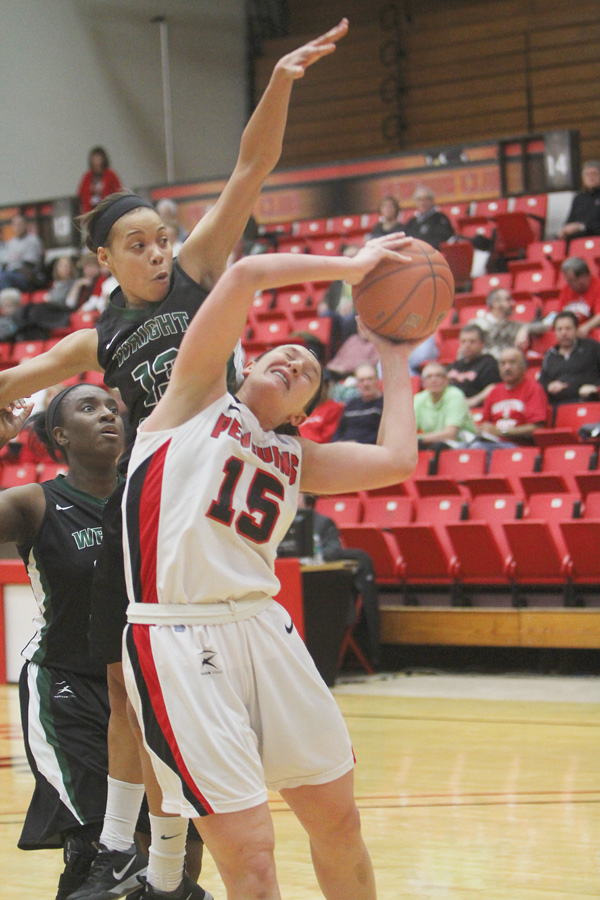 ---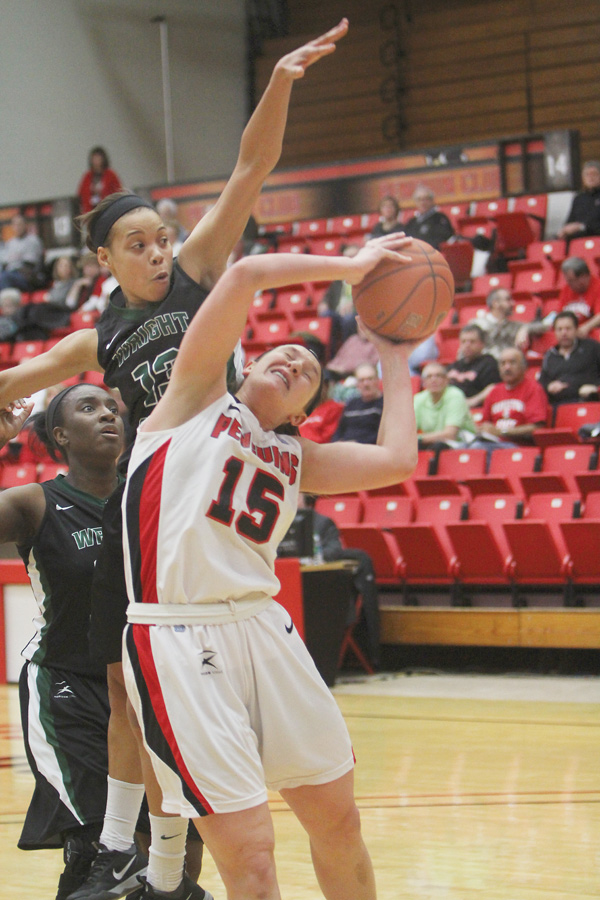 Photo
Youngstown State's Heidi Schlegel tries to control the ball under pressure from Wright State defenders including Ivory James (13) during their game Wednesday at Beeghly Center. Schlegel posted 24 points with 15 rebounds for the Penguins, who fell to the Raiders, 85-70.
By Joe Scalzo
YOUNGSTOWN
Youngstown State women's basketball coach John Barnes walked into the postgame press conference, let out an audible sigh and said, "That was ... interesting."
Well, not quite. Wednesday's 85-70 loss to visiting Wright State was a lot of things — predictable, discouraging, understandable — but considering the Raiders led from start to finish and were up 19 points by halftime, the one thing it wasn't was interesting.
"We knew coming to the last four [games] that they were going to be really tough," said Barnes, who enters Saturday's regular-season finale on a three-game losing streak. "We're just trying to do whatever we can to get a win.
"You guys were there tonight. They're a really good team."
Heidi Schlegel scored 24 points with 15 rebounds and five assists for the Penguins (13-15, 9-6), who can still earn the No. 3 seed in the Horizon League tournament by beating Cleveland State on Saturday. Freshman Kelsea Newman added a career-high 17 points off the bench.
"Seventeen points is 17 points but it doesn't mean much when it doesn't help the team win," Newman said. "The win would have made it feel a whole lot better."
Kim Demmings scored 22 points with eight rebounds for Wright State (22-8, 11-4), which wrapped up the tournament's second seed. Tay'ler Mingo added 22 points with six assists.
The uber-athletic Raiders forced 13 first-half turnovers and held the Penguins to 30-percent shooting over that stretch. While YSU outscored WSU 45-41 in the second half, the Penguins trailed by at least 14 points throughout.
YSU lost at Cleveland State 84-80 on Feb. 1, a game Barnes felt the Penguins should have won. ("Woulda, coulda, shoulda," he was quick to add.) That game was tied at 80 with 30 seconds left when the Vikings stole the ball at midcourt and scored on a layup. YSU then turned it over again and missed a game-tying layup with five seconds left.
"I think we owe Cleveland State something by the way we came out last time," Newman said. "We know exactly what happened. We know why we lost. We know what we need to do to get a win."
Saturday's contest will be the final regular-season home game for four YSU seniors: Liz Hornberger, Monica Touvelle, Karen Flagg and Melissa Thompson.
If the Penguins win, they'll host sixth-seeded Oakland in the quarterfinals on March 12. If they lose, they'll need UIC to lose to Detroit in order to earn the fourth seed and a first-round home game against the Flames. If YSU loses and UIC wins, the Penguins will travel to Chicago for that quarterfinal game.
"We're definitely playing for the seniors," Newsman said. "It's [possibly] their last home game and we don't want that to happen. We want to get that last win so we can keep them playing here."
Barnes, meanwhile, just wants to get a win so his team doesn't enter the tournament on a four-game losing streak.
"You'd like to go into the tournament on a good note, on a winning note," he said. "I'd just like to get a win any way we can."