Smithville girls eliminate South Range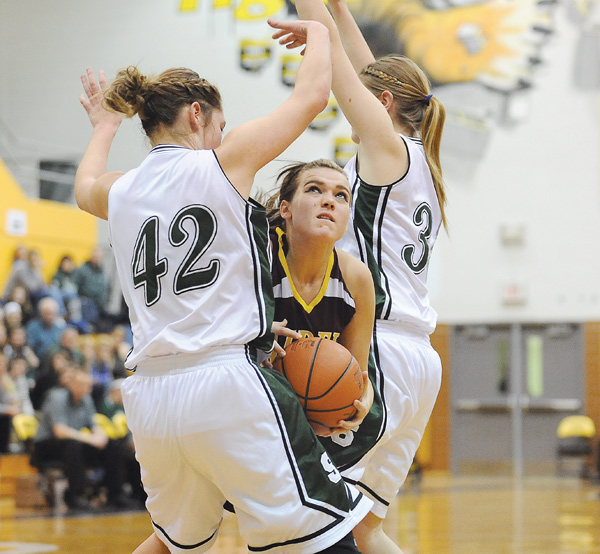 ---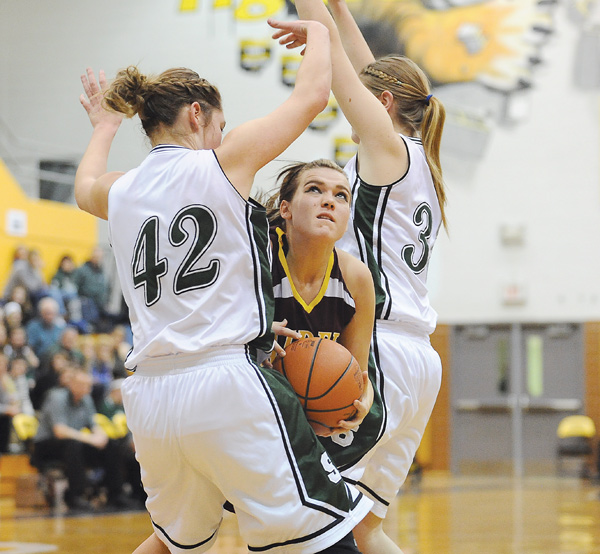 Photo
Starla Sharp of South Range drives between Smithville defenders Natalie Indernuhle (42) and Macy McKelley (33) on her way to the basket during during a Division III regional semifinal at Cuyahoga Falls High School. The Smithies were too much for the Raiders, who fell 44-16.
Smithies' size brings end
to Raiders' memorable year
By Tom Williams
CUYAHOGA FALLS
When Tony Matisi agreed to become South Range High girls basketball coach last summer, he didn't know what to expect.
Taking the Raiders to their first regional game in 16 years wasn't even a goal.
"It wasn't even brought up," said Matisi, not with Ursuline, Cardinal Mooney, Brookfield and Springfield presenting Division III district challenges. "I didn't expect to be [a regional team]."
Senior Sierra Petrella agreed there was a mystery surrounding the longtime coach who had seven regional teams at Division IV Lowellville.
"This far? We always had hopes," Petrella said. "But we didn't know what to expect."
The Raiders' season ended Wednesday night in a 44-16 loss to Smithville in a Division III regional semifinal at Cuyahoga Falls High School.
The Raiders (23-4) faced a three-headed monster of Smithville's Macy McKelley (14 points), Olivia Besancon (12 points) and Natalie Indernuhle (nine points, 10 rebounds). It was a formidable task.
Matisi said the Smithies' experience, their size and their veteran head coach (Mike Miller) were huge obstacles.
"Most of all, we were worried about five seniors who have been through the wars with Mike," Matisi said. "We've been trying to take advantage of teams with a freshman [starter] or two sophomores. There was no going after anyone here."
Matisi said the only similar team they faced was Division II West Branch, a regional finalist.
"Their strength — there is a different level there," Matisi said.
Petrella said the Raiders respect how the Smithies play.
"They are definitely a great team," Petrella said. "It came down to if we could mess up what they are used to, we were going to have a shot."
The Smithies (25-2) wasted no time seizing control, jumping out to a 13-1 lead.
By halftime, South Range trailed, 31-7. The 5-foot-11 Indernuhle sizzled underneath. In the first half, she scored seven points, made eight rebounds, blocked a shot and made two steals.
McKelley's 12 points included three 3-pointers.
Matisi said the Raiders weren't surprised, saying the Smithies excelled when they scrimmaged last fall.
"You could play 20 hard seconds of defense and you let up for two seconds and they find the layup or they find the three," Matisi said.
In the second half, Miller had his players emphasize passes over baskets.
"Mike is nothing but class," Matisi said. "It probably was respect and I appreciate that."
Ashley Sharp led the Raiders with seven points, Sara Durr came of the bench to score six.
"We tried just about every offense," Matisi said. "They never let us put anything back-to-back. We could never get that second bucket."
Starla Sharp, the Raiders' other senior, said her teammates didn't know what to expect when Matisi took charge.
"At first, we were kind of freaked out — new coach, we're seniors," Sharp said. "Now, we love him, we don't want to leave him.
"His coaching is awesome, one of the best coaches I've ever had."
Matisi said Sharp and Petrella excelled as leaders.
"From day one, they meant so much to us coming in new," Matisi said. "Two outstanding kids."