See them all in a day at the Governor's Residence in Bexley OHIO'S ECO-REGIONS
---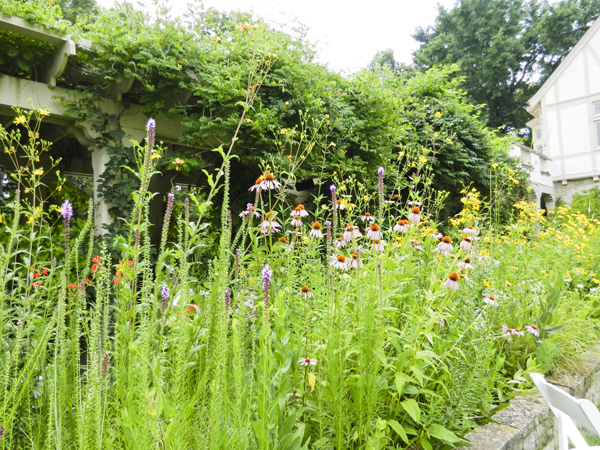 Photo
Above is a flowerbed found at the Governor's Residence and Heritage Gardens.
By Pam Bennett
OSU Extension
Where can you go to see all five eco-regions that exist in Ohio, along with their associated plants, without traveling great distances? The Ohio Governor's Residence and Heritage Gardens in Bexley, near Columbus.
The gardens are the brainchild of former first lady Hope Taft, who is passionate about Ohio's diverse natural history.
In 2001, while living at the residence, Taft and a small group of natural resource-minded others came up with a landscape design for the residence property that depicted each of the five eco- regions or physiographic areas. With the help of OSU Extension Master Gardener volunteers, the gardens began to take shape.
Today, you can visit the governor's residence and tour the natural areas of Ohio in a little over an hour. You also can learn about the stories behind the plants and about other natural resources located in these regions.
Here are the five areas and the associated features:
The Lake Plains is a narrow strip of land along the Lake Erie coast that broadens as you move toward northwest Ohio. Plants include prickly pear cactus, silverweed, blue lupines (exquisite when in bloom) and lakeside daisy (very few spots of these plants remain in the country).
The Glaciated Appalachian Plateau includes Mahoning County and much of Northeast Ohio. This area had one glacial event, as opposed to the four that occurred in the Till Plains. Plants include bayberry, striped maple, northern pitcher plant and cranberry.
The Till Plains consists of most of western Ohio, and since it was glaciated four times, it's fairly flat with gentle rolls. Plants are typical prairie plants, including compass plant, prairie dock, purple coneflower and Sullivant's milkweed.
The Unglaciated Appalachian Plateau is the area of southeast Ohio that was untouched by glaciers. Plants in this area include great rhododendron, bigleaf magnolia, wild columbine and flame azalea.
The Interior Low Plateau is also called the Bluegrass Region, and is a small area in southern Ohio along the Ohio River. This area was not impacted by glaciers and the plants are more like those found in the Kentucky Ozarks, including two very cool ones — the native passion flower and the crossvine.
Developing the land to host plants that represent each of the five regions was a challenge. The soils that support each of their plants had to be mimicked. Sand was brought in from the Oak Openings dunes (Toledo area) as well as the Headlands dunes (east of Cleveland, near Mentor).
Learn more about our five eco-regions by touring the Governor's Residence and Heritage Gardens. For tour information, go to the Friends of the Ohio Governor's Residence and Heritage Garden website: www.fogrhg.org.