Protestant Family Service marks 70 years of serving
---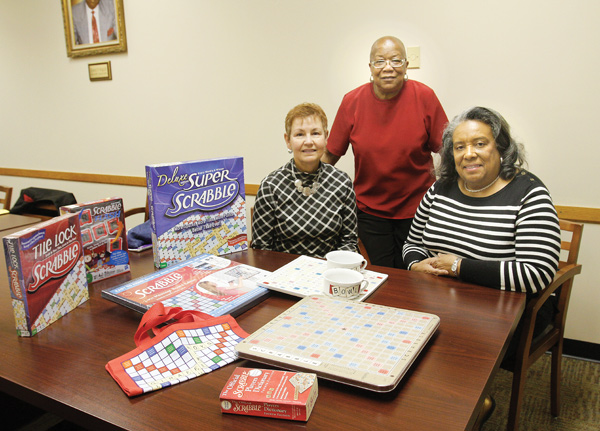 Photo
Protestant Family Service, which is marking its 70th year, is promoting its third annual Scrabble tournament Saturday at Bethel Lutheran Church in Boardman. From left are Jean Montgomery, administrative aide; Jacqueline Burley, executive director; and the Rev. Gwendolyn Johnson, president of the PFS board.
By LINDA M. LINONIS
linonis@vindy.com
YOUNGSTOWN
Protestant Family Service, described as "an arm of Christian love and service," has helped people since it was founded in 1944.
The nonprofit agency provides emergency assistance with food, medication, utilities, rent and household items to people in need, along with other services.
Through its counseling and advocacy, said Jacqueline "Jackie" Burley, executive director, clients also get suggestions on "how to reshape" their lives, choices and finances.
PFS recently observed its 43rd annual meeting at which Burley summed up the 2013 statistics. The agency served 1,106 families with emergency food, medication, utility service, rent and household items with 252 families as first-time clients. At Christmas, 91 families were helped, and 27 families received special holiday assistance. PFS also helped 22 special-needs children in the Adopt-A-School program in Youngstown city schools.
Harold Blackann, treasurer, reported that the 2014 budget is $101,350. Those funds come from donations, grants and foundations. Burley said clients can't repeatedly seek assistance from PFS. "They can get financial help once per anniversary year,"
she said. She explained that payment of utility bills to prevent disconnection or to restore service or rent to prevent eviction are paid directly to the source, not the clients.
When PFS pays a water bill, it asks clients to attend a class on water-use efficiency. "We have an educational component," Burley said.
A success story in the agency is the Christmas Savings Club — Making Families Self-Sufficient. Begun in 1993, the program is based on teaching families how to save, budget and spend money. Burley said participants are required to make deposits once a month in accounts; in November, PFS matches what they have saved up to $300. "But, they have to make deposits monthly. It's worked out pretty well," Burley said.
June Ewing, Christmas Club coordinator, works with clients about "wants, necessities and discipline." "We can't tell clients how to manage their money; we can encourage them to be accountable," Burley said.
The director said one of her sayings is, "If your out-go is more than your in-go, you get no go." Though the wording may not be proper English, she said, clients get the gist of the message.
Christmas Club participants can go through PFS the first time, then they are encouraged to save on their own. "We do get some feedback," Burley said as clients achieve savings on their own.

Burley said the Christmas Club savings project evolved from the Christmas assistance that PFS provided. "Churches would buy items for families," she said. "But we realized it would help if we worked to make families self-sufficient."
PFS continues its Christmas adopt-a-family in which churches adopt families and buy items off their wish lists.
"Churches are so supportive. ... We're so blessed to be the vessel that's poured into, and then we pour out for others," Burley said.
Burley said the economic situation in the Valley has changed the face of PFS clients. "We see more great-grandparents and grandparents caring for children because parents are incarcerated, on drugs or there are other family issues," Burley said. The seniors, she said, turn to PFS and other agencies because they're on fixed incomes and what they have financially just isn't enough.
In March and April, Burley said the agency participates in the Feinstein Challenge by recording food and monetary donations; Feinstein awards a stipend. The program helps to stock its food pantry.

The Rev. Gwendolyn Johnson, president of the board, said, "PFS does great. ... It helps people with so many needs."
Jean Montgomery, administrative aide who takes calls from clients, said in the 1990s, assistance with food was a stopgap measure and not a continuing problem. "Chronic unemployment has created an ongoing crisis for some families," she said.

Burley said the agency "works with people" to help and also offers referrals to other agencies.
She concluded, "We're here for the needy, not the greedy."