Poland surges past Ravenna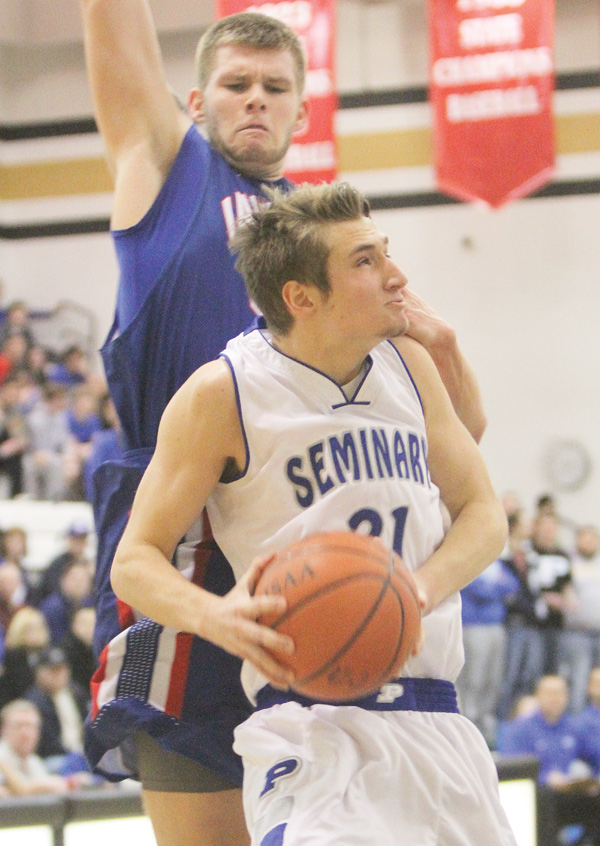 ---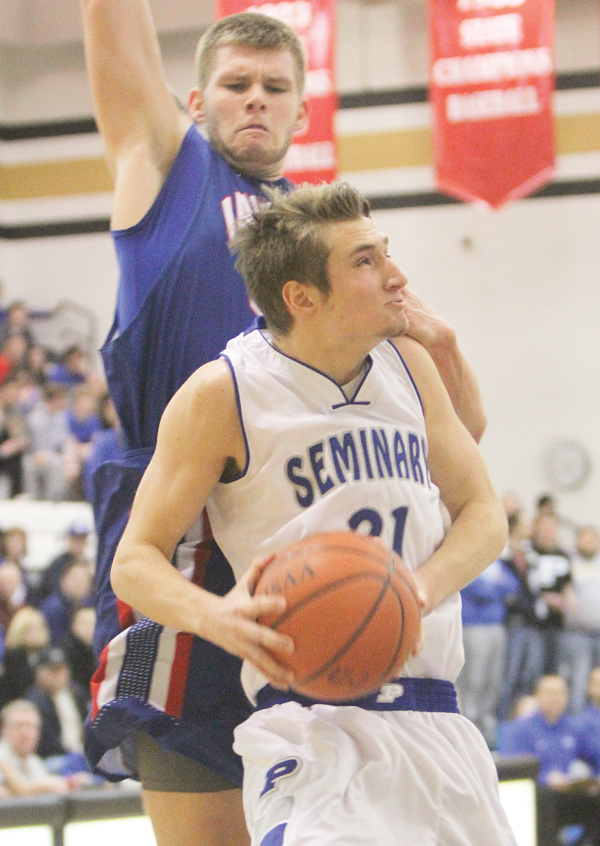 Photo
Poland's Kyle Dixon goes to the hoop past Ravenna's Michael Boltz during their Division II district semifinal Wednesday at Warren Harding High. Dixon posted 15 points for the Bulldogs, who downed the Ravens, 64-52.
Bulldogs' 18-0 run
makes difference
against Ravenna
By STEVE WILAJ
Warren
With his team trailing Ravenna by four late in the third quarter Wednesday night, Ken Grisdale — the usually calm Poland High coach — was suddenly was out of his seat, pacing a bit and yelling instructions to his players.
"We were a mess most of the time," Grisdale said. "We were just on the edge of exploding. But we exploded the other way."
The Bulldogs used an 18-0 run to erase that deficit and build a 14-point advantage on their way to a 64-52 victory in a Division II district semifinal at Warren G. Harding High School.
Once Poland built that double-digit lead early in the fourth quarter, it was smooth sailing. The Bulldogs advanced to a district final at 7 p.m. on Saturday. They will meet the winner of tonight's semifinal between Canfield and Cardinal Mooney.
"It was just a matter of if we could get a little bit of a lead and relax, we'd be OK," Grisdale said. "Things weren't looking too good, but we were able to stay strong.
"We talk a lot about our mental toughness — it's been a weakness for us sometimes. But I think we're getting tougher. Bottom line is you gotta advance and we did that."
Poland (22-2) jumped out to a quick 19-7 lead after the first quarter, but a 1-of-15 shooting performance in the second period allowed the Ravens (14-10) to cut the deficit to 26-24 at halftime.
"It was really difficult," Poland point guard Nick Gajdos said. "But we just had to relax, get our confidence back and make our free throws and layups."
Still, Ravenna — which shot 44 percent — carried its momentum into the third in building its four-point lead. But the Ravens, who finished with 20 turnovers, fell victim to Poland's pressure during the Bulldogs' run.
"We played probably three quarters of good basketball," Ravenna coach Phil Starks said. "But the difference was they upped their pressure and we turned the ball over coming out of the half.
"For the most part, our kids fought. They didn't give up and I'm proud of them. We just came up short against a good team."
TyShawn Dukes led the Ravens with 14 points, while Danny Miller added nine and Michael Boltz had eight.
Kyle Dixon and Dan Black paced the Bulldogs with 15 points apiece, while Jared Burkert added 12 off the bench. Burkert scored five straight points to help spark the 18-0 run.
"He was huge — hit some shots," Grisdale said. "Still, he went down on the defensive end and did some silly stuff, but we needed him. I knew if we could get that lead a little, we would relax enough to be OK."
Grisdale added that Gajdos, who finished with nine points, was key in leading the Poland turnaround.
"It was about picking up the tempo and pressing the basketball," Gajdos said. "We kept composed and I had to handle the basketball and do things that a point guard has to do to help his team win."