Youngstown Fire Department cuts ribbon at new station
---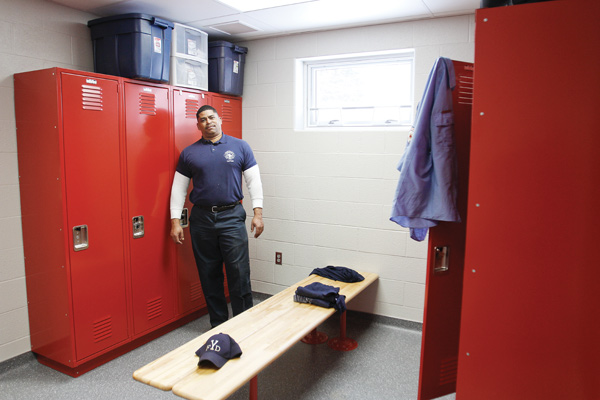 Photo
Capt. Perry Harrison of the Youngstown Fire Department shows off the new locker room for firefighters on duty at the new Station 9 on East Midlothian Boulevard. City officials cut the ribbon for the new station Wednesday.
By Joe Gorman
YOUNGSTOWN
When he first was on city council 30 years ago, former Mayor Charles Sammarone toured Fire Station 9 and knew the station needed to be replaced.
Fire Chief John O'Neill said he has known replacement was needed since he joined the department 30 years ago — and especially when he became chief in the late 1990s.
Former firefighter and 7th Ward Councilman John R. Swierz knew in 1969 when he worked there that the building had to go.
Wednesday, they all got their wish as the city cut the ribbon on the new Station 9 on East Midlothian Boulevard in front of Ipes Field.
It replaces the old station at East Midlothian Boulevard and Sheridan Road, built in the 1920s.
For years, the old station had timber jacked up to support the basement ceiling. The building was infested with rodents, and there was barely enough room to pull in the firetruck.
Sammarone, who served as mayor from 2011 until the end of last year, used money the city received from "one-time revenue" streams such as Vallourec Star to finance several long-needed projects in the city. One of those was the fire station, which had a price tag of $879,000. With additional items, the final cost was close to $900,000, O'Neill said.
Construction on the station began in August.
O'Neill said he is especially happy and thanked city council for agreeing to spend the money.
"It feels like progress," O'Neill said.
Swierz also said he is very pleased. "It is a great thing for the city," he said.
Mayor John A. McNally said the fire station also is a boost to the neighborhood. He invited residents to come in over the next couple of weeks, tour the station and get to know the firefighters.
The department began staffing the station Monday. It houses one engine with a standard crew of four and also has space to hold a reserve firetruck that can be used in case of emergencies.