Dunn out at YSU March 21, with no further pay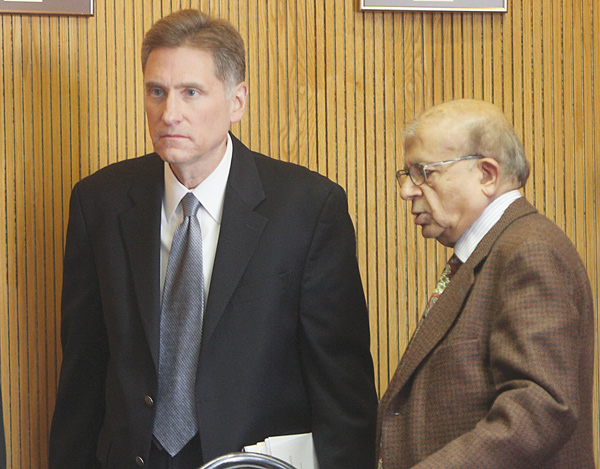 ---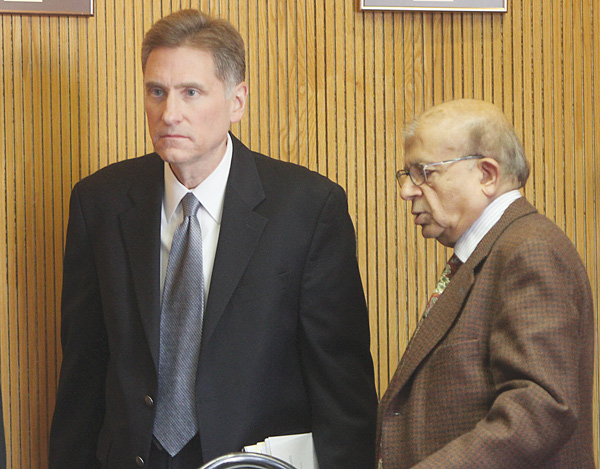 Photo
Randy J. Dunn, outgoing Youngstown State University president, and Dr. Sudershan Garg, chairman of the YSU trustees, head into an executive session Wednesday where an amendment to Dunn's contract will allow him to leave YSU on March 21.
By DENISE DICK
denise_dick@vindy.com
Youngstown
Youngstown State University's shortest-serving president will leave the university after the close of business March 21, collecting pay through that date.
Randy J. Dunn, president since July, is leaving for the presidency of Southern Illinois University. His contract called for him to give six months' notice, which Dunn did Feb. 17, making the effective date of his resignation Aug. 16.
But under an amendment approved by university trustees and agreed to by Dunn Wednesday, that requirement is waived.
"We need to move forward and put this chapter behind us," said Dr. Sudershan Garg, trustee chairman.
Dunn and his wife have 30 days after he leaves office to move out of Pollock House, the university-owned presidential mansion on Wick Avenue.
Dunn will return his YSU-leased car March 21. The university will pay the monthly employer cost for continuing health care coverage under COBRA minus the employee's share, about $1,459 per month, from April through June, unless he becomes eligible for other coverage before then.
Dunn will be eligible to receive payment for unused vacation time but won't be paid for sick time accumulation.
He won't receive payment for any other benefits.
Ikram Khawaja, provost and vice president for academic affairs, who's worked at YSU since 1968, will become interim president after Dunn leaves, and as part of the agreement, Dunn agrees to cooperate with trustees to provide a transition memo "describing any urgent and important matters requiring the attention of the president's office or the president within the following 30 days."
Khawaja, who also served as interim president between the retirement of former President Cynthia E. Anderson and Dunn's arrival, plans to retire June 30.
The university has hired AGB Search of Washington, D.C., the same search firm that led the search that found Dunn, conduct a search for a new president. Trustees hope to have a new president in place by the time Khawaja retires.
Because Dunn left within a year, the search firm is waiving its fee, although YSU must still pay for expenses.
Earlier Wednesday, the university's Academic Senate, a body composed of faculty as well as some administrators and students, passed a resolution recommending that the search committee for the new president include more faculty. Specifically, they want the panel to include a faculty representative from each college, a graduate student and an undergraduate student.
During the last search, the search firm presented the search committee with a list of names which committee members then narrowed to a smaller group to be interviewed.
A search for a new provost is also underway but won't be completed until a new president is selected, allowing that input in the decision.
News of Dunn's departure came as a shock last month when trustees first learned of it through an SIU student newspaper report.
Dunn's four-year SIU contract reportedly includes a provision that if he leaves that job within 3 1/2 years, he must pay that university $250,000.
His YSU contract, although touted at the time of his hiring as a three-year deal, allowed the board to terminate his employment at any time with a majority vote and continue to pay him for a year.
Dr. Garg said a penalty for leaving the university early is something that could be negotiated between attorneys in a new president's contract, but he said that's not something that's being discussed.
Since the announcement of Dunn's departure, supporters of Jim Tressel have been peppering trustees with letters, advising of their support for the former YSU and Ohio State University head football coach as the new YSU president. The Curbstone Coaches, an organization that supports Mahoning Valley sports, is the latest group to back him.
"The university would experience more growth and stability with Jim's leadership capabilities," Joseph Maxin, the group's president, wrote in a Feb. 26 letter to Dr. Garg.