Published: Wed, March 5, 2014 @ 12:00 a.m.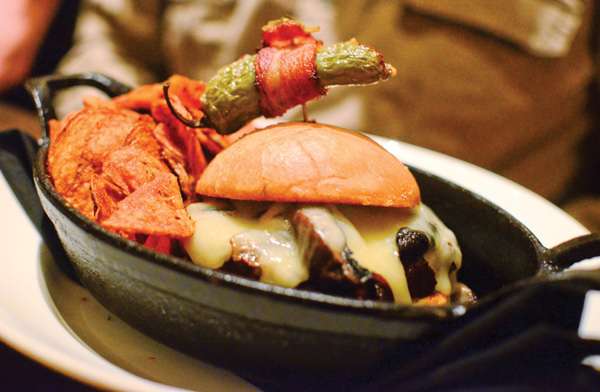 Photo
The Porterhouse burger from Whitefire Grille & Spirits in Canfield.
When You Go...
Where:
WhiteFire Grille & Spirits
6580 Ironwood Blvd
Canfield, Ohio 44406
Phone:
330-702-9866
Hours:
Mon - Tue: 11 am - 10 pm
Wed - Sat: 11 am - 11 pm
Sun: 10 am - 9 pm
Menu:
7 burgers ($9.50) All seven burgers are only available on the lunch menu
Website:
WhiteFire Grille's chefs know what's 'in there'
By Anthony M. Fuda
mvbrb@hotmail.com
Remember that commercial where the guy tells you, "It's in there"? Well, the chefs at WhiteFire Grille answer that question with each item they choose for the menu.
Owner Doug Zappi, says WhiteFire is a chef driven restaurant specializing in authentic American dining. Chef driven means flavor comes before food-cost. Chefs do everything from hand picking the meat they will use that day; to creating the menu; to putting the food on your plate.
Zappi added, "Our Executive Chef personally picks out the best prime cuts of steak, the freshest seafood, vegetables, herbs, spices and fruits that we will prepare later that day for our guests."
The quality is shown in the seven burgers they offer. Their burger combines porterhouse tips and ground chuck. The ingredients they use on the burgers are some items you wouldn't think would work -- but it does. Pickled onions, basil mayo, crushed peppercorn; toppings not on your traditional burgers. And these chefs know what flavors go well with others, and present a high quality burger with non-traditional toppings that please your olfactory senses as well your taste buds.
Our server, Josh Blanchard, helped us maneuver through the burger selections, with the new burger section of the menu not even in print yet -- adding four new burgers.
The new burgers are: Porter House Burger (portabella and onion blend, A1, mayo, Dijon, fried egg, jalapeño and white cheddar), Tuscan Burger (basil mayo, red pepper, slice of mozzarella, romaine lettuce and a beefsteak tomato), BBQ Smokehouse Burger (jalapeño mayo, hand pulled BBQ chicken, cheddar jack cheese, onion straws), Black Jack Burger (blackened rubbed, pepper jack cheese, sriracha, garlic mayo and a jalapeño skewer).
The new burgers complemented the previous three on the menu: Whitefire Burger (white cheddar, pickled onion, Dijon mustard, mayonnaise, lettuce, tomato, english muffin), American Burger (sliced white onion, pickle, cold american cheese, mayo, ketchup & mustard), and the Black + Bleu burger (porterhouse tip burger encrusted with crushed peppercorn, topped with Danish bleu, lettuce and tomato). The unique toppings showcase the chefs creativity.
The burgers come with fries or salad, but there are a variety of sides you can substitute. Some of us went with the homemade BBQ chips, which were excellent.
These delicious burgers are nestled between a fresh brioche bun, which helped you not to lose any of the the flavors oozing with each tantalizing bite. There was also a cheese-filled, bacon-wrapped grilled jalapeno on top of the bun, which was an added treat.
I ordered the BBQ Smokehouse Burger and enjoyed each mouthful. The BBQ chicken mixed with the perfectly seasoned and tender beef was very pleasing to my palate. Offsetting the sweet BBQ was a tangy jalapeño mayo and cheddar jack cheese. Add a crunch with the onion straws and you have a spicy burger enthusiasts dream come true. The burger and toppings are definitely a two-handed meal, and the combination of flavors keep you wanting more.
JT had the Porter House Burger, and noted, "I was very pleased with the flavor of the Porter House Burger. The toppings were great, the bun stayed together, but what stood out the most to me was the seasoning of the meat itself; outstanding! Nice job, Whitefire!"
Spatman went Italian, and said, "I had the Tuscan Burger. Mine was well done and seasoned just right so that every bite was bursting with flavor. Topped with basil mayo, roasted red pepper, melted provolone cheese, onion, tomato and lettuce and placed on a Brioche bun, it was from first to last bite a taste treat for any burger lover. Sided with seasoned fries and a great price it was a 4.5 on my wet-nap scale."
Chiz enjoyed his burger, saying, "I devoured a tasty treat known as the Black Jack Burger, and was very excited to see the delicious stuffed jalepeno treat on top. It was stuffed with some kind of cheese blend, and wrapped in bacon. It may have been my favorite part of the whole experience!!! The bun on this burger was fresh, and held up well throughout my meal. The BBQ Chips that accompanied my meal were spectacular with a touch of heat. The blackened burger was seasoned evenly, and really complemented the meat. The sauce that they used on this had a slight kick, and added to the heavenly mixture of flavors. The thick slice of pepper-jack cheese on top just made it that much more delightful. The entire burger came together and as a true work of art that really did excite my taste buds!!! A BIG Thank you to chefs Jack Dean, and Antony "Fro" Schmidt for cooking me a work of art!!!"
"Choosing the Black Jack burger turned out to be a great idea," Eric said. "The beef was grilled just to my design and had a fantastic seasoning that made me ready for each new bite. Throw pepper jack cheese in the mix and you're on the right track, but the biggest seller for me was the inclusion of Sriracha, which I can put on almost anything. The bun held up really well even against the very tasty garlic mayo, which by the way also made a great companion to the hot chips I chose as my side. To top everything off, the bacon wrapped, cheese stuffed jalapeño pepper made it a no brainer to see why I would definitely recommend this burger to anyone who wants a little kick in their meal."
If you are looking to find what's "in there", then WhiteFire has your answers, and they are in the form of seven delectable burgers -- and you can't go wrong with any of them.
4 stars
Keep reading the Valley food section each Wednesday for the best food the Valley has to offer.
If you know of a burger that should be on our hit list, send the info to mvbrb@hotmail.com, or on our Facebook page BurgerGuyz.