Ursuline shoots past Newton Falls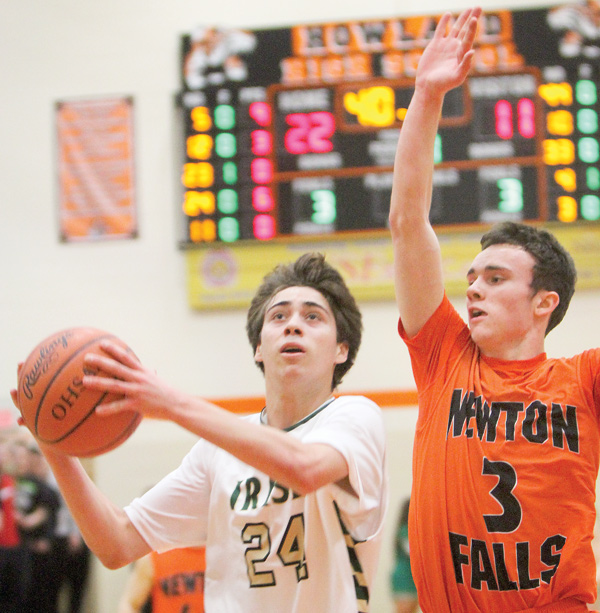 ---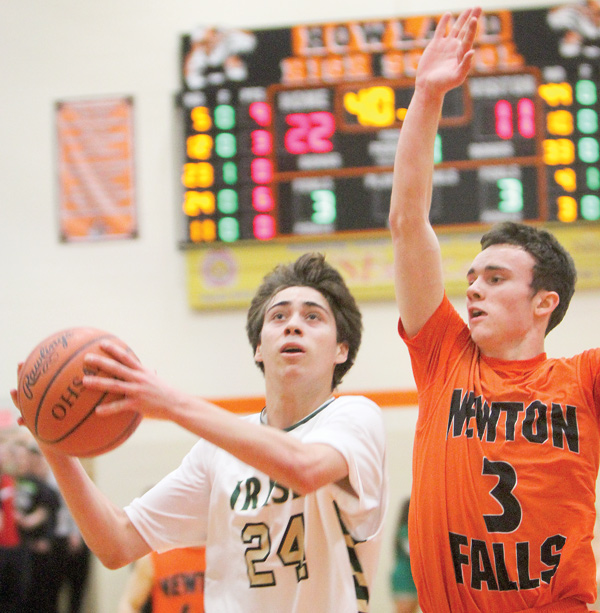 Photo
Ursuline's Greg Parella goes to the hoop past Newton Falls defender Jaden Walton during their Division III district semifinal Tuesday at Howland High School. The Irish routed the Tigers, 74-44.
Irish knock down 12 3's in district semifinal
HOWLAND
After his team looked every bit the part of a championship contender Tuesday night in a 74-44 district semifinal win over Newton Falls, Ursuline coach Keith Gunther made sure he took a moment to acknowledge his coaching counterpart, Roy Sembach.
"He's been a great mentor for me as far as my coaching," said Gunther, who spent seven seasons at Netwton Falls under Sembach, before taking over at Ursuline. "He kicked my butt two years ago here, but I just wanted to say thank you to him and all he's done for my family."
With a Division III district final berth on the line at Howland High School on Tuesday, Gunther's Irish jumped out to a hot start and kept their foot on the gas to roll into Friday's title matchup with Girard.
"I was really worried about Roy slowing it down a little bit — that was my panic coming in," Gunther said. "I knew they'd have a game plan and fortunately for us they didn't make a lot of their 3's."
The Irish, on the other hand, did. They went 10-of-17 in the first half from behind the arc, led by Mark Hughes' five 3-pointers, and finished the game an efficient 12-of-24 from long range. In fact, they converted more 3-poiners than 2-pointers (11) on the night.
"If you don't shoot it, you'll come and sit down," Gunther said. "That lets them relax a little bit knowing you're not going to get taken out for taking a shot."
Hughes scored a game-high 30 points, but had two-thirds of his total midway through the second quarter. He also added four rebounds and a number of assists to open teammates for easy looks.
"I started hitting shots and they started closing out on me, giving me driving lanes," Hughes said. "Once you start running and gunning and hitting shots, you can get into that rhythm where you feel like you can't miss."
Which is exactly how the junior guard felt in the first 16 minutes to help the Irish stretch out a 20-point halftime lead. The Tigers didn't do themselves any favors either, turning the ball over 10 times in the first half and coming up with a lot of empty possessions.
"You knew we'd have some turnovers against them, [because] they have very good pressure — they're very active," Sembach said. "You've got to do the best you can with the possessions you have and we had a few too many turnovers."
Jaden Walton knocked down his first three 3-point attempts in a fast-paced first quarter, but only made one each of the next three quarters. He finished with a team-high 18 points.
The Tigers also struggled on the glass, grabbing just 10 rebounds and getting very few second-chance opportunities.
The Irish seem to be rounding into form at just the right time as all three guards are shooting the ball at a high percentage for Gunther. Greg Parella made four 3's and David Collins added two more, while finishing with 20 points.
"Our three guards are the guys that get us going," Gunther said. "They're good off the dribble, they can really shoot the ball, they're good free-throw shooters (Ursuline went 16-of-16) and I think they're really our go[-to] guys.
"But, of course, Mark's our No. 1 guy."
The second-seeded Irish will face third-seeded Girard on Friday at Howland in the district final.