Shrove Tuesday supper in Hubbard benefits food pantry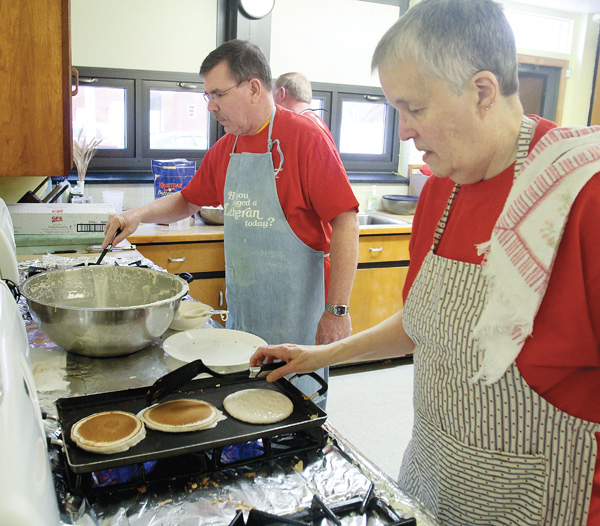 ---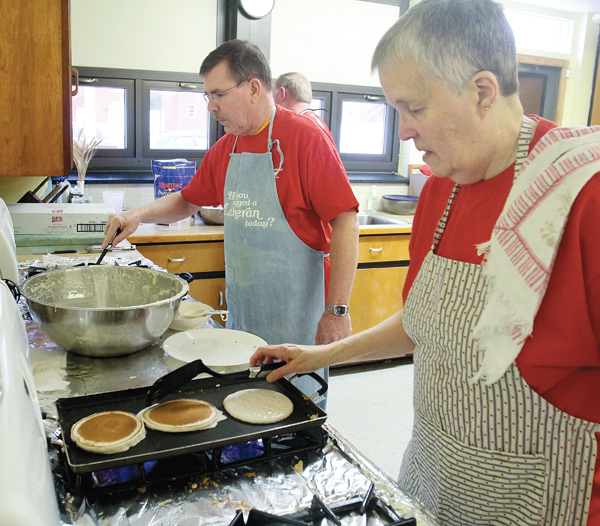 Photo
Jim Bishop and Linda Nehls make pancakes for a Shrove Tuesday pancake supper and party at Grace Lutheran Church in Hubbard. Some 140 people were served and more than 400 pancakes flipped.
By LINDA M. LINONIS
HUBBARD
A Shrove Tuesday pancake supper and party afforded members of Grace Lutheran Church the chance to give back to the community.
There was no fee for the meal which included sausages. "We want to share God's love through food," said the Rev. Dirk van der Dium.
Members and community residents in attendance donated more than 250 nonperishable food items and $132 for the food pantry sponsored by Hubbard Christians in Action.
"The event is an opportunity to help," said the pastor. Those in need who live in Hubbard, the township, Brookfield and Masury can get groceries at the food pantry.
The men's group of the church at 111 Hall Ave. coordinated the event that has taken place for a few years. "But it's really a whole church effort," Pastor Dirk said.
As he flipped pancakes, Jim Bishop, a member since 1960, said, "Practice is the way to perfect pancakes." The recipe, he added, is a trade secret. He and his wife, Martha, were among volunteers who served as cooks, greeters, servers, cleanup crew and assistants with youth activities.
Maple syrup was available on tables, but the homemade blueberry syrup is a signature element of the supper. Clayton and Garrett Black, church members, make the syrup.
Bishop said he thinks of the supper "as a good community event."
The men's group also prepares a breakfast for the congregation on Easter Sunday and sponsors a pork-and-sauerkraut dinner in November.
The Shrove Tuesday event typically attracts about 80 people, but this year, about 140 attended. Each was served three pancakes and two sausages; more than 400 pancakes were made.
Pastor Dirk said the tradition of Shrove Tuesday is to use up the sugars and fats before the fasting of Lent.
Children made Mardi Gras masks and crafted shakers filled with beans. They also decorated pancakes. Led by Pastor Dirk, who played the drum, the children paraded in the church hallway and fellowship hall.
Pastor Dirk said the party preceded the solemn time of Lent. "It's a time of reflection. You can give something up or take something up," he said.
Taking something up, he said, might be studying the Bible for a time each day or devoting a block of time daily for prayer.
Grace Lutheran will conduct Lenten worship services starting March 12. A dinner will be at 6:30 p.m. followed by worship at 7. During the service, there will be a form of Bible study known as Lectio Divina, Latin for "Divine Reading." A Scripture passage is read multiple times with a simple question following.
Grace Lutheran will conduct an Ash Wednesday service at noon today. Trumbull County Lutherans will gather for a service led by confirmation students at 7 p.m. today at Trinity Lutheran Church, 56 N. Chestnut St., Niles.